Torrid First Nine Sets The Pace For Tournament Of Champions Winners
Details

Category: Inside Golf
Published: 2018-06-13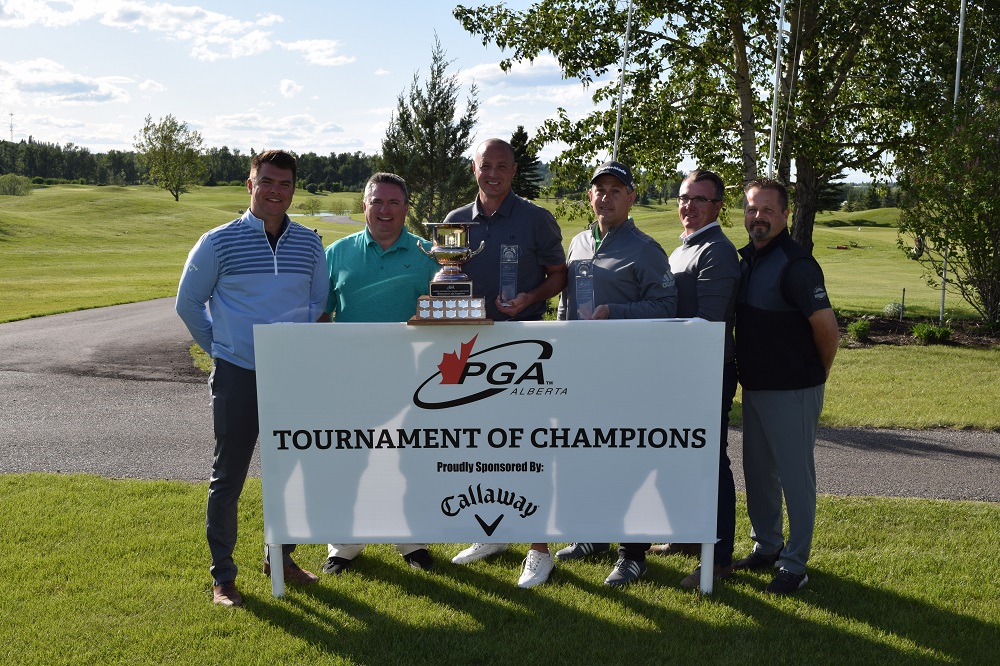 Winners Jeff Cuthbertson & Jeff Murdoch (Stony Plain GC) With Sponsors Tory Nilson, Jim McCulley, Josh Brunner, And Host Professional Richard Hardy. (Photo/Gord Montgomery)
CALGARY, Alberta (Gord Montgomery/iG) — Waste not, want not may well have been the theory two Stony Plain golfers took into the annual PGA of Alberta Tournament of Champions Pro-Am event at Redwood Meadows in Calgary.
After all, pro Jeff Cuthbertson and amateur partner Jeff Murdoch teamed up to card an outstanding score of 60 over 18 holes to take the title by one stroke over the team of Jason Stanier and Gerry MacDonald from the Inglewood G&CC.
The secret to the win? Well, the pair didn't waste too many, if any, birdies they recorded and built off playing in the same event last year, where they finished "seventh or eighth," according to Cuthbertson.
"We did OK last year. We didn't play as well last year as we did this year, but it was OK," laughed the pro. "The biggest difference this year was we made more putts, to be quite honest. When we had the opportunity to make birdie we made the putt. And, we didn't birdie the same holes. In a best-ball event like this, if you birdie five holes but you birdie the same holes, you're not going to go very low. It was good. We felt like we didn't waste any out there."
Well, the winners needn't have feared that. Between them they circled every score on their first nine holes, taking only an astounding 27 strokes. Things calmed down a bit on the back, but their 33 there was good enough to claim top spot which paid the pro, $1,800 and his amateur partner gift certificates worth $900.
"The nice thing about the round was really not the (two) eagles we had," Murdoch explained. We started with seven consecutive birdies. We followed that with a four and that with a two, so for our first nine holes we averaged three strokes (each). That's pretty good for a 4-man scramble let alone a 2-man best-ball.''
Cuthbertson noted that their game planwas simply a matter of teeing it up and whaling away.
"We hit driver everywhere," other then one hole where the pair hit hybrids to about 100-yards from the green. "We tried hit it as far and as close as we could."
Murdoch said there was a real comfort factor in this pairing, making it easy to have confidence in what the other was doing.
"Jeff and I have played in team competitions for close to 20 years so we know each other's game well. I just let him play and he just let me play, and it worked out pretty well," understated Murdoch, who was a PGA of Alberta pro at one time, and who worked under Cuthbertson, before regaining his amateur status to become a City of Edmonton firefighter.
"It's such a fun format and Jeff hits it good, and is one of the best putters I've ever played with," noted Cuthbertson about their awe inspiring tour of the course.
And did the thoughts of perhaps recording that magic mark of 59 ever enter the picture? Well, as a matter of fact it did.
"Standing on the (last) tee we knew we needed a '3' for a 59 and as we were approaching our putts, I just whispered in his ear, "You do know this is for a 59, eh?" Murdoch recalled.  And while neither made the putt to card that number on that final hole, they still made enough good numbers during the rest of the day to walk away as the 2018 Tournament of Champions.