Arccos Golf Launches World's First Fully-Integrated Set Of Smart Grips
Details

Category: Inside Golf
Published: 2018-06-13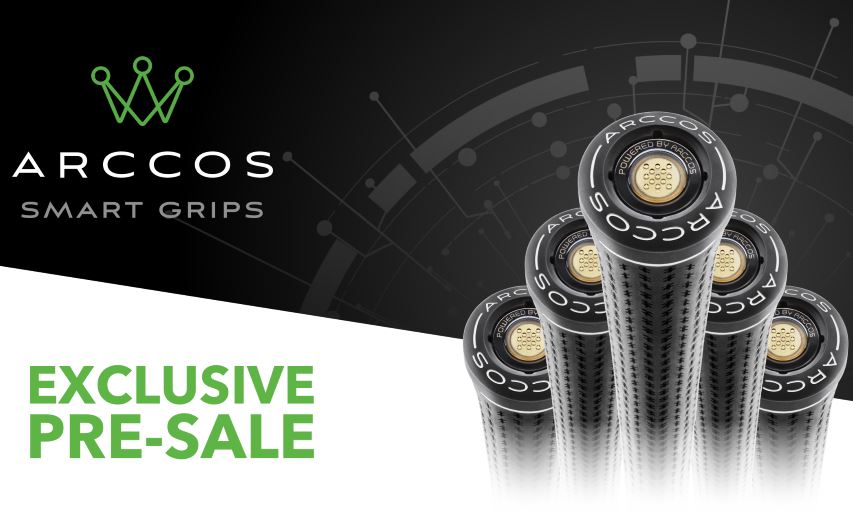 STAMFORD, Connecticut — Arccos Golf announced that Arccos Smart Grips, the world's first fully-integrated set of smart grips, are available for pre-sale. Featuring a sensor embedded seamlessly into each grip, Arccos Smart Grips are the next development in the company's mission to connect every shot in golf and help users lower their scores by making smarter decisions through data and artificial intelligence.
All Arccos Smart Grips come with full access to Arccos Caddie 2.0, golf's first artificial intelligence platform. Developed in partnership with Microsoft, Arccos Caddie 2.0 offers live club recommendations for every shot on any hole in the world. Its AI engine is fueled by golf's richest data set, which includes over 100 million shots hit during 1.5 million+ rounds played by the Arccos community, and 418 million GPS mapping data points on 40,000+ courses worldwide. Arccos Caddie 2.0 also considers a player's personal shot history, course elevation, weather conditions and other factors.
"We're paving the way for the entire golf industry to become more efficient and effective through the power of big data and artificial intelligence, and that process begins with seamless and automatic shot tracking. It doesn't get more seamless than having our sensors embedded directly into the grip," says Sal Syed, Arccos CEO and Co-Founder. "Our goal is connect every shot in golf, and Arccos Smart Grips are now the simplest way for golfers to do so."
Alongside Arccos 360 - the award-winning platform featuring 14 screw-in Smart Sensors - golfers now have a second option to choose how they would like to connect their game. Arccos Smart Grips feature Lamkin Crossline 360 grips, require no special installation and provide an all-in-one option for hands free, fully-automatic shot tracking.
Each purchase includes 13 Arccos Smart Grips, one Arccos Putter Sensor and a 30-day free trial to all Arccos features, followed by a $99 annual subscription. Arccos Smart Grips have a MSRP of $149.99 with limited quantities and exclusive pricing available during this pre-sale period.
Winner of the Golf Digest Editor's Choice Award for "Best Game Analyzer" three years in a row, the Arccos platform combines automatic data capture and advanced analytics to help golfers of all skill levels make smarter decisions and shoot lower scores. In 2017, Arccos users lowered their handicap by an average of 3.55 strokes - a rate that's 46.7x faster than the average player with a USGA handicap. 
For more information, please visit arccosgolf.com. 

---
About Arccos Golf, LLC
Arccos Golf, LLC develops game-changing connected golf products. The company is revolutionizing the golfing experience by integrating automatic shot tracking with Artificial Intelligence to deliver unparalleled insights that help players maximize their potential.
Additional Resources