Mickelson Loves The U.S. Open Setup, At Least 17 Of The Holes
Details

Category: Inside Golf
Published: 2018-06-13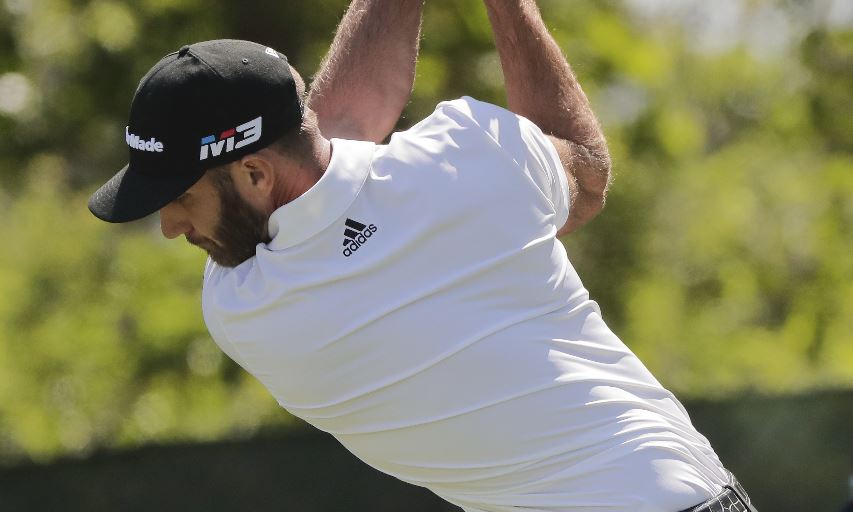 Dustin Johnson Tees Off On The Third Hole During A Practice Round For The U.S. Open. (AP Photo/Julie Jacobson)
SOUTHAMPTON, New York (Doug Ferguson/AP) — Phil Mickelson believes Shinnecock Hills is one of the best setups he's ever seen for a U.S. Open.
At least for 17 of the holes.
The course where Mickelson twice contended has been lengthened by some 450 yards. That doesn't bother Lefty, especially the 14th hole, which has been stretched by an additional 76 yards from 2004. It now is 519 yards, the longest of the par 4s.
Mickelson, who also has a golf course design company, likes it when the hard holes are harder and the easy holes are easier.
"So when they take 14, which is a very hard par 4, and they make it harder and move the tee back, I actually like that a lot because it allows for the players that are playing well to make up strokes on the field by making pars," he said.
He also noted that the front of the green is open, allowing shots to bounce onto the green, which makes it fair for everyone.
"It's a hard par," he said. "But if you make a par there, you'll make half a shot up on the field."
One other hole was lengthened by 76 yards — the par-5 16th, which now is 619 yards. With a prevailing wind into the players, and the deep bunkers around the green, it's likely a three-shot hole for everyone in the field.
Mickelson isn't a big fan of this change.
"To move the tee back to 620 yards, which is the total M.O. of the USGA — they do it every course — I don't agree with," Mickelson said. "I think we should have some birdie opportunities. And to eliminate one of the very few that are out here and make it a difficult par is not something I agree with. But I've developed kind of a game plan on how to play that hole most effectively relative to the field, and it won't need to be very much under par."
By relative to the field, Mickelson said only that he has a plan to give himself a good chance at birdie without risking a score higher than par. He believes not dropping a shot on the 16th will enable him to gain on the field.
Mickelson concedes that setting up a golf course for the U.S. Open is not easy. He just hopes the USGA doesn't bring too much luck into the equation.
"The difficulty is, when you dream of a championship as a child ... and you dream of winning these tournaments as a child and you work hours and hours and you fly in days and days and do all this prep work, and then you are left to chance the outcome, as opposed to skill, that's a problem," he said.
He cited the par-3 seventh hole as an example.
At the last U.S. Open at Shinnecock Hills, the green was so fast and brittle that shots wouldn't stay on the green. The USGA felt it had no choice but to spray a light mist after every other group that came through.
Mickelson says the decision for when to spray the greens was based on the scores of the previous group.
"So if nobody double- or triple-bogeyed in the group in front of you, the green did not get water," he said. "If your group made a double or triple, the green got water for the group behind you. ... And to have it left to something like that is disappointing."
---
AMATEUR HOUR
Another example that golf is getting younger — and tougher — is illustrated at the U.S. Open, where 20 amateurs are in the 156-man field. That's the most amateurs since 20 played in 1962 at Oakmont, the year Jack Nicklaus won the first of his 18 professional majors.
Four of the amateurs were exempt — U.S. Amateur runner-up Doug Ghim, U.S. Mid-Amateur champion Matt Parziale, U.S. Junior Amateur Noah Goodwin and British Amateur champion Harry Ellis.
Braden Thornberry, the NCAA champion a year ago at Ole Miss, qualified from a PGA Tour-heavy sectional in Memphis, Tennessee.
The next trick is to see how many advance to the weekend.
Of the 14 amateurs who played last year at Erin Hills, only two made the cut. No more than six amateurs have made the cut in the U.S. Open dating to 1959, most recently in 2015 at Chambers Bay.
The best finish by an amateur in the last 60 years was Nicklaus, a runner-up to Arnold Palmer in 1960 at Cherry Hills.
---
HOCKEY OFFICIAL
Garrett Rank catches plenty of grief from players and fans as an NHL referee.
He can dish it out, too.
"I deal with so much abuse and get heckled so much that when I actually do deal with the officials in golf, I find myself giving them like a hard time and asking them a lot of questions to see if they know the rules," Rank said. "It's kind of funny, and I probably shouldn't do it."
---
LATE ENTRIES
The U.S. Open filled out its 156-man field when two players, Emiliano Grillo and Byeong Hun An, were among the top 60 in the world ranking.
The USGA had set aside six spots for those who might get into the top 60 after last week's tournaments. Four more spots were awarded to the first alternates from sectional qualifying in Japan (Rikuya Hoshino), Europe (Ryan Evans), Columbus, Ohio (Ted Potter Jr.) and Tennessee (Scott Piercy).
If an exempt player were to withdraw, the next alternate spot goes to Max Greyserman from the Oregon sectional.
Based on his Twitter feed, Evans was excited to get the news.