Gord's Alberta Golf Notes
Details

Category: Inside Golf
Published: 2018-06-20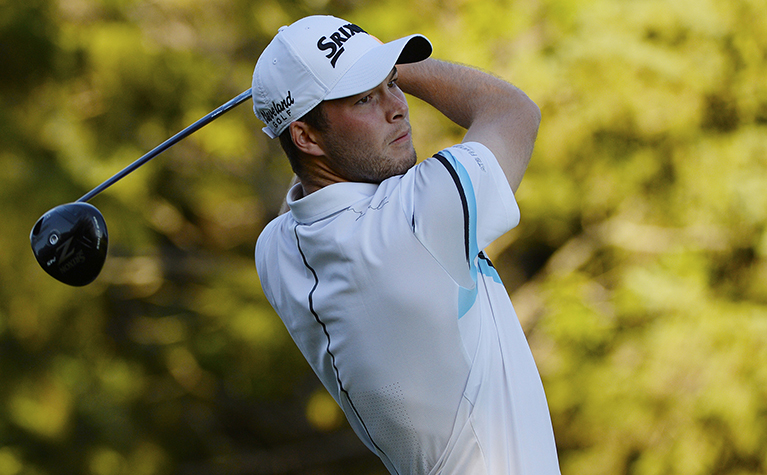 Riley Fleming Has Demonstrated A Liking For The Taste Of Alberta CPGA Tournament Game As Evidenced By His Current Hot Streak In Alberta's Golf Supply House Events - Image Courtesy Golf Canada
(Gord Montgomery/iG) - Riley Fleming, an Alberta CPGA Candidate for Membership apparently likes teeing it up in exclusive events with talented company. After all, the pro from the National Golf Academy Dome in Calgary has won three times in the first five Golf Supply House events of 2018 and carded second-place finishes another two times.
Fleming began his tear with a win at the Vulcan G&CC and then followed that up with a solo second-place showing at Sirocco GC. Then came another T2 at the Valley Ridge GC before Fleming reeled off another win at the stop at the River Spirit GC. He then continued his impressive roll with the title at the only two-day event on the calendar thus far, winning by three shots over veteran Wes Heffernan at the Lynx Ridge GC.
Golf Channel Making In-Roads Into Canadian Teaching
Paul Horton, the provincial and national CPGA Coach of the Year for 2017 has added a real jewel to his career crown by landing the first-ever Golf Channel Academy in Canada.
Horton, who works out of Heritage Pointe GC in Calgary, heads up a strong staff, including Tiffany Gordon and Bob McArthur, who are dedicated to helping others with their golf games. The signing-on with Golf Channel by Heritage Pointe makes it the only such teaching site in Canada and only the second such facility internationally.
Golf Channel states in a release that Heritage Pointe "boasts one of the finest practice facilities in all of Canada. It features a full-length driving range, a 13,000 square-foot practice green surrounded by sand traps, and chipping and pitching areas."
When all that is taken into account, plus the teaching ability on hand everyday at the Calgary club, it's no wonder that the two entities came to an agreement on working together.
Weather Woes Continue Around North-Central Alberta
Isn't it supposed to be summer? Or, at the very least, late spring? If that indeed is the case you'd never guess that given the weather that has rolled through the north-central part of Alberta, starting in the winter.
The dreaded freeze-thaw-freeze cycle that took place through January and February affected a large number of golf courses and the condition of their fairways and/or putting surfaces. That has now morphed into severe warmer weather systems.
The biggest case in point would be the great track in Whitecourt, which saw over 100 large and small trees flattened by a recent windstorm. Thankfully they didn't lose a lot of playing time on the layout as community volunteers pitched in wholeheartedly to remove the damaged trees.
In Spruce Grove, it was also a scary time when during a tournament, a lightning strike on the 10th hole at The Links at Spruce Grove, mangled a proud old tree standing guard along the fairway. To top that off, a hail storm also pounded the area and while it didn't cause much damage by itself, it has made golfers in the area aware that when the storm warning siren blows, it's best to get off the course before Mother Nature blows her top again.
Who's Up For A Free Breakfast?
Free is good. Especially when it's free food. And even more so when it's free food at a golf facility.
That's what people can expect on July 8, when a trio of golf-passionate organizations, Alberta Golf, the PGA of Alberta and Golf Canada, play host to a free breakfast at the Calgary Golf Canada Centre. And while there isn't any menu posted on one Twitter site (@Alberta_Golf) since it's Calgary Stampede time, you'd have to assume that pancakes are on that list of great edibles. And, a graphic does in fact show a stack of flapjacks!
The Golf Canada Centre is located at 7100 15 St. NE in Calgary and the free food is available from 9 a.m. until noon.