Hadwin A Busy Man, But Masters Now Takes Precedence
Details

Category: Inside Golf
Published: 2017-03-31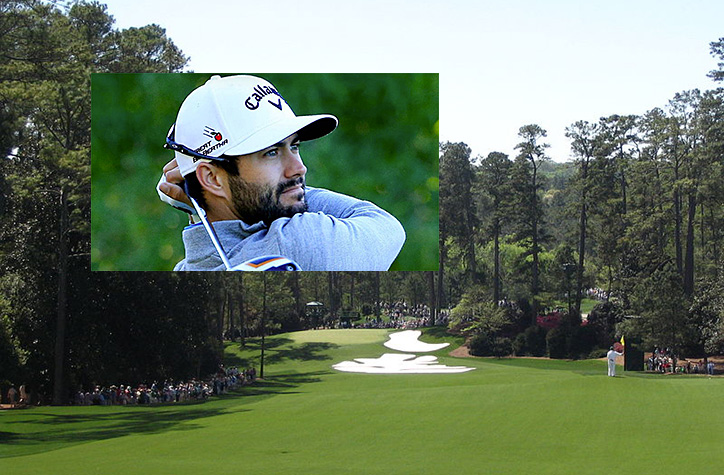 By Gord Montgomery (iG)
If ever there was a classic case of an understatement, Adam Hadwin delivered it during a recent media conference call: "March has been a pretty busy month!" he declared.
Well, yeah. Besides, winning for the first time on the PGA TOUR at the Valspar Championship not only got him an invite to The Masters, it moved him into the top-five of the Fed-ExCup standings and top-10 on the international President's Cup roster. Add to that his recent marriage and buying a house, and yes, March has been a hectic time for the B.C. golfer.
Oh, and did we mention he carded a competitive round 59 just outside of a month ago on the PGA TOUR?
"Winning at Valspar and then being in contention at Bay Hill and our wedding last week, it has been a crazy whirlwind (time)," said Hadwin about his thoughts of the last month. "I think I'm still figuring out what's going on … I'm a little bit lost and with The Masters coming up next week and trying to focus a little bit there. But it's all certainly very good things happening. There are lots of great things in life right now, but certainly it's been a whirlwind the last month."
Even given all the exciting developments that have transpired in his life in the past 30 days, the 30-year-old Western Canadian said he's excited for what lies ahead at Augusta. "Playing in your first Masters, driving Magnolia Lane for the first time, being on the grounds and part of a great tradition, if I can't get up and get ready for that I don't know what event I will be able to get up for. It has been a little more difficult to get settled down and focus my energy on what I need to do but I think with everything settled, my recent play as of late, I can now start to focus my energy on next week."
While he won't have the opportunity to tour the famed playground prior to this coming week to get a feel for the lay of the land, Hadwin said that's really not a problem for him. "I've gone to lots of golf courses I haven't played before and played well. I'll have an extra day on Sunday (April 2) to play the course," prior to the official Masters Week beginning. "I'll sort of get my bearings, talk to guys, ask advice, figure out if there's anything special I need to work on."
As for asking for help from those who have been on these hallowed grounds before, Hadwin noted he'll tee it up with fellow Canucks Mike Weir and Mackenzie Hughes on April 4 for a practice round. He will get as much input from the past champion as he feels necessary in order to help him with his game plan. "I haven't started picking Mike's brain yet. I don't want to wear him out before we actually play.
"Mike and I may play different games so there are maybe things he did in '03 that will be different from myself. He found a way to fit his game to Augusta and be the best player that week. Certain shots, certain greens, where to go, he might have input on where you can go, can't go. A lot of it too is just dealing with Augusta and how to mentally prepare for it and I think he'll have some great insight into that."
With his tee time in The Masters guaranteed for this year, Hadwin noted that to him this tourney is the cream of the crop for a very special reason. "To me, to get into The Masters you had to do something special. You have to be either a top-50 player in the world, or you have to finish the previous year in the top-30 in the FedExCup or you have to win. And so, it has this winners-only, great-players-only feel to it."
With this tournament drawing perhaps the most media hype of any, Hadwin noted he'd yet to suffer from any nerves although that may change. "I'm sure once I get onto the grounds on Sunday I might feel a bit differently," he commented.
"It might have a sort of aura about it but it's still a golf tournament. Don't let that aura, or prestige, kind of make you think you can't compete. I've gotten that advice from people that have been there. It's just a matter of playing my game and that I can play my game to match any golf course."
Hadwin hastened to add he wasn't downplaying the game's other major championships, but again noted, The Masters is something ultra-special. "You've had to do something extremely special to get into it. It's the first major of the year, sort of the unofficial opening of Spring for golf and it has a little bit of a heightened prestige around it."
As to how he's readying himself for this pressure filled week of action, Hadwin had this to say: "I'm going to focus on the things I need to do in order to prepare my game as best I can. I'm going to go in there with confidence — I'm playing really well this year. I've had some success and it's just a matter of preparing the best I can and seeing how my game stacks up against the best players."
And given the hectic pace of his life over the past month, perhaps a four-day walk around these beautiful grounds is exactly what the Canadian needs for some relaxation.
About the writer: Gord Montgomery is a retired sports editor of two weekly newspapers in the Edmonton area and is a member of the Golf Journalists Association of Canada. He is now in his ninth year of writing for Inside Golf. He can be reached at This email address is being protected from spambots. You need JavaScript enabled to view it.. He's also on Twitter at @gordinsidegolf and on Instagram at gordinsidegolf2.