Kaanapali Alii is a condo unit that's cut above
Details

Category: Inside Golf
Published: 2017-04-12
By Gord Montgomery (iG)
LAHAINA, MAUI - If you're looking for luxury as well as ocean access on Ka'anapali Beach in Maui, then you need go no farther than the Alii condo resort.
Nestled up tight to the beautiful blue Pacific, the Alii has everything families or golfing buddies could want for comfort, convenience and amenities.
In an area of the world where it seems every resort amenity comes at a cost, the Alii is different. The 263 1- and 2-bedroom units boast free Internet, free parking, no daily resort fee and maybe best of all, sun, sand and surf that cost you nothing to enjoy.
The fully furnished units here range in size from 1,500 to 1,900 square feet with two bathrooms, a separate dining area and spacious lanais to enjoy the sun and the outstanding ocean and courtyard views. As well, there are three clay-based tennis courts with a pro on staff for those looking to play a few sets or pick up a few pointers. And if you're into golf, you are only minutes away from the famed Ka'anapali pair of the Royal and Kai courses.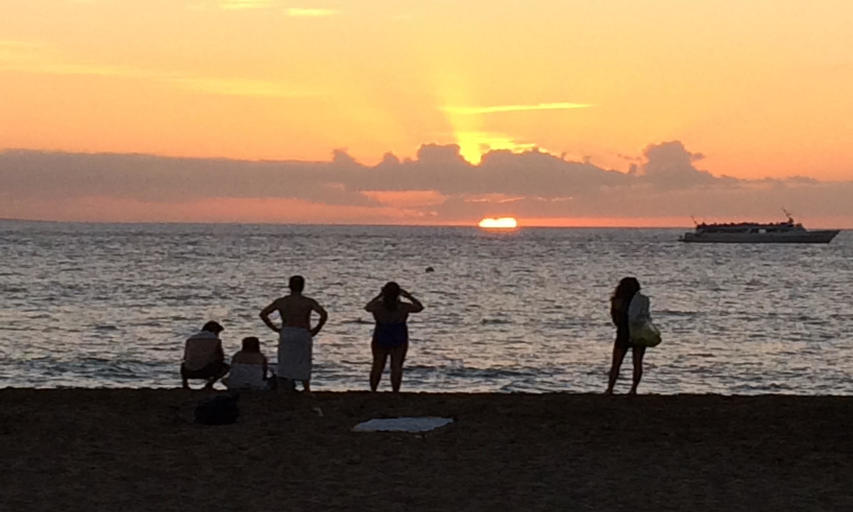 The wonderful courtyard grounds here include a heated swimming pool, aa quiet pool, a kids' pool and two hot tubs. Also on the grounds is a great outdoor grilling area, where guests/owners are free to whip up a feast for their family and friends. Or, if needed, there is a grill master now on site to lend a hand with those big cooking jobs. As well, there is an herb garden right beside the grills, meaning that whatever spicing up you feel your meal needs, it's close at hand.
Top all that off with a state of the art fitness centre to maybe work off any excess indulging you do, and a spa to aid in working out the stressors of everyday life and you know you've found a special spot in paradise.
The friendliness of everyone encamped at the Alii is noticeable, especially in the common areas around the pools, bar-b-que and pavilion areas on the spacious grounds. Several owners mentioned that as a key selling point for them and visitors are always made to feel welcome, with the first question often asked around the grilling area is, "Where are you from and how long are you here?" leading to lengthy conversations about the weather back home - and usually how much snow they just received there - as well as things to do on this beautiful island.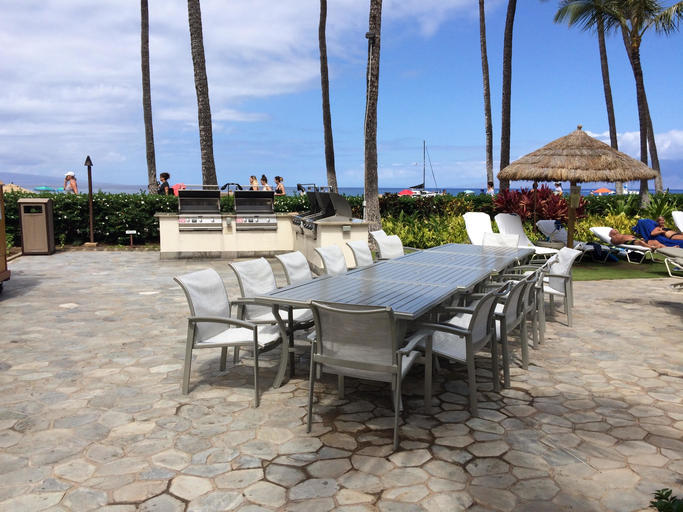 Another nice benefit of staying at the Alii is the fact they partner with a group of hotels and restaurants along the beautiful Ocean Walk immediately in front of this property, to provide charge accounts to your condo. The Alii doesn't have an eating establishment of its own, but that's of little consequence given the partnerships established with such places at the Lahaina Grill, the Ka'anapali Golf Course, The Westin, the Marriott's restaurants and bars and their health club and the Maui Sheraton which both feature fine dining choices.
Also close by is Whaler's Village, featuring a unique variety of upscale botique shops featuring not only local clothing and jewelry designs but artwork and great eating spots. The good news is it is a quick five-minute walk along the famed Ka'anaplie Beach.
So, if you want luxury and a spot right in the heart of one of the most vibrant parts of Maui, you need look no farther than the Ka'anapali Alii for all those special touches that makes a vacation here an extra special time.
For more on the Alii and rates, call them toll-free at 1-888-722-6284 or their website is at kaanapalialii.com.