Ziemer's B.C. Golf Notes: Juniors In Spotlight This Week; Dog Days At Redwoods; Hadwin Feeling Frustrated
Details

Category: Inside Golf
Published: 2018-07-04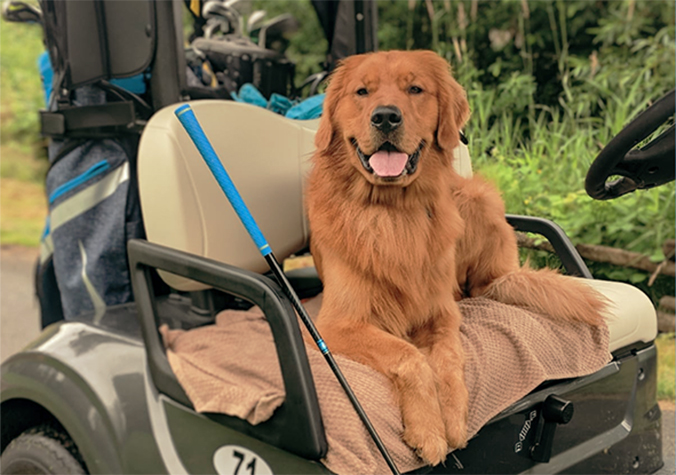 Jackson The Golden Retriever Takes A Break In The Golf Cart During Redwoods GC's Dog Days of Summer Event. (Photo/Redwoods Golf Course)
By BRAD ZIEMER, British Columbia Golf
Christian Zalli is not age-eligible to defend his B.C. Junior Boys Championship this week. But his little brother, Ilirian, will be at Kamloops Golf & Country Club and has to be considered one of the favourites in the field.
Ilirian tied for second at last year's B.C. Junior at Squamish Valley Golf & Country Club, finishing two shots behind his big brother. Ilirian, the 2016 B.C. Bantam Boys champion from Vancouver, tore up the Zone 4 Junior Tour this spring. He won the Zone 4 Junior Championship by six shots and ran away with the Order of Merit title.
The Junior Boys Championship begins Tuesday and runs through Friday. The Junior Girls Championship also begins Tuesday at Kimberley Golf Club. Alisha Lau, who won last year's championship by 10 shots at the Bear Course at Okanagan Golf Club in Kelowna, is not age-eligible to defend her title. Lau just finished her freshman year at the University of Colorado.
---
DOG DAYS
A Spaniel, a couple of big Newfoundlands, a Golden Retriever, a Labrador and a some other four-legged friends showed up Friday for The Dog Days of Summer event at Redwoods Golf Course in Langley.
Some of Redwoods' regulars have been bringing their dogs to the course for quite some time, but the course decided to publicize the fact it is a dog-friendly facility. On Friday, golfers were invited to bring their dogs to the course and a number of new ones showed up.
The rules are simple. You must keep your dog on a leash, dogs are not permitted in bunkers or on greens and, of course, you must clean up after your pet. Treat bags courtesy of Bosley's in Walnut Grove were handed out to the dogs on Friday and their owners got complimentary poop bags. More information on Redwoods' Golf With Your Dog policy can be found HERE.
---
FEELING FRUSTRATED
Abbotsford's Adam Hadwin closed with a one-under 71 and finished tied for 48th at the Quicken Loans National in Potomac, Md. Afterwards, Hadwin expressed frustration at not getting much out of his game of late. "Been a frustrating three weeks," Hadwin said on Twitter. "I've felt good each week, just couldn't get the results. Two weeks off to turn it around for a big push into the playoffs."
Since tying for 16th at the Wells Fargo Championship in early May, Hadwin has finished no better than tied for 42nd in his last six events. He is now 57th on the FedEx Cup points list.
Fellow Abbotsford product Nick Taylor missed another cut at the Quicken Loans and has fallen to 124th on the FedEx Cup points list. Taylor is playing in this week's Greenbrier tourney in White Sulphur Springs, WVa.
---
PARRY CLOSE
Point Grey assistant pro Bryn Parry had a nice run at the PGA of Canada Championship at Credit Valley Golf & Country Club in Mississauga, Ont. Parry lost what many are calling the match of the tournament when he fell in 22 holes to Quebec's Pierre-Alexander Bedard in one of the semi-finals.
Bedard went on to win the championship when he beat Ontario's Gordon Burns 1-up. Parry, a past PGA of Canada champion, lost the third-place match 3&1 to Quebec's Dave Levesque. Parry was the stroke-play medalist after firing rounds of 65 and 68. Other B.C. pros who advanced to match play after the 36 holes of stroke play included Oliver Tubb of University Golf Club, Jim Rutledge of Victoria and John Shin of Northview Golf Academy.
---
ON THE WEB
Surrey's Adam Svensson finished tied for 40th place at the Web.com Tour's Lincoln Land Championship in Springfield, Ill. Svensson moved himself into contention with a nine-under 62 in Saturday's third round, but dropped back after closing with a 74 on Sunday.
Svensson is in fifth place on the Web.com Tour money list and has locked up his card for the 2018-19 PGA TOUR season. West Vancouver's Seann Harlingten and Stuart Macdonald of Vancouver both missed the cut. Merritt's Roger Sloan, who is now 50th on the money list, took the week off.
---
TOUGH CONDITIONS
Surrey resident Phil Jonas and Richmond's Kendall Yonomoto did not make it to the weekend at the U.S. Senior Open at The Broadmoor in Colorado Springs. The course played extremely tough, with the 36-hole cut falling at eight-over par. Yonomoto finished 11-over after firing rounds of 77 and 74. Jonas was 19-over after rounds of 80 and 79. On Twitter, Jonas called the course setup the toughest he has faced.
---
BIRDIE BINGE
Quilchena Golf Club's Scott Secord had 10 birdies en route to a five-under 65 Sunday and won the Vancouver Golf Tour's Traveland RV Ledgeview Open by one shot. Secord finished the 36-hole event at four-under par. John Shin of Northview Golf Club finished second.
The win was worth $2,500 to Secord. Four players — Kevin Stinson of Cheam Mountain, Riley Lambof Meadow Gardens and Mike Belle and Brendan Dillon, both of Vancouver Golf Club, tied for third place at two-under.
---
CHIP SHOTS
Three Victoria golfers — Lawren Rowe, Nolan Thoroughgood and Jeevan Sihota — and Coquitlam's Henry Lee are the British Columbians in the field for this week's 24th Sahalee Players Championship in Sammamish, Wash. The 54-hole event runs Monday through Wednesday at Sahalee Country Club.