Two Swings Equal A Big Bar Bill For Edmonton Golfer
Details

Category: Inside Golf
Published: 2018-07-04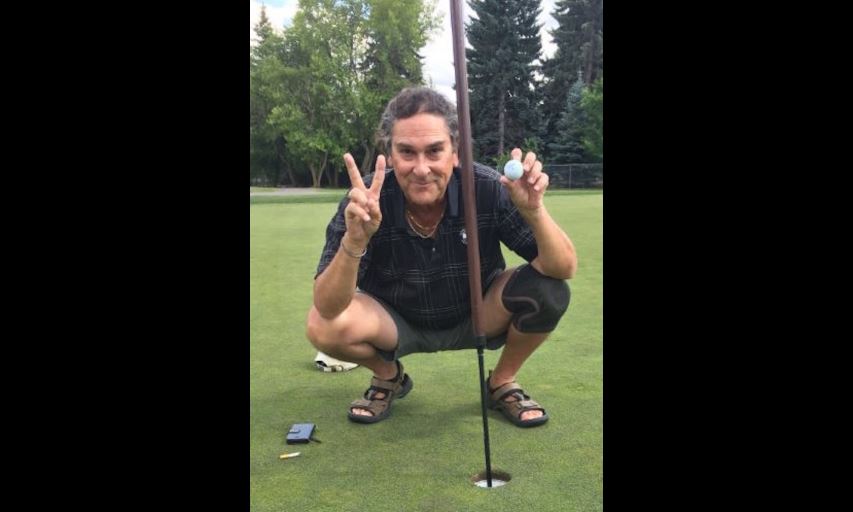 John McCutcheon, A Member At The Derrick Golf & Winter Club In Edmonton, Recorded Two Holes-In-One During One Round At His Home Course on June 28. (Photo Submitted By John McCutcheon)
By GORD MONTGOMERY, Inside Golf
After recording an ace at his home club in Edmonton, John McCutcheon knew he'd be shouldering the bar bill for his feat, so he figured he may as well make it worth while. And that's what he did by knocking in another tee shot during the same round.
In recording back-to-back aces on consecutive par-3 holes, McCutcheon, an 11-handicap who plays out of the Derrick Golf and Winter Club, beat the astronomical odds of 67 million to 1 as listed by PGA.com.
Speaking about his start to achieving this remarkable feat, McCutcheon, 65, said he sort of saw the first ace drop on the back nine where his round began at his home course.
"We came to Hole 16 which is the only par 3 on the back nine. We were playing from 109 yards. I hit a 52 degree wedge. It landed about three-and-a-half feet in front, took a hop, hung on the edge for a moment ... I bent down to pick up my tee and I could still see it over the top of my glasses ... and when I picked my tee up, the ball was gone! And then I had to avoid being tackled," by the rest of his group.
As for his second ace of the day, things weren't quite as clear. McCutcheon, who is a member of the Derrick's senior inter-club team, wasn't at all sure that volley had found the bottom of the cup despite what one of his playing partners was telling him. Speaking about ace hunting, he commented, "I personally don't think of holes-in-one every time I step up to a par-3 but I'd like to be on the green."
He stepped well beyond just hitting the greens on this day, as his foursome made the turn to finish their round on the opening nine assignments.
"It was the second hole, playing 143 yards. Eight iron. My eyes aren't that good any more and of course it's our second par three. I thought it was a good shot," before losing track of the projectile's flight line. "Our friend, the only one in the group who has really good eyes, went, "Wow!"
"I'm 'Don't do that James. Don't do that!' And he goes 'No. It's in!' And he comes over and lifts me up. I had my viewfinder out and I looked at the green, and the ball wasn't on the green and it should have been very close."
In the end it turned out the shot was closer than very close for the second time that day. About the second ace and the breezy conditions he was playing in, McCutcheon noted, "I won't claim it was a knocked-down something or other. That was hardly a breath in Ireland or Scotland!" noting much like the first '1' on his card, this shot bounced once and found its way into the bottom of the cup.
The pair of aces marked the third time he's holed a tee shot. These two feats were witnessed by Ted Cain, Ken Hoyano, James Busby and Howard Jespersen, who wasn't playing but was keeping score.
"The original one was June 14, 2002, on the west course(Old Course) at Wolf Creek," McCutcheon related when asked how long his hole-in-one drought had gone before ending in this most memorable way.
For many of us who have recorded an ace it seems the next hole or two can prove to be a bit challenging given the adrenaline flow and the head space you find yourself in but that wasn't the case here. McCutcheon noted he kept himself together this time, unlike his first time.
"I just looked at that (Wolf Creek) card and I had gone double bogey, ace and then double bogey. This time, I parred 17 and birdied 18!" and as it turned out, things only got better from there on in on the front nine. McCutcheon held things together for the rest of this amazing day, recording a final tally of 73, 1-over par. "I really wasn't thinking about that (final result). I just wanted to finish comfortably," he noted of the final seven holes.
While his foursome were making their way up and down the final few fairways, McCutcheon's wife, Bernadine, who until this day led the household battle of aces 3-1, had notified a number of friends about his first ace and they were gathering at the club to help the man of the hour celebrate. "I saw her behind the green on our final hole, the ninth, and at that point I just about lost it," he commented. "Bernadine had been lording that (hole-in-one lead) over me for a while," but that has, of course, now come to an end.
The Derrick's head professional, Trevor Goplin, wasn't sure if this was the first time one player had recorded a pair of aces in the same round and his club so he wasn't verifying that fact. He noted he hadn't had time to search the club's archives and hole-in-one wall plaques to check that fact out, but he did note it was the first time for this occurrence in his history at The Derrick, which is 22 years. "I highly doubt this has happened here before, but who knows? It would not be accurate at this time to say it's the first time here because you never know."
"It's exciting for sure. Very cool!" Goplin ended.
Asked about treating his pals and whoever happened to be lucky enough to be around the Spike Bar to some liquid refreshment, after his round was in the books McCutcheon explained, "It' amazing what a knowledgeable group of golfers there are at The Derrick. After all the congratulations, it was, "That's two drinks, right?"
Despite some hole-in-one insurance help through the club, McCutcheon still had to chip in over $900 to clear 'his' tab on this day but it's money to him that was well spent in reliving an accomplishment that few golfers worldwide can claim to have achieved.
"The chances of it ever happening again or slim to none, so it was fun to spend everything at once and be done with it," he ended.
---
About the Writer
Gord Montgomery is a retired sports editor of two weekly newspapers in the Edmonton area and is a member of the Golf Journalists Association of Canada. He is now in his ninth year of writing for Inside Golf. He can be reached at This email address is being protected from spambots. You need JavaScript enabled to view it.. He's also on Twitter at @gordinsidegolf and on Instagram at gordinsidegolf2.