Coyne's Walk Through Ireland A Reading Birdie
Details

Category: Inside Golf
Published: 2018-07-04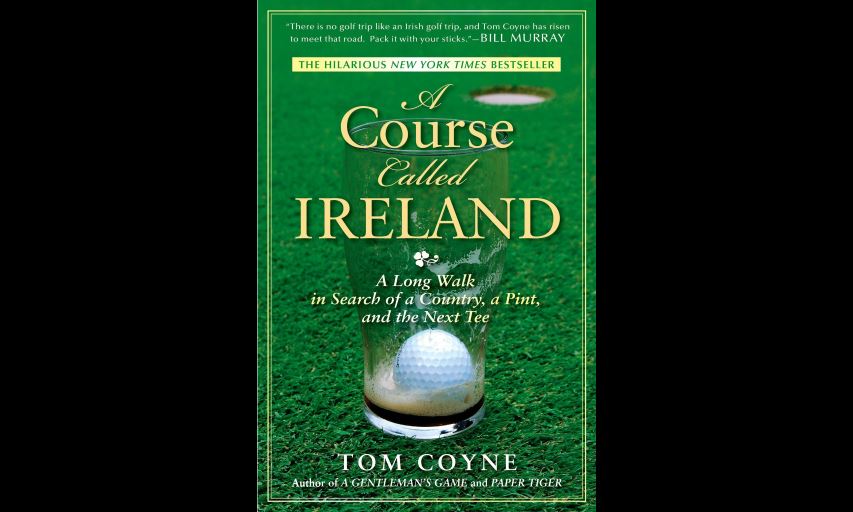 By GORD MONTGOMERY, Inside Golf
My first thought when Tom Coyne handed me his book, A Course Called Ireland, was "Damn! I wish I'd read this prior to teeing it up in Ireland!"
My second thought was, "Damn! I wish I was back in Ireland!"
Coyne's essay on how he played virtually every links course in that beautiful country, even when it's raining, is a rollicking tale of a man on a mission. And yes, it's the type of mission each and every one of us would love to have the opportunity to undertake.
You see, Coyne not only played a lot of golf over a four month stretch, he did a lot of walking. And not just traipsing up and down the calf-burning, glute-grinding hills and valleys of the local layouts but hot-footing it from course to course as well. What that meant is this book is as much about the tales away from the links as it is about what happened on the Irish golfing landscape. And it also meant over 1 million yards and 4,531 swipes at a golf ball - well, more than one ball actually - over the course of his travels.
This book is a golf bag full of laughs. The author, an Irish-American who hails from Philadelphia, has the ability to put into perspective the often ridiculous things that can happen in a foreign land when you're travelling by foot with a set of sticks harnessed to your back.
While it would be wonderfully difficult to put a modicum of those adventures, or misadventures if you will, into this report, suffice it to say that among the standouts are the Poop story, the helpful shortcuts the locals tee up for Coyne, and of course, the characters he meets on his journey around this beautiful golfing Mecca.
Throughout the 300 pages of A Course Called Ireland, the author weaves a spell of anticipation about what lays ahead as he tromps through the country's hinterlands starting in Killeen. Amazingly, over the four months he wove hither and yon about the countryside, wearing one pair of industrial strength shoes for the entirety of his journey, the man teed it up at almost five dozen courses, some that were what every golfer's pipe dreams are made of. Others, well maybe even the ever-present sheep wondered what the hell he was doing out there.
Regardless of the track though, Coyne paints vivid pictures of wherever he is in Ireland, a land not only rich with historical significance but rich in links golf history. Again, there are far too many courses to list but one has to be Ardglass, a wonderful cliffside links where the oldest clubhouse in the world, a remodelled castle complete with ocean-facing cannons, awaits guests. The great thing about this book is that while it is a publication about golf it isn't a golf book per se. The course descriptions are short and sweet meaning you're not reading a stroke-by-stroke recap of his rounds. Rather, it's a mesmerizing glimpse of golf courses you wish you could join him on.
Reading this book isn't about how fast you can finish it. It's about revelling in the mini-stories within, the shenanigans Coyne is part and parcel of, and enjoying the wit and wisdom of a wonderful population who are willing to do what they can to make strangers feel at home in the home of some of the best links courses in the world.
A Course Called Ireland: A Long Walk in Search of a Country, a Pint and the Next Tee is available on Amazon.
---
About the Writer
Gord Montgomery is a retired sports editor of two weekly newspapers in the Edmonton area and is a member of the Golf Journalists Association of Canada. He is now in his ninth year of writing for Inside Golf. He can be reached at This email address is being protected from spambots. You need JavaScript enabled to view it.. He's also on Twitter at @gordinsidegolf and on Instagram at gordinsidegolf2.