Gord's Alberta Golf Notes; Lee Fares Well In Britain; Mackenzie Tour Stops Need Volunteers; Markiw Tops Alberta Mid-Amateur field; Glencoe Youngster Off To Pair Of Big Events
Details

Category: Inside Golf
Published: 2018-07-07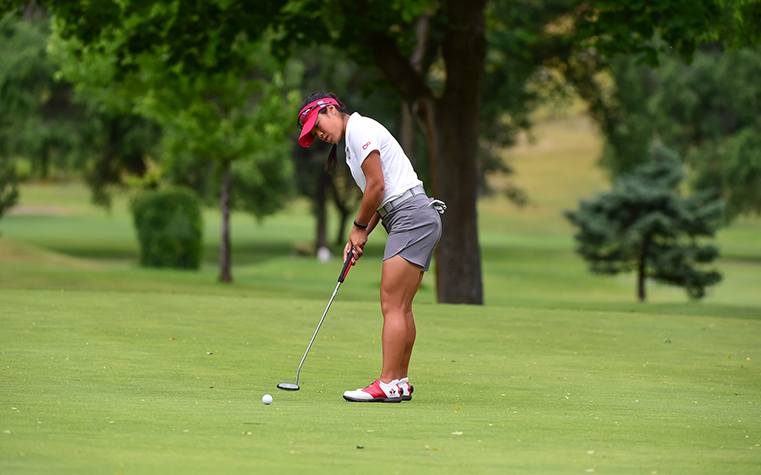 Jaclyn Lee Had An Impressive Showing At This Year's Women's British Amateur Making It To The Semi-finals - Image Credit Jurgen Kaminski (JKam Photos)/BC Golf
by Gord Montgomery/iG
Calgary's Jacklyn Lee may not have come out on top at this year's British Amateur but she sure as heck came close. Lee, from the Glencoe Club and a player for the Ohio State Buckeyes ladies golf team, lost out in the semi-finals of the prestigious amateur championship, falling to the eventual champion in the round of four.
Lee had advanced to the semi-final after defeating Denmark's Karen Fredgard 2 & 1 and then the Czech Republic's Sara Kouskova 6 & 5 before falling to Germany's Leonie Harm 6 & 5. In the final, Harm defeated Lee's Ohio State teammate Stephanie Lau 3 & 2.
The last Canadian to make it as far as the semi-finals at this event was Hall of Fame member Marlene Streit in 1953.
Markiw Reigns Supreme Despite Not Playing A Lot
Golf is hard enough, let alone being really hard when you don't get to play much. At least that's the theory. That though isn't true for Brandon Markiw, who captured the Alberta Mid-Amateur title by five shots despite playing less than a dozen rounds this year.
The Edmonton golfer topped the huge field at the event that was split between the Stony Plain Golf Course and the Glendale Golf & CC, finishing with a solid 3-under for the 54-hole event, the only player to break par.
On his way to the title, Markiw carded rounds of 68-75 (in tremendously windy conditions)-70. Close behind Markiw were St. Albert's Phil Mckenzie, who was alone in second, Stony Plain's Jeff Murdoch and Canmore's Jamie Cartwright, who tied for third.
Volunteers Needed For Mackenzie Tour's Alberta Events
It's still not too late to chip in and lend a hand and get the chance to watch some great young golfers … for free. All you need to do is volunteer to help out at the Calgary and Edmonton stops on the Mackenzie Tour-PGA TOUR Canada. Besides caddie opportunities, both tournaments need help with scoring, marshalling, transportation, player services and in other areas.
For more information, go to oilcountrychampionship.com or atbfinancialclassic.com.
Calgary Golfer Off To Pair Of High-Profile Events
It seems that a lot of great young female golf talent is coming out of the Glencoe Golf & CC in Calgary, including Annabelle Ackroyd. The youth recently qualified for a pair of high-end tournaments in the U.S. The 16-year-old has stamped her ticket to both the U.S. Girls' Junior Championship and the U.S. Amateur.
The first tournament takes place in Poppy Hills, CA., while the second runs in early August in Tennessee. To top all that off, she'll then head to the University of Minnesota, in 2019, on a full scholarship