Ilirian Zalli Keeps B.C. Junior Boys Championship All In The Family
Details

Category: Inside Golf
Published: 2018-07-09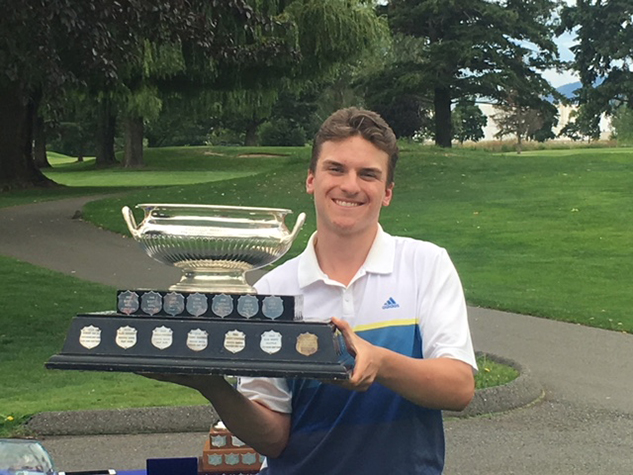 The 2018 B.C. Junior Boys Champion, Vancouver's Ilirian Zalli, Holds The Trophy Won By His Brother Just Last Year. (BC Golf/Brad Ziemer)
By BRAD ZIEMER, British Columbia Golf
KAMLOOPS, British Columbia — It's quite simple, really. Ilirian Zalli believed he was the best player in the field at the B.C. Junior Boys Championship, so naturally felt like he should win it. And the 16-year-old did just that, in very impressive fashion.
Down four strokes to fellow Vancouver resident Song Bai heading into Friday's final round at Kamloops Golf & Country Club, Zalli matched the course record with an eight-under 64 and won by four shots.
"I felt like my best round was still out there and today things came together the way I hoped they'd come together the first three days," said Zalli, who was not shy this week about expressing his feeling that he was the best player in the field.
"I don't want to say that I called it, but I definitely felt even heading into this week I was a very strong favourite to win," he said. "Maybe that added a little bit of pressure there, but there was also a little bit of motivation coming into this final round knowing, hey, I am the best player in this field, I should be the one winning this thing. And then I just went out there and put it all on the table, really."
He finished with a 72-hole total of 16-under par and followed up the win his older brother Christian had at this event last year at Squamish Valley Golf & Country Club. Ilirian finished tied for second behind his brother last year. "It feels good because I really felt last year I had a chance to win and so really to have both of our names there on the trophy, it is very special," he said. "This may be the only trophy that we both get to win together. It feels like a family win. It feels like we all won."
Bai, a 16-year-old Marine Drive Golf Club junior member, birdied the first hole after stiffing his wedge approach shot. But Zalli, who plays out of Richmond Country Club, also made birdie to remain four back.  The tide began to turn on the par 3 third hole, when both players hit their tee shots into the left greenside bunker.
Zalli had the tougher shot and proceeded to hole it for birdie out of the sand. Bai couldn't get it up and down and made bogey. Suddenly, the four-shot lead was two and by the time they got to the ninth tee, Zalli had a one-shot lead.
That lead became three at the turn after Zalli stiffed in iron approach shot to tap-in birdie range on the ninth green and Bai three-putted for bogey. Zalli agreed his bunker shot on three gave him the momentum. In the second round, he holed out of another bunker for an eagle. 
"That's what you need to do if you are going to come back from four shots in 18 holes," he said. "You need to have some of those to go along with all the good shots you are going to have. To be able to make that bunker shot gave me a lot of momentum right there. I picked up a couple of shots and then I really never looked back."
The 2018 Canadian Junior Boys Team From B.C.: (From Left) Joel Veenstra, Ilirian Zalli And Song Bai. (BC Golf/Debbie Pyne)
After struggling on the front nine, Bai went two-under on the back side to shoot an even-par 72. He finished alone in second place at 12-under par. Bai was a surprise contender this week. At last year's B.C. Junior tourney, he missed the cut after shooting rounds of 82 and 83.
But he spent the last year at a Florida golf academy and apparently learned some things. "I was happy to get back to even-par after being three-over," he said. "This is my first time shooting under par in a tournament so I am pretty happy."
Bai insisted he didn't feel any extra pressure and joked that the only mistake he made was not showing up early enough at the course Friday morning. "I probably got here a bit too late. I didn't have too much time on the range and putting green."
Joel Veenstra of Smithers finished in third place at seven-under. That earned him the final spot on the the three-man team that will represent B.C. at the Canadian Junior Boys Championship, which goes July 30-Aug. 2 in Medicine Hat, Alta.
The 18-year-old Veenstra made a nice up-and-down birdie on the par 5 18th hole to clinch third place. "Going into the day I was hoping to win, but after that my goals started to change and I was going for that third spot to get on Team B.C.," said Veenstra, who closed with a two-under 70. "I knew that was an important putt. My dad was probably shaking over that putt, too. A free trip."
Michael Crisologo of Richmond and Khan Lee of Langley tied for fourth place at six-under par after both shooting 71s on Friday.
Click HERE for complete final scoring from the B.C. Junior Boys Championship.
CHIP SHOTS: A two-man best-ball competition was held in conjunction with the event. Zalli and partner Keith Ng of Richmond won with a 72-hole total of 29-under par. That was five shots better than Zach Ryujin of North Vancouver and Sean Buckles, also of North Vancouver. . .Zalli said he will not play in next week's B.C. Amateur Championship at Rivershore Golf Links in Kamloops. He said he will spend time preparing for the U.S. Junior Amateur Championship later this month at Baltusrol Golf Club in New Jersey.