Yue Stages Final-Round Comeback And Wins B.C. Junior Girls Presented By Maui Jim Championship In A Playoff
Details

Category: Inside Golf
Published: 2018-07-09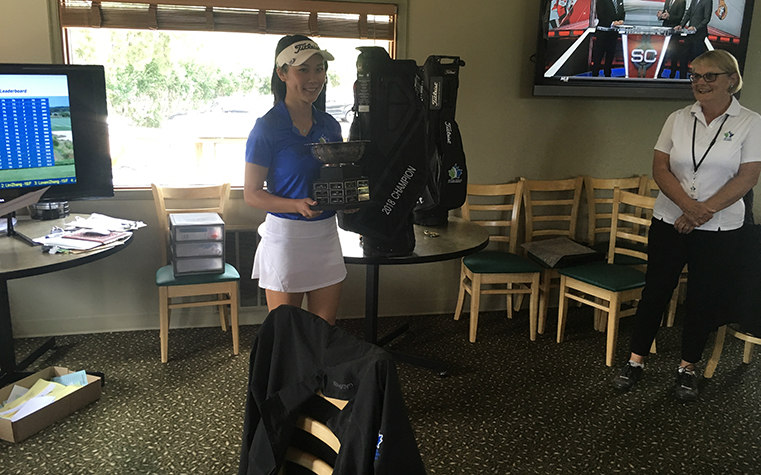 West Vancouver's Phoebe Yue Is Your 2018 B.C. Junior Girls Presented By Maui Jim Champion. (Photo/British Columbia Golf)
By BRAD ZIEMER, British Columbia Golf
KIMBERLEY, British Columbia — Phoebe Yue just wouldn't give up and that belief in herself paid off when she came back and won the B.C. Junior Girls Presented By Maui Jim Championship.
After a rocky start to her final round — Yue was two-over after three holes — the 18-year-old from West Vancouver was five shots behind leader Leah John. But Yue persevered and kept chipping away at John's lead before finally prevailing on the first hole of a sudden-death playoff at Kimberley Golf Club.
"All week obviously I was trying to catch up with Leah, but I knew I had to hold my own and keep playing no matter what," Yue said. "I had kind of a rough start, but I knew there was so much more golf to play and there were so many more chances, especially on this golf course because there are so many birdie opportunities."
The turning point came on the par 4 16th hole, where John's three-shot lead evaporated after she made a double-bogey and Yue birdied to pull even. Yue won the playoff on the first hole with a par. Both players had finished the 72-hole event at two-over par. Yue closed with a two-under 70, while John fired an even-par 72.
That birdie putt on 16 came after Yue had seen two short birdie putts lip-out. "I reached the green on 14 in two and I had not even a two-footer and I lipped out on that one," Yue said. "And then the hole before that, I lipped out on a five-footer, so I knew one would drop eventually."
Yue just graduated high school from Collingwood School in West Vancouver and is off to begin her collegiate career this fall at UCLA. "This was my last year of junior eligibility so I really wanted to win this year," said Yue, who plays out of Seymour Golf & Country Club in North Vancouver. "It means a lot to me. It really boosts my confidence to know I can play well and come back even if I am a couple strokes back.
The 2018 Canadian Junior Girls Team From British Columbia: (From Left) Leah John, Phoebe Yue And Amanda Minni. (BC Golf/Kris Jonasson)
"I think this week something I did a lot better than I used to was I really stuck to my game plan. I got so much good information from Jennifer (Greggain) our (Team B.C.) coach. I knew where I had to put the ball on the greens. Even if I didn't hit a great shot I wasn't putting myself in a position where I would be on the green and struggling to make par. And mentally I think I handled things well. I did well not getting upset and not giving up."
For John, an 18-year-old from Vancouver who plays out of Marine Drive Golf Club, it was a tough end to the week. She came this close to going wire-to-wire after opening the tournament with a four-under 68. John said she will take many positives from the week. "I shot the course record, which was really great," she said. "I played really smart today and I was happy with so many of my shots. And also, to finish in a playoff, you don't get that experience many times and it just gives you some more experience."
John is taking a gap year after graduating last month from York House School and hopes to play collegiate golf in September of 2019. "I learned that I am a good golfer and that I can keep up with people," she said. "And how important it is to stay in the moment and keep my composure."
Amanda Minni of Delta finished two shots back in third place at four-over par. Minni closed with a 72. She will join Yue and John on the three-woman team that will represent B.C. at the Canadian Junior Girls Championship, which goes July 31-Aug. 3 at Beach Grove Golf Club in Tsawwassen. Angel Lin of Surrey finished fourth at nine-over after shooting a 75.
For complete final scoring from the B.C. Junior Girls Presented By Maui Jim Championship click HERE.

CHIP SHOT: A two-woman best-ball competition was held in conjunction with the event. Minni and Yue won with a 72-hole total of 20-under par. That was four shots better than Angel Lin of Surrey and Karen Zhang of Richmond.