Kamloops Golf & Country Club One Of British Columbia's Hidden Gems
Details

Category: Inside Golf
Published: 2018-07-09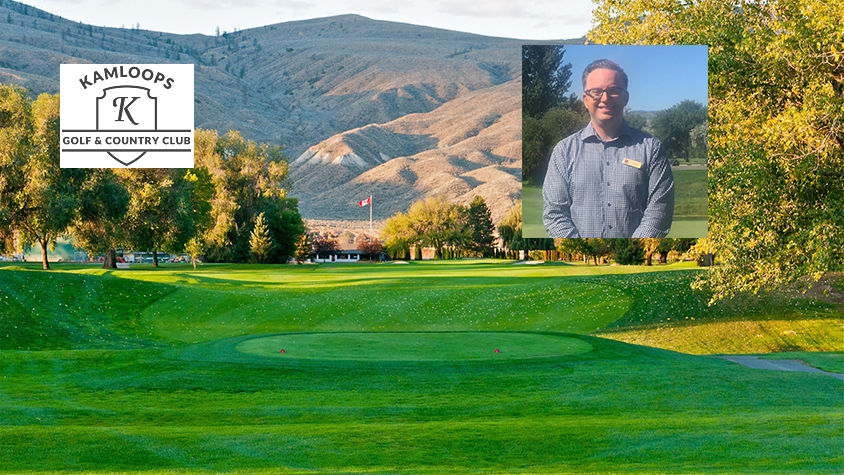 General Manager & Executive Professional Brice MacDermott (Inset) Is Hoping To Expose The Hidden Gem That His Facility, The Kamloops Golf & Country Club, Represents. (Photo Inset By Brad Ziemer Of British Columbia Golf; Kamloops G&CC Courtesy of Facility)
By BRAD ZIEMER, British Columbia Golf
KAMLOOPS, British Columbia — Like a lot of other golfers, Brice MacDermott didn't know a whole lot about Kamloops Golf & Country Club before he accepted the job of running the facility that was founded way back in 1914.
"I had actually never played the course when I took the job here in 2015," MacDermott, the General Manager and Executive Professional at Kamloops G&CC, said in an interview. "I told a few of my friends who had played here, if it's not good you are in big trouble."
McDermott, who came to Kamloops after spending 15 years at Kelowna-area facilities, quickly discovered that the course is very good indeed. The fact is Kamloops G&CC, the site of this week's B.C. Junior Boys Championship, is one of this province's many hidden gems.
The Kamloops area has established itself as a golf destination market and Kamloops G&CC sometimes gets overlooked in a market that includes the likes of Tobiano, Rivershore, The Dunes and Big Horn Golf & Country Club (formerly Sun Rivers).
Some golfers assume Kamloops G&CC is a private club and difficult for the public to play. The fact is it is a semi-private facility that gets about 70 per cent of its play from members. Public play is welcomed and accounts for 30 per cent of rounds played. "We do allow people to play here every day unless it is closed for a member event," MacDermott said. "We just want people to come out and see us."
What they will find is a classic old-style layout that is exceedingly playable despite the fact is dotted with some magnificent old and very large trees. "The playability of the golf course is one of its strengths," MacDermott said.
"We have trees, but it is not crazy demanding off the tee. And the fact you can run the ball into all 18 greens is something I love, because that caters to the average Joe, some of your seniors members and even me. I tend to stray off line a bit and I can still get a shot at the green. Maybe it's not at the pin, but I have access to hit it onto the green."
One Of The Many Weeping Willow Trees That Dot Kamloops Golf & Country Club. (British Columbia Golf/Brad Ziemer)
Kamloops G&CC has been on its present site -- near the airport on Tranquille Road on the city's north side -- since 1952. Back in 2009 it got a major redesign by British Columbia golf architect Ted Locke. "In 2009 we shut down the golf course and rerouted some of the holes, mostly on the back nine, changed a few things on the front nine, put in all new greens and re-did the fairways. They re-opened the course in the summer of 2010."
The last few years have been challenging ones for private clubs, but Kamloops G&CC seems to be weathering that storm quite well. The course has about 450 members and MacDermott has made it a priority to attract younger members. 
"The core is an aging membership like a lot of places, but have certainly worked hard to grow our younger categories the last few years, which we have," he said. "We have about 80 intermediate members now, which is up from three when I got here. We have about 65 junior members now. That has been rapidly growing. We only had about 20 when I got here."
The course has four sets of tees that range from 5,468 to 6,738 yards. Public green fees are $72 in peak season. A $45 twilight rate is available after 2 p.m. "There's only a few holes where you can lose a ball," MacDermott said.
"It doesn't happen a whole lot and I think that is one of the things that I really like about the golf course. I don't hit it super straight and you can spray it around and hit a whole bunch of different shots. You have to use every club in your bag here and you should be able to shape it both ways. The golf course is going to ask that of you when you play it."
For more information, visit kamloopsgolfclub.com
.