Gord's Alberta Golf Notes; Love Coming To Calgary; Whitecotton Shows Winning Form; Kennedy Turns Record Round Into Title; 120 Teeing It Up At Men's Amateur
Details

Category: Inside Golf
Published: 2018-07-16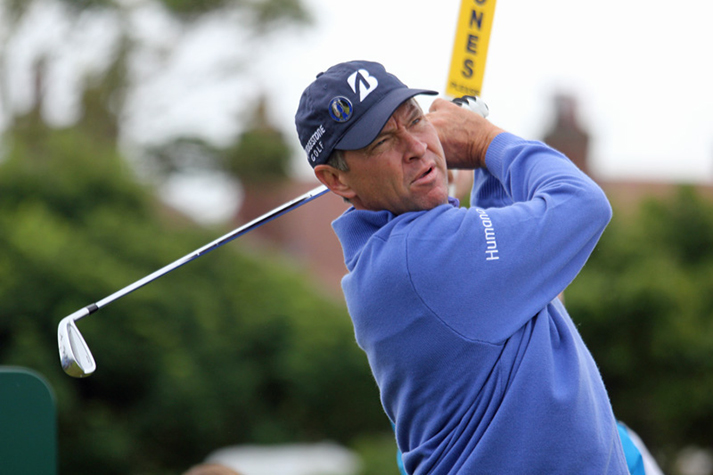 Former PGA Champion Davis Love III Has Committed To The Shaw Charity Classic In Calgary This Summer - Image Courtesy Flickr
And the big names keep rolling in. The latest addition to the popular PGA Champions Tour stop in Calgary has been announced and it carries a bit of weight. Davis Love III confirmed recently he will join the field for the 54-hole event to be played at Canyon Meadows Golf & Country Club.
This will be be the first time Love III, now 54, will take part in this particular event, scheduled to run from Aug. 27 to Sept. 2.
Love III was always a consistent contender on the PGA TOUR where he won his first tournament in 1987 and then added another 21 victories during his career. The World Golf Hall of Famer's last win on that circuit came not all that long ago, when he topped the field in the Wyndham Championship in 2015. Love III joins other big names, Scott McCarron and Rocco Mediate, in the field that is growing stronger each week.
Whitecotton Tops Field In 2-Day PGA of Alberta Event
The cream always rises to the top and that was proved time and again during recent PGA of Alberta tournaments, including the first two-day event held at the great Wolf Creek Golf Resort. Despite seeing Dillon Batsel from the Connaught GC shoot an opening round of 62, which was only one shot off the course record set back in the Canadian Tour days, Keith Whitecotton from The Quarry in Edmonton put together two solid rounds of 65-68 to edge the first-day leader by one stroke and walk away with the win in the Golf Supply House Series.
Mike Belbin from the Royal Mayfair and Jeff Cuthberston from the Stony Plain GC ended up tied for third, three shots back of the winner. In picking up the win, the Edmonton pro chased down Batsel who had a two shot lead after nine holes of the second day.  With one hole left, Whitecotton held a two-shot advantage and when Batsel managed a birdie on No. 19 to pull within one, Whitecotton made par to secure the win. For the victory, he earned $1,875.
In two other one-day events, Calgary pros walked away with top money as Dustin Risdon took the title in Stony Plain and Wes Heffernan walked away as winner at the Pro-Junior at Blackhawk GC.
Kennedy Uses Record Round To Top Field And Claim Ladies Alberta Amateur
In a major competition there's nothing batter than besting the course record … especially when it propels you to victory. That was exactly what Okotoks golfer Kat Kennedy did on her run to the 2018 Sun Life Financial Alberta Ladies Amateur Championship, when a final round 66 propelled her to the win. That round helped her to a one-stroke win over U.S. player Sydney Colwell.
The 54-hole event, played at Calgary's Willow Park GC, was plagued by weather delays but that didn't dampen the 23-year-old Albertan's run at the title, her first. Joining Kennedy on the Team Alberta roster for the national women's championship will be Calgary's Kenna Hughes and Wetaskiwin's Skyesong Alexis, who waltzed to a 12- shot victory in the Mid-Amateur division.
Top 120 Amateurs Begin Battle For Men's Am Title
While the host course may not be in the best conditions for the 2018 Sun Life Men's Alberta Amateur Championship, everyone has to play the same track, so what this battle is going to come down to is skill. And there will be plenty of that on display at RedTail Landing GC in Edmonton, from July 16 to 19.
One hundred and twenty of the top amateur men in the province will be looking to claim the title this year and without defending champ Brett Hogan on hand as he's off chasing professional dreams, the field is wide open. Top names in the 2018 field include AJ Armstrong – 2018 SVR Alberta Open Low Amateur; Jordan Irwin – 2016 Alberta Mid-Amateur Champion; Brian Laubman – 2004 Alberta Mens Amateur Champion; Brandon Markiw – 2018 Alberta Mid-Amateur Champion; Patrick Murphy – 2015 Alberta Match Play Champion; Tyler Saunders – 2014 Alberta Mens Amateur Champion; Kevin Temple – Three time Alberta Mid-Amateur Champion (2007, 2010, 2015) and Max Sekulic – 2017 Alberta Junior Boys Champion and 2018 Mens Amateur Runner-Up.
As for the course conditions, winter kill damaged several fairways and a few greens but that didn't stop Crossfield's Patrick Murphy from firing a stellar 64 in a practice round the day before the tournament began. The links style course relies heavily on wind as a protection device, and with sunny, warm weather with gentle breezes forecast for the length of the tourney, there's no telling how low the winner can go this year, even given the less than ideal playing conditions.