Armstrong Can't Be Stopped At Alberta Men's Amateur
Details

Category: Inside Golf
Published: 2018-07-23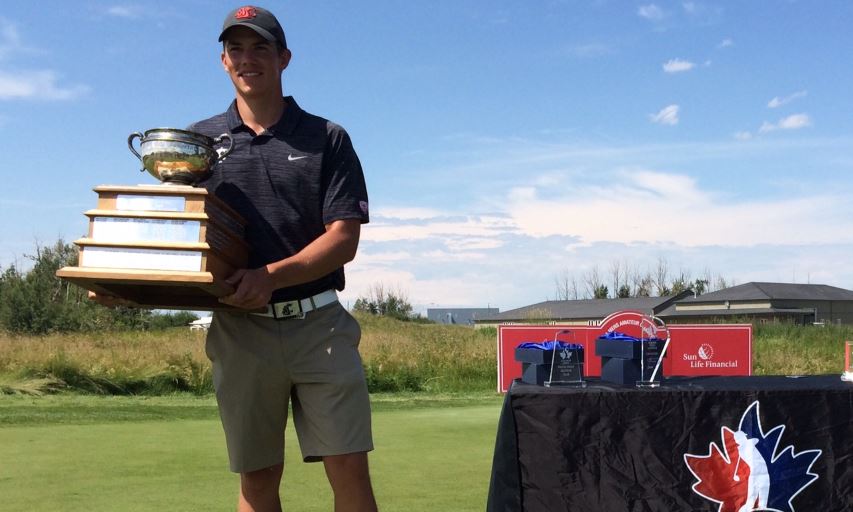 The 2018 Sun Life Financial Alberta Men's Amateur Champion, A.J. Armstrong From St. Albert, Will Represent The Province On The Willingdon Cup Team Along With Jesse Galvon and Patrick Murphy Who Finished Second And Third Respectively. (Photo/Gord Montgomery)
By GORD MONTGOMERY, Inside Golf
EDMONTON, Alberta — The drought is over for St. Albert's A.J. Armstrong, and we don't mean that just because of the downpour that halted play in the third round of the 2018 Sun Life Financial Men's Alberta Amateur Championship, held at the RedTail Landing GC.
There was no stopping, or topping, St. Albert's A.J. Armstrong at the 2018 edition of the most highly acclaimed amateur event each year as he broke a lengthy streak of not finishing atop the field. Calgary's Jesse Galvon did make a run at tracking the eventual champ down and extending that winless streak, but it never quite came to fruition.
Armstrong, who is about to enter his senior year at Washington State U where he plays for the Cougars, grabbed the first-day lead at the four-day event with a course record-tying 64 and never looked back on his way to the title.
He did have to look beside him though, when Galvon got off to a fiery start on the final day, picking up four shots on the front nine to pull even with Armstrong before the St. Albert man regained the lead that he managed to retain. He put the wraps on the championship by rolling in a huge birdie putt on the final hole to finish at 19-under par, two clear of Galvon.
"Jesse got off to a crazy start," said Armstrong, 21, after things had wrapped up. "He birdied four of his first five holes and five of his first seven holes. He kept putting the pressure on me."
As to his mindset for the final 18 and holding that rather comfortable lead, the winner noted, "I had lots of players chasing me. At the start of the day I was like, calm, and just wanting to play like I had been. To be honest, after nine holes (in the final round), Jesse was playing better than me. He had more birdies, he hit more greens, and he made better putts.
"I just kept trying to stay calm. I kept trying to play the way I had been playing for the first three days — keep hitting fairways, keep hitting the greens."
While his pursuer put the pressure on, Armstrong remained steadfast and noted he felt he had the chance to start making birdies on the closing nine. He did exactly that on three straight holes, 11, 12 and 13, stretching his lead to two at that point with five holes left.
"From there I just kind of played for pars," said Armstrong, numbers he pencilled in, save for the last two holes. Armstrong bogeyed No. 17 to see his lead shrink to one heading to the last hole, but when he rolled in his 20-footer for birdie on No. 18, the chase was done and his personal win drought was over.
When asked when his last win had taken place, Armstrong had to think long and hard about that."Honestly, I haven't had a win in a while. My last win would have been … geez … um … I want to say it was the Edmonton Junior (2013). It's tough to win in college. I've been playing pretty good golf this summer but sometimes that doesn't translate into tournament golf."
This time it did though and perhaps part of the reason was Armstrong was familiar with RedTail even though he's a member at the Windermere GC in Edmonton. He noted he's probably played this year's host course "about 20 times," so he knew the nuances of the links style layout that can be affected by wind, which was notably absent over the four days except for that rain and wind storm that rolled through, halting play for 90 minutes.
"I really had a good idea of how I wanted to play the holes before I came out which I think was a big advantage. It was nice to go wire-to-wire. I've never played with the lead a lot until this tournament so I was really happy with the way it went," which enabled him to pick up that next win he has chased for so long.
Armstrong said in closing he'll return to college this coming fall to complete his schooling and after that he hopes to play mini-tour golf in Arizona following that, looking for wins that come sooner than his latest one did.
---
About the Writer
Gord Montgomery is a retired sports editor of two weekly newspapers in the Edmonton area and is a member of the Golf Journalists Association of Canada. He is now in his 10th year of writing for Inside Golf.
He can be reached at This email address is being protected from spambots. You need JavaScript enabled to view it.. He's also on Twitter at @gordinsidegolf and on Instagram at gordinsidegolf2.