MJT-PGA Of Saskatchewan Junior Champions Crowned At Dakota Dunes; 85 Players Battle It Out In Ilta Grain-Sponsored Stop
Details

Category: Inside Golf
Published: 2018-07-26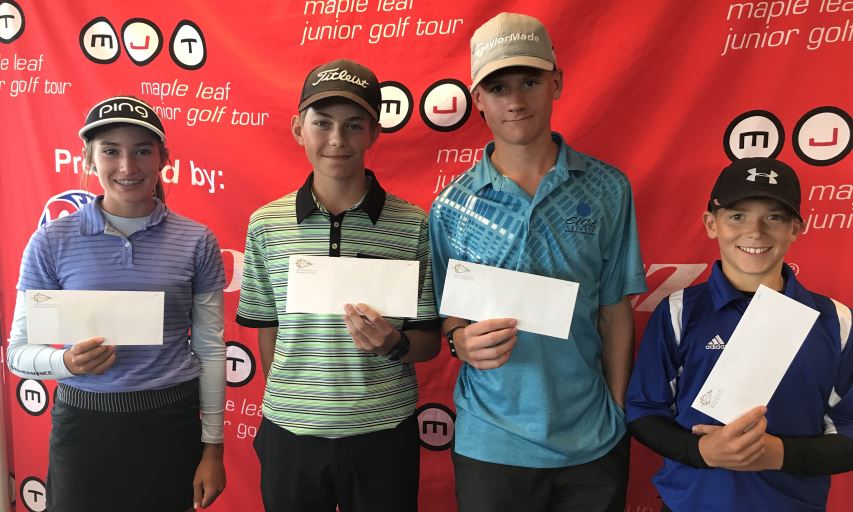 SASKATOON, Saskatchewan — Dakota Dunes Golf Links, in Saskatoon, SK, played host to 85 players from across the prairies in the Boston Pizza-presented Maple Leaf Junior Golf Tour's PGA of Saskatchewan Junior Championship presented by Ilta Grain on July 23 and 24, where seven division Champions were crowned and three selected to represent MJT Team Prairies in the National Team Challenge in Niagara Falls, ON, this September.
This stop was the last of a three-event series sponsored by Ilta Grain, and in two of these three events, Saskatoon native Josh Nagy has won low overall medalist honours as well as his respective age division, making it four MJT titles won in 2018 for the talented player. Nagy, 16, fired 76, 70 (146) to capture the MJT-PGA of Saskatchewan Juvenile Boys Champion's trophy by nine shots over both his twin brother,Cole Nagy (79-76), and Colby Friedrich, 16, of Battleford, SK (83-72), in a very deep field of 33 juvenile players.
Fresh off a recent win at the Saskatchewan Junior Boys Championship, Nagy said he is looking forward to next week's Canadian Junior Boys Championship in Medicine Hat, Alberta. "Coming down 18 I was just thinking to stay calm and make birdie and try not to let the other guys in my group influence me too much," he added. "I play MJT because it has the highest competition in Saskatchewan and we play great courses every tournament. It feels great to win the division title here, especially with Nationals next week."
Steven Duchscher, 17, of Saskatoon, was crowned MJT-PGA of Saskatchewan Junior Boys Champion after he shot a rock-solid 72 on day two to finish 76, 72 (148), beating runner-up Griffin Wilson, 17, from Swift Current, SK, (74, 78=152) by four strokes in the 17-18 division.
In a packed field of players aged 13 to 14, MJT-PGA of Saskatchewan Bantam Boys Champion was Cort Tunall, 14, of Kindersley, SK, who fired rounds of 76, 74 (150) to hold off runner-up Brett Leonard, 13, of Corman Park, SK, (76, 77=153). "My thoughts were to just hit solid shots and finish with a par," Tunall said about his final hole play. "This (win) feels great and is a good boost for confidence."
MJT newcomer Max Regier, 12, of Saskatoon, closed with a great score of 73 to card 81, 73 (154) and win the MJT-PGA of Saskatchewan Peewee Boys Champion's title by two strokes over Darien Herlick, 12, of Weyburn, SK (81, 75=156). Regier said afterwards, "My best hole was 14 as I birdied it the first day and parred it the second, but the 18th is one of my favourites. It's a tough hole where you need to hit a good drive. I'm very proud of myself for winning – this was my second MJT ever.
Two titles were awarded in the Girls divisions, firstly to Sarah Grieve, 15, of Saskatoon, who shot back-to-back rounds of 87 (174 total) to win the MJT-PGA of Saskatchewan Junior Girls 15-18 Champion's title by five strokes over Raylyn Schmidt, 16, of Moose Jaw, SK (93, 86=179). Grieve stated that her goal was to finish strong and stay focused all the way. "I feel great about winning my division title because it is my first win of the season and gives me confidence going into nationals next week."
The second title of MJT-PGA of Saskatchewan Girls U15 Champion went to Autumn Neiszner, 14, of Regina, SK, who carded scores of 97, 95 (192), and in the MJT Collegiate category, MJT veteran Logan Crawford, 22, of Red Deer, AB, came out to shoot 83, 81 (164).    
Nagy, Grieve and Duchscher were the eligible qualifiers for invitation to join MJT Team Prairies at the National Team Challenge at Royal Niagara Golf Club in Niagara-on-the-Lake, Ontario, September 23 to 25. This national competition will see qualifiers from across the Country compete in teams of six, representing their home region, in a three-day collegiate-style competition where the low four of six scores will count towards the team aggregate each day.
Full results and highlights from the MJT-PGA of Saskatchewan Junior Championship presented by Ilta Grain are posted online here, showing winners of the PLYR Long Drive and Closest-to-the-Pin Competitions, MJT Comeback Awards, and more.
The final stop on the 2018 MJT Saskatchewan schedule runs August 25 and 26 at Elmwood Golf & Country Club in Swift Current - the MJT Ford Series / Golf Saskatchewan Order of Merit Championship. For more information or to register, please visit  www.maplejt.com or call 1-877-859-4653.
---
About Ilta Grain
Ilta Grain is a leading exporter of quality grains throughout the world.   We specialize in pulses (lentils, peas, beans and chickpeas), grains/oilseeds and other special crops. We have extensive experience in procuring and trading various grains, and our experienced team understands global trade and logistics. We proudly support North American farmers – all of our products are grown in Western Canada. With six locations in Saskatchewan - Swift Current, Cutknife, North Battleford (two plants), Saskatoon and Belle Plaine (under construction), Ilta handles all types and varieties of pulses and oilseeds. We source directly from the growers, process and clean the products at our locations, and ship our products worldwide. We have control throughout the entire process, from the farm gate to the end customer – allowing us to keep to our high standards during every step of the way.  Click here for more information. 
About the MJT
The non-profit Maple Leaf Junior Golf Tour presented by Boston Pizza is Canada's number one-played Junior Golf Tour as well as the only national junior tour run exclusively by PGA of Canada Professionals and the 'Road to College Golf' in Canada. The organization is presented nationally by Boston Pizza and supported by valued Premier, Tournament and Product Partners. The MJT hosts more than 70 events across Canada, including free Ford Go Golf Junior Clinics, the MJT Mini Tour for 7-12 year olds, the Collegiate Tour for 19-23 year olds, and multi-day events for competitive players aged 11 to 18, which are also qualifiers for international competitions. The program offers annual awards, scholarships, and frequent player incentives to help reward player's performance and participation throughout each season. MJT alumni include many Professional Tour players and PGA of Canada Professionals, as well as Canadian Amateur, National and Provincial Junior Champions. The MJT aims to develop champions, in golf and in life, promoting the game from grassroots through to provincial, national, university and professional level. For more information on the Maple Leaf Junior Golf Tour, please visit www.maplejt.com.