Yealimi Noh Wins Canadian Women's Amateur Championship
Details

Category: Inside Golf
Published: 2018-07-30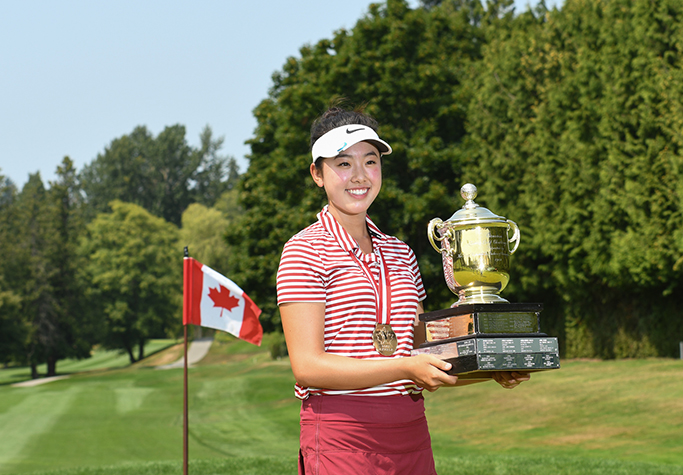 By BRAD ZIEMER, British Columbia Golf
No matter what she accomplishes in what certainly seems to be an extremely promising future as a golfer, Yealimi Noh will likely never forget the month of July, 2018.
All the recently turned 17-year-old from Concord, Calif. did was win three big amateur events. July started with a win at the Girls Junior PGA Championship in Lexington, Ky. Last week, she followed that up with a win at the U.S. Junior Girls Championship in Pebble Beach, Calif.
Her encore performance came Friday at Marine Drive Golf Club, where Noh won the 105th playing of the Canadian Women's Amateur Championship.
"It's been a whirlwind," Noh said. "At the beginning of the year I really set my goals for the three events this month. . .I didn't think I could win all of them. I'd be really happy with winning one out of three. Winning three in a row is just crazy."
Crazy good. What a future Noh seems to have as she heads into her senior year of high school. She won Friday on the 72nd hole, two-putting for par and finishing the event at 11-under par. That was one shot better than Dylan Kim of Sachse, Tex.
Kim and Noh came to the 18th tee tied for the lead. Kim pulled her drive into the left rough and had to try and hit a low hook beneath a tree. She mis-hit it and her ball remained in the rough. Kim had to settle for a bogey and second place.
Noh, who had striped her drive down the middle of the 18th fairway, changed clubs after seeing Kim miss her second shot. "I decided I just wanted to be safely on the green so I club-upped and hit a short shot. I was just going for the middle of the green."
The win earns Noh and exemption into the LPGA Tour's CP Women's Open, which goes August 23-26 at Wascana Country Club in Regina. Noh's mom, who was caddying for her on Friday, reminded her of that on the 18th fairway. "I had forgotten about it and then my mom told me that on my second shot on 18 and I was like, oh yeah. But then I was like, why did she tell me that right now," Noh said with a laugh. "I have never played in a pro event, so I am super excited."
Noh was one shot behind Kim entering Friday's final round and won despite shooting an even-par 71. "I thought I had to shoot at least a couple under," she said. Two shots stood out from her final round: a clutch par-saving putt on the par 4 15th hole and a chip-in for par on the par 3 sixth hole, where she pulled her tee shot 50 yards left.
Noh figures she has played 400 holes of golf this month and needs a rest. In fact, she thought about withdrawing from the Marine Drive event after she got to Vancouver. "I am so tired," said Noh, who turned 17 on Thursday. "Actually, at the start of the week I kind of wanted to withdraw. I really felt like I didn't want to play. During the practice round I was so tired and really stressed and didn't want to play. But I decided to just play."
And now she's very glad she did. Noh was flying home to California Friday night and hoping to get some serious rest before heading to the U.S. Women's Amateur Championship, which goes August 6-12 in Kingston Springs, Tenn. Can she win that one, too? "That would be crazy," she said. "But hopefully."
The loss on the final hole was a tough one for the 21-year-old Kim, who closed with a two-over 73. The University of Arkansas senior hopes she can draw some positives on what was another close call. "I hope so," she said. "I know I will. I just have had a lot of chances to win and haven't quite gotten it done yet. Maybe one day."
World No. 2 Lilia Vu of Fountain Valley, Calif., finished in a three-way tie for third place at nine-under with Allisen Corpuz of Waipahu, Hi., and Gina Kim of Chapel Hill, N.C. World No. 1 Jennifer Kupcho of Westminster, Colo., who opened the tournament with a course-record setting seven-under par 64, finished alone in sixth place at seven-under par.
Tiffany Kong of Vancouver was the low Canadian, finishing tied for 14th at two-over par.
Click HERE for final scoring from the Canadian Women's Amateur at Marine Drive GC.