Gord's Alberta Golf Notes; Kananaskis Fully Open; Alberta Golf's Low Pressure Events; Tourney Winners; Double-Aces Times Two
Details

Category: Inside Golf
Published: 2018-07-31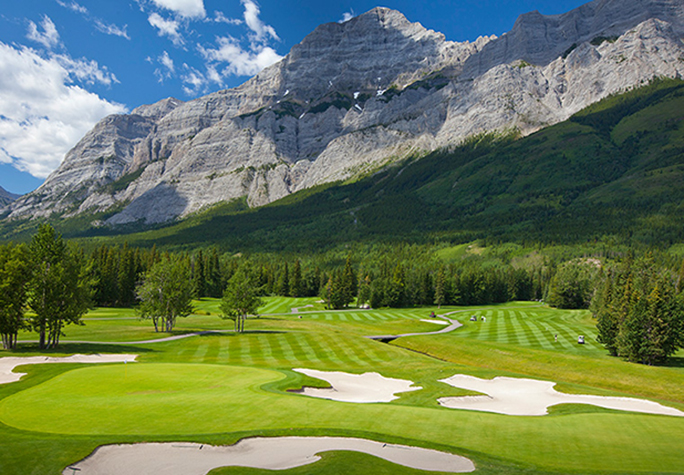 Kananaskis Now Fully Open On Both Lorette And Kidd
On time and under budget — construction jobs don't have a much better ring to them than that. And those two pieces of a massive rebuild effort were exactly what happened at the Kananaskis Golf Course where Mt. Lorette fully opened in the spring, and nine holes on Mt. Kidd swung into action in early June. The final nine on Kidd teed off on Aug. 1, finishing a five year reconstruction project after the two beautiful Rocky Mountain courses were almost totally devastated by a flood in 2013.
General Manager Darren Robinson said that the as the final touches went down, save for some administrative duties, the sense of happiness and satisfaction were overwhelming not only for him but Head Professional Bob Paley and Superintendent Calvin McNeely who worked long and hard to bring back two of the top-rated golf courses in the Rocky Mountains an hour west of Calgary. 
Both courses have had some minor tweaks done to the original design, set up by Robert Trent Jones III, but those were implemented in order to make the layouts more player friendly and certainly don't take away from one of the most popular golf courses in the province.
For more on the course, and to book a tee time, which is still possible for this playing year, go to www.kananaskis.com.
Alberta Golf Offering Low-Pressure Tournament Golf
If you've always wanted to try competitive golf, but feel you don't have the firepower to compete with high-level amateurs, worry no more — Alberta Golf has come up with a perfect way to let you enjoy tournament play without a whole lot of stress. Known as the Recreational Series, there are two events on tap that should provide not only some competition but some friendship. The first tourney on tap is the Alberta Ladies Team Classic, a 36-hole event to be split between two great courses, Stewart Creek and then at the Canmore Golf & CC.
The event is a 2-person net best ball that runs Aug. 7 and 8. Entry fee is $400 per team which includes a welcome gift, 36 holes of golf, and prizes. The other event is the Alberta Net Amateur Championship, to be played at the River Bend Golf and Recreation Area in Red Deer. This is also a two day event that tees off on Aug. 29. It is open to both men and women and scoring will be done on the Net Stableford system. Entry fee is $200l that includes a welcome gift, 36 holes of golf and prizes.
For more on either event, go to www.albertagolf.org.
This Year's Winners Of Major Alberta Golf Tournaments
Speaking of tournament play, the action has been hot and heavy in amateur events around the province this year, including the biggest of them all, the Alberta Men's Amateur. That tourney, played this year at RedTail Landing in Edmonton, saw St. Albert's A.J. Armstrong tame the links-style layout with a sterling 19-under par to walk away with top honours after the 72-hole competition. Armstrong led from start to finish in the tournament, and won by two strokes over Calgary's Jesse Galvon.
On the ladies side, Kat Kennedy began a string of one-shot wins on the women's side of the tournament ledge when she edged Sydney Colwill in the Ladies Amateur. Meanwhile in the Senior Ladies tournament, Barb Flaman of Sherwood Park, who plays out of the Windermere GC in Edmonton, topped the field with a narrow one-stroke victory over Jackie Little from B.C.
The Super Seniors saw Allison Murdoch from the Victoria GC also carve out a one-shot victory, as she edged out Linda Palahniuk from the Kelowna G&CC. And at the highest level of golf, Albertan Ryan Yip showed he can play with the big guys as he battled his way to a T-22 at Glen Abbey.
Edmonton Man's Double Aces Duplicated In B.C.
And if you're wondering how on earth anyone can record two aces in one round, as outlined in the story first brought to you by Inside Golf on Edmonton's John McCutcheon believe it or not, it happened again. The only difference was this time the feat happened in B.C. Terry Gorman recorded the amazing accomplishment earlier this month in Nanaimo when he aced the 11th and 16th holes at the Ledgeview GC in Abbotsford. So, if you're still waiting for your first '1' on your scorecard, have faith — it can happen and sometimes, more than once in a round.