Arccos Golf Rebrands Flagship Product As Arccos Caddie Smart Sensors
Details

Category: Inside Golf
Published: 2018-08-01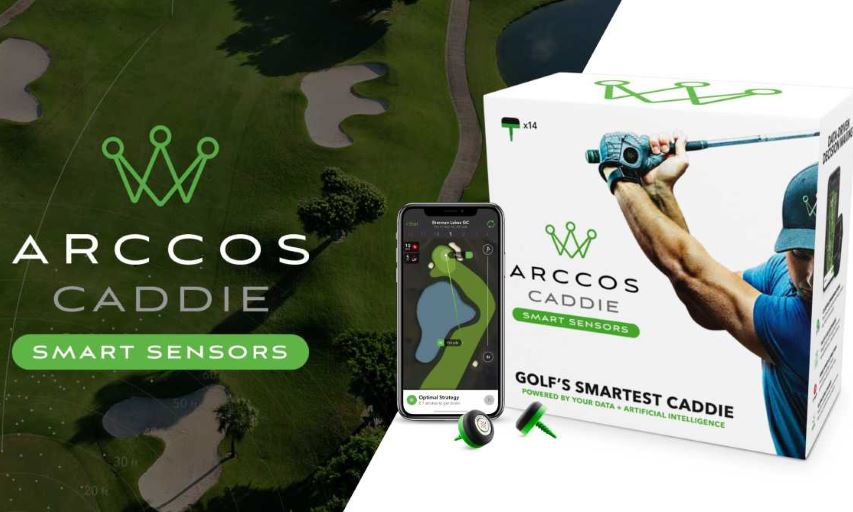 Arccos Golf announced that its award-winning "Arccos 360 Golf Performance Tracking System" will be rebranded as "Arccos Caddie Smart Sensors." Arccos Caddie Smart Sensors will receive new packaging designed to better showcase the features and benefits that have led to Arccos being named "Best Game Analyzer" by Golf Digest for three-straight years.
The decision to rename the flagship Arccos system is intended to better align the product title with its current feature set, and specifically highlight the system's ability to provide golfers all over the world with access to Golf's Smartest Caddie.
"Arccos technology has received significant upgrades over the last three months, including the introduction of our second-generation Smart Caddie for both iOS and Android," says Alex Green, Sr. Director of Marketing for Arccos Golf. "Our decision to rebrand 'Arccos 360' as 'Arccos Caddie Smart Sensors' reflects our commitment to harnessing the power of data and A.I. to help golfers make smarter decisions and shoot lower scores."
While Arccos Caddie Smart Sensors will feature new packaging, the 14 ultralight sensors included are identical to the Arccos 360 system, and both versions of the product will be available through retail channels during a brief transition period. The Arccos 360 app will also be rebranded as "Arccos Caddie" in both the Apple and Google Play app stores.
Arccos Caddie Smart Sensors combine automatic data capture and advanced analytics to help all golfers improve faster and have more fun on the golf course. Arccos users lowered their handicap by an average of 3.55 strokes in 2017, representing a remarkable 46x greater rate of improvement than the average golfer with a USGA handicap. Powered by Microsoft Azure, Arccos Caddie leverages a data set of 100 million+ shots hit during 1.6 million rounds played by the Arccos community and 418 million mapping data points on 40,000+ courses to provide optimal on-course strategies. Based on the dramatic improvement of Arccos users and the success of golf's first A.I. platform, Fast Company named Arccos one of the "World's Most Innovative Companies 2018."
In addition to Microsoft, Arccos is an official partner with Cobra Puma Golf, which recently launched golf's first smart set, Cobra Connect Powered By Arccos. As part of this ongoing collaboration, every club in the Cobra KING F8 line features an Arccos sensor embedded in the grip. This helps players improve faster by automatically tracking and receiving actionable insights for every aspect of their game.
For more information, please visit arccosgolf.com.