Hot Scoring Fires Up MJT's Cultus Lake Mini Tour Stop
Details

Category: Inside Golf
Published: 2018-08-01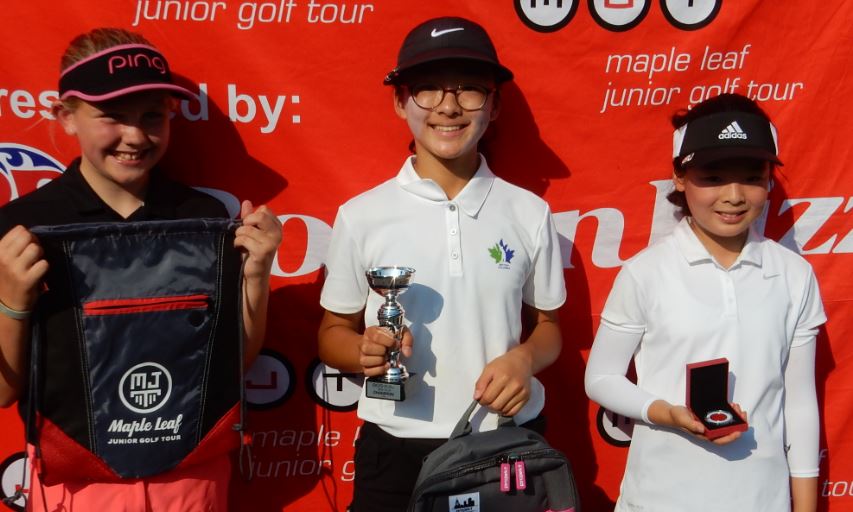 By MAPLE LEAF JUNIOR GOLF TOUR (MJT)
CULTUS LAKE, British Columbia — The Boston Pizza-presented MJT Mini Tour visited the outdoor recreation capital of the Fraser Valley -Cultus Lake, BC – on Sunday, July 29, for the MJT Mini Tour's US Kids Golf Australian Open Qualifier supported by Golf Town. The tournament for seven to 12 year olds was held at Cultus Lake Golf Club, where players navigated a very tight par 63 in temperatures soaring into the high 30's. Some scorching scores among the very young competitors in six divisions were also recorded, as highlighted below.
MJT Girls 11-12
Low round of the day went to Ye Ji Kwon, 12, of Port Coquitlam, BC, in Girls 11-12, who fired a fantastic five-over-par 68. Kwon has been chasing her first victory on the MJT, and with her fine play on Sunday, she was finally able to break through into the winner's circle. "I'm very happy because it's my first win on the MJT. I'm very proud of myself." Runner up in the division was Kaitlyn Anderson, 11, of South Surrey, BC, who shot 73.
MJT Girls 9-10
Making the trip to the tournament worthwhile, Yeeun Kwon, 9, of Winnipeg, MB, won the MJT Girls 9-10 title. Kwon, playing in her first Maple Leaf Junior Golf Tour event ever, shot an impressive 80 to win by five shots over Margaret (Yanxin) Liu, 10, of Vancouver, BC. With the win, Kwon has earned herself an invitation back to BC for the MJT Mini Tour National Championship presented by Ford in Tsawwassen at the end of August.
MJT Girls 8U
Wenyi Xia, 8, of White Rock, BC, ran away with the MJT Girls 8 and under title with a score of 88. With the win, Xia was able to improve upon her runner-up finish from the last Mini-Tour event at Musqueam Golf and Learning Center in BC. Fourteen shots back was runner-up in the division, Amanda Hu, 7, of Surrey, BC.
MJT Boys 11-12
Top finisher in the MJT Boys 11-12 division was Emil Liddell, 11, of Vancouver. Liddell fired a very solid 70 to beat Ryan Burns, 12, of Abbotsford, BC, by two shots. Liddell and Burns battled hard all day as the lead exchanged hands multiple times. Standing on the 18th tee with a one-shot lead, Liddell said he thought to himself, "just don't hit it in the water." He would go on to expand his lead to two shots after making a four on the last.
MJT 9-10 Boys
Maxim McKenzie, 10, of Chilliwack, BC, shot a 71 to win the MJT Boys 9-10 title by three shots over Aidan Liu, 10, of Richmond, BC, who tried to battle back after a difficult start but ran out of holes. McKenzie recounted his best hole of the day was number 12; "I had to hit a shot off the cart path and I put it to 10 feet, that really helped me keep my momentum."
MJT Boys 8U
Stellar play was recorded in the MJT Boys 8U division, where every competitor broke 80. The winner was Jonathon Xia, 8, of Surrey, after he fired a very impressive 70 to win by four shots over Tiger Zhao, 7, of Vancouver.  With the win, we hope to see Xia compete at the Mini Tour National Championship at the end of August.
Receiving direct invitations to the 2019 US Kids Golf Australian Open, which will be played at the Riverside Oaks Golf Resort in Sydney, Australia, April 6 and 7, were Ye Ji Kwon and Emil Liddell.
Full details from the MJT Mini Tour at Cultus Lake Golf Club supported by Golf Town are posted online here, which also show winners of the PLYR Closest-to-the-Pin Competitions and Order of Merit point rankings.
One stop remains on the regular MJT Mini Tour schedule in BC which is August 19 at Greenacres Golf Course in Richmond, before the season wraps up at Tsawwassen Springs in Tsawwassen with the 2018 Mini Tour National Championship presented by Ford, August 23 and 24. Registration for the National Championship is now open. Those interested in competing are encouraged to sign-in to your account and register at your earliest convenience. For more information, please visit  www.maplejt.com or call 1-877-859-4653.
---
About Golf Town
Since our founding in 1999, Golf Town Limited has grown to become Canada's golf superstore. With stores all across Canada, we have everything you need to play your very best. Golf Town Limited stores are sanctuaries where golf devotees come to try, buy, learn about and improve their game. With big box stores averaging 18,000 square feet, we carry an unprecedented selection of all the top brand names in golf, at the best prices. Whatever you are looking for - from clubs, bags and balls, to footwear, apparel, accessories and gifts - we're a veritable golfer's paradise. See www.golftown.com. 
About the MJT
The non-profit Maple Leaf Junior Golf Tour presented by Boston Pizza is Canada's number one-played Junior Golf Tour as well as the only national junior tour run exclusively by PGA of Canada Professionals and the 'Road to College Golf' in Canada. The organization is presented nationally by Boston Pizza and supported by valued Premier, Tournament and Product Partners. The MJT hosts more than 70 events across Canada, including free Ford Go Golf Junior Clinics, the MJT Mini Tour for 7-12 year olds, the Collegiate Tour for 19-23 year olds, and multi-day events for competitive players aged 11 to 18, which are also qualifiers for international competitions. The program offers annual awards, scholarships, and frequent player incentives to help reward player's performance and participation throughout each season. MJT alumni include many Professional Tour players and PGA of Canada Professionals, as well as Canadian Amateur, National and Provincial Junior Champions. The MJT aims to develop champions, in golf and in life, promoting the game from grassroots through to provincial, national, university and professional level. For more information on the Maple Leaf Junior Golf Tour, please visit www.maplejt.com.