Mt. Kidd Swings Back Into Action Five Years After Flood
Details

Category: Inside Golf
Published: 2018-08-01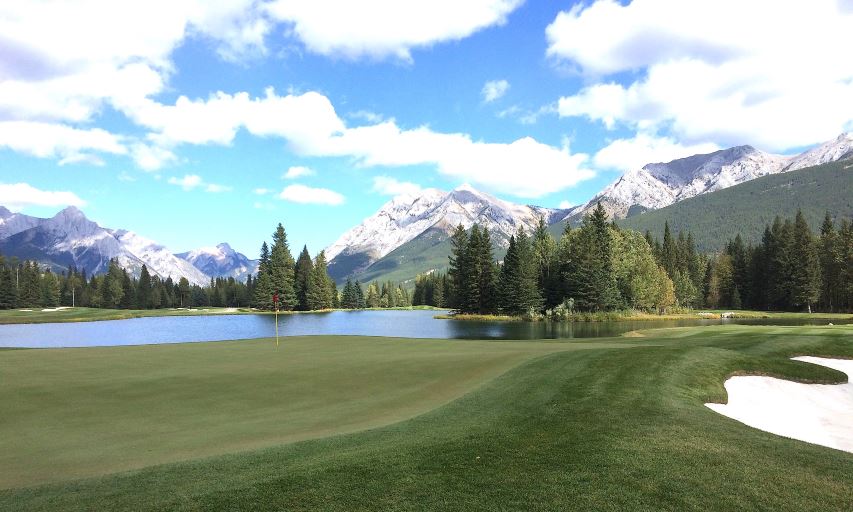 By GORD MONTGOMERY, Inside Golf
KANANASKIS COUNTRY, Alberta — After all the heartbreak of the loss of two iconic golf courses, after all of the fear that something this good would never be put back together, the final pieces of the Kananaskis Country Golf Course rebuild fell into place.
As of Wednesday, Aug. 1, all 36 holes of the Robert Trent Jones III design, originally crafted back in the early 1980s, swung fully back into action as the public finally got to tee it up on all 18 holes of the Mt. Kidd course. The Mt. Lorette course had preceded its sister in getting back into action when public play began on it in the spring, five years after a massive flood swept down the mountainside cascading over the banks of the Evan Thomas River, destroying 32 of the 36 pristine holes on the golf course.
Speaking to the excitement of seeing these two iconic courses fully back in operation for the first time since June of 2013, Kananaskis Country Golf Course General Manager Robinson proclaimed, "It's a feeling that we've been excited about, and anticipating, for the last five years.
"It feels really good to have the construction fully complete, all the contractors off site. That was a big milestone and happened in late June. That was something to celebrate, for sure."
But not quite the celebration when Kidd finally opened its final nine, two months after the first nine were opened on that track. The rebuild, headed by Gary Browning, was done as planned and within the budgeted $18 million. "It was slightly under budget," Robinson commented.
As to the golf landscape that now awaits one and all, the GM said the conditions at both courses couldn't be better.
"It's looking great. A lot of the holes were completed last year. We're just putting the finishing touches on it now; getting the final elements of it together now and opening Wednesday," he commented two days prior to that happy happening at Mt. Kidd. "We're pretty excited about it. It's just going to be exciting to have all 36 holes open for people to be playing and be operating two 18-hole courses instead of a 27-hole facility," where the public played one of two nines on Lorette and the open nine on Kidd.
Robinson said things went well with that partial golfing pastry in play but there's nothing like having the whole pie for the golfing public to share in.
"It's worked out exceptionally well. It was a cool experience for our guests getting to play configurations they normally wouldn't get to play, something that wouldn't exist during normal operations."
All that's driven out of mind now though with the reopening of Kidd's entire layout. While it will look much the same as it did prior to the flood, there have been a couple of changes made to enable better visuals and playability, much the same as was done with the Lorette 18 as it was brought back to life.
"On Mt. Kidd the most significant change is on the 11th hole. We took the tee boxes from in the trees and moved them right alongside the river. The engagement with the river is extraordinary. Then we took the green complex and moved it about 50 to 60 yards back. It also engages the river on the back of the green.
"Then, like everywhere else the layout is pretty much the same. We've improved elements of each hole whether that was bunker placement, cart path location, green contours," Robinson explained.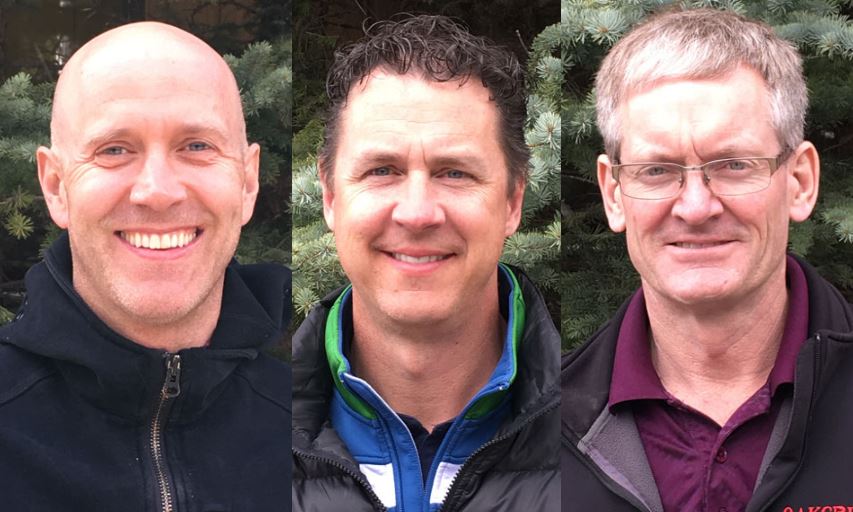 The Three Men Who Worked Tirelessly To Bring The Two Kananaskis Country Golf Courses Back To Life, GM Darren Robinson, Head Pro Bob Paley And Superintendent Cam McNeely.
The public has been flocking back to the mountainside beauties since times were teed up again in the spring, with hardly anyone skipping out on their appointed round(s). And if for some reason someone has to cancel, there is a method for others to fill those slots without a lot of trouble.
"Demand has been extraordinary and it's looking good for the balance of the season, too," Robinson commented. "We're very strongly booked for August and the first half of September.
"But there's always opportunities. Don't always assume we're full," he continued on about snagging an elusive tee time. "Plans change, things happen. People cancel from time to time so we want to encourage people to check. We have a point-of-sales system now that allows people to put their name on a Wait List when they phone the reservation office, so if things open up it lets us phone people and offer up those times."
In closing, Robinson said of finally being rid of the stressors of the past five years before and during the rebuild: "It's definitely highly rewarding and a highlight of our professional careers, for myself, Bob (Paley, head pro) and our superintendent Cal (McNeelly). The end of the construction was something to be celebrated and it was a real honour for us to have gone through this, the three of us together, and with everybody else that contributed. There are a lot of great things to celebrate."
And now, it's tee time once again at both Mt. Lorette and Mt. Kidd. Let the celebrations begin!
For tee times and to get your name on the wait list for openings that come up, go to their website at kananaskisgolf.com or call 1-877-591-2525, 7 days a week from 8:00 a.m. to 4:00 p.m.  There are special Alberta resident rates in place, but you must present a valid ID (driver's licence).
---
About the Writer
Gord Montgomery is a retired sports editor of two weekly newspapers in the Edmonton area and is a member of the Golf Journalists Association of Canada. He is now in his 10th year of writing for Inside Golf.
He can be reached at This email address is being protected from spambots. You need JavaScript enabled to view it.. He's also on Twitter at @gordinsidegolf and on Instagram at gordinsidegolf2.