Ziemer's B.C. Golf Notes: Crisologo Impresses In PGA TOUR Debut; Sunday Struggles Cost Taylor; Ames Third At Senior Open Championship; Shin Repeats As Golden Ears Champ
Details

Category: Inside Golf
Published: 2018-08-01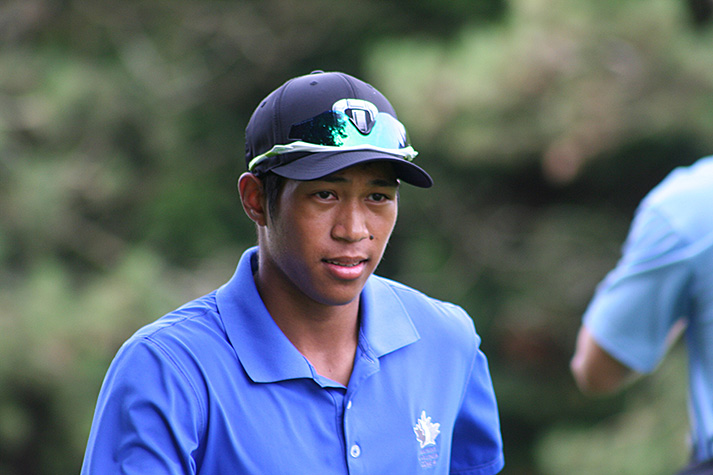 By BRAD ZIEMER, British Columbia Golf
Chris Crisologo's first RBC Canadian Open started and finished with a birdie. The 70 holes in between weren't bad, either. The 22-year-old Richmond resident and reigning B.C. Amateur champion rolled in a 20-foot putt for birdie on the par 5 18th hole to finish his first PGA TOUR event tied for 45th place at nine-under par.
Crisologo closed with a three-under par 69 at Glen Abbey Golf Course after opening with rounds of 68, 69 and 73. "It was quite the experience," Crisologo told reporters after his final round.
"Coming to the event I felt pretty good about my game and I felt really good making the cut and having a little bit of an impact on the weekend. Honestly, all around, I thought I could have played a little better, actually, which is kind of surprising. I think I was a little mediocre out there, but just to be out here and take it all in is an amazing feeling. And to be finally finished is quite the relief now."
Next up for Crisologo are two big amateur events. He will play in the Canadian Men's Amateur Championship, which goes August 4-9 at Duncan Meadows Golf Course and Pheasant Glen GolfResort on Vancouver Island. Then it's off to Pebble Beach Golf Links in California for the U.S. Amateur Championship, which goes August 13-19.
Crisologo told Ian Hutchinson of Golf News Now after his round that his Glen Abbey experience served as a boost to his confidence. "Golf is one of those games where confidence is key," he said.
"Leading up to the event the last few months have been a little bit of a struggle for me, but then after the B.C. Am just gaining that confidence and understanding that my game isn't as bad as I think it is definitely helps out. And then coming out here and proving to myself that I can play out here and if I clean up a few things it could even be a lot better."
Crisologo received the Gary Cowan Award as the low amateur in the tournament.
---
TOUGH ENDING
Nick Taylor's Canadian Open didn't end on such a positive note. The Abbotsford product double-bogeyed the 18th hole to finish a disappointing weekend at Glen Abbey. After opening the tournament with rounds of 68 and 67, Taylor was in a great position to lock up his spot inside the top 125 on the PGA TOUR's FedEx Cup points list.
But after shooting 72 and a five-over 77, Taylor fell into a tie for 71st place. He actually dropped one spot on the FedEx Cup points list, to 128th from 127th. He must finish inside the top 125 to remain fully exempt and avoid a trip to the Web.com Tour Finals.
Taylor has just two more regular-season events remaining — the Barracuda Championship in Reno, Nev., and the season-ending Wyndham Championship, which goes August 16-19 in Greensboro, N.C.
Merritt's Roger Sloan closed with a four-under 68 at Glen Abbey to finish tied for 37th at 10-under par.
---
AMES THIRD
Vancouver resident Stephen Ames finished in a three-way tie for third place at the Senior Open Championship at the Old Course in St. Andrews, Scotland. Ames finished at 10-under par, two shots behind winner Miquel Angel Jimenez of Spain.
---
SHIN REPEATS
John Shin teaches at Northview Golf & Country Club in Surrey, but apparently feels right at home at Pitt Meadows Golf Club. Shin successfully defended his Golden Ears Invitational title at Pitt Meadows, firing a seven-under par 65 in the second round to win the Vancouver Golf Tour event by one shot with a 36-hole total of nine-under par. West Vancouver's Kevin Spooner was second.
---
JUSTIN TIME
Justin Shin of Maple Ridge finished tied for ninth place at the Beijing Championship on the PGA Tour China circuit. Shin completed the 72-hole event at 10-under par. That was seven shots behind the winner, who happened to be another Canadian, Peter Campbell of Baddeck, N.S. North Vancouver's Eugene Wong tied for 55th at even-par.
---
AMERICA'S CUP
The B.C. Team of Phoebe Yue of West Vancouver, Chaewon Baek of Langley, Karen Zhang of Langley, and Akari Hayashi of Victoria finished seventh at the Girls Junior America's Cup competition in Evergreen, Colo. Yue, the B.C. Junior Girls champion, had the best individual result for B.C., tying for 11th place.
The Boys' America's Cup competition was held in Anaconda, Mont., where the B.C. Team of Joel Veenstra of Smithers, Andy Kim of Langley, Dylan Bercan of Vancouver and Michael Crisologo of Richmond finished 15th. Veenstra tied for 37th in the individual competition.
---
JUNIOR ACHIEVEMENT
The Nanaimo Golf Club team headed by pro Chris Martens won the Jack McLaughlin Memorial PGA of BC Pro-Junior Championship at Shaughnessy Golf & Country Club. Martens and three Nanaimo juniors — Sasha Farenholtz, Kirit Lalh and Eli Greene — beat 31 other teams with a 22-under par total in two-net best-ball play. The Meadows Gardens Golf Course team captained by Michael Caan finished second.
---
DOWN THE COAST
Coquitlam's Henry Lee finished tied for 40th at four-over par at the Pacific Coast Amateur Championship at the Olympic Club in San Francisco. Isaiah Salinda of South San Francisco won with a score of 12-under par. The Washington State Golf Association won the Morse Cup team competition.
---
CLOSE CALL
B.C. Senior Women's champion Jackie Little was a close second at the recent Alberta Senior Women's Championship. Little finished one shot behind winner Barbara Flaman of Edmonton. Two other British Columbia golfers finished in the top five. Alison Murdoch of Victoriawas fourth, while Lynda Palahniuk of Kelowna was fifth.
---
CHIP SHOTS
Congratulations to B.C. Senior Men's champion Doug Roxburgh, who shot his age for the first time at his home course, Marine Drive Golf Club. Roxburgh, 66, fired a seven-under 65 ... Victoria's Jeevan Sihota has a spot in the field in the Junior PGA Championship, which goes July 31-August 3 at Valhalla Golf Club in Louisville, Ky ... Nate Ollis of Victoria shot rounds of 69 and 68 to win the inaugural Pheasant Glen Open by two shots. Greg Koster of Courtenay was the low amateur and earned a spot in the upcoming Canadian Amateur Championship, which Pheasant Glen Golf Resort is co-hosting with Duncan Meadows Golf Course.