Ziemer's B.C. Golf Notes: Crisologo Has High Hopes At Canadian Amateur; Eric Church Falls For Victoria Golf Club; Hadwin Returns For PGA Championship; Taylor Takes It Down To The Wire
Details

Category: Inside Golf
Published: 2018-08-06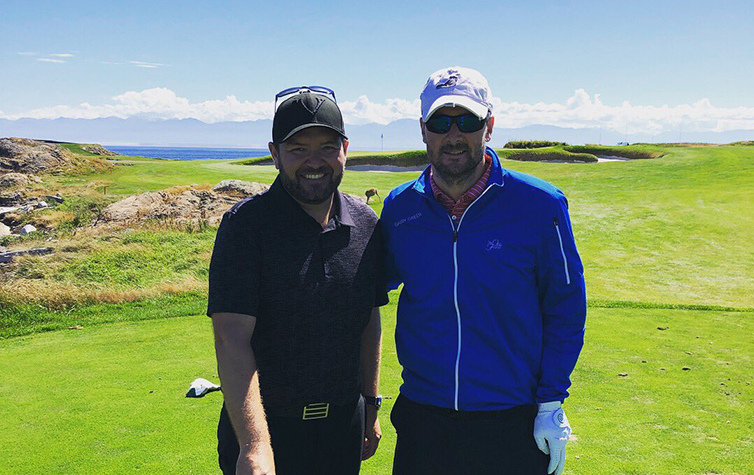 By BRAD ZIEMER, British Columbia Golf
Chris Crisologo of Richmond anchors a strong B.C. Team that has high hopes of bringing the Willingdon Cup back to the West Coast.
Crisologo, Victoria's Kevin Carrigan and Kaleb Gorbahn of Smithers will represent B.C. in the inter-provincial team competition that is held the first two days of this week's Canadian Men's Amateur Championship at Duncan Meadows Golf Course and Pheasant Glen Golf Resort.
Crisologo, who has to be considered one of the favourites to win the 114th playing of the Canadian Amateur, is excited about the prospects of winning the Willingdon Cup team competition. "It seems those two guys (Carrigan and Gorbahn) have always been top five in the province the last few years, so to finally have all of us together is exciting," Crisologo said. "We are definitely excited as a team to hopefully play well and bring home the trophy."
Gorbahn, who just completed his collegiate career at the University of Nevada in Reno, has finished no lower than seventh in the last three B.C. Amateur Championships. Carrigan is a two-time Canadian Mid-Amateur champion who has had a number of top finishes at the B.C. Amateur.
Crisologo has enjoyed a super summer. After winning the B.C. Amateur at Rivershore Golf Links in Kamloops, the 22-year-old Simon Fraser University product received a sponsor's exemption into the RBC Canadian Open where he tied for 45th place and was the low amateur.
B.C. last won the Willingdon Cup in 2015. The Canadian Amateur starts Monday. The provincial teams will play Duncan Meadows on Monday and Pheasant Glen on Tuesday. The final two rounds of the tournament will be played at Duncan Meadows.
---
SPECIAL GUEST
His wife wouldn't believe him when Victoria Golf Club head pro Lindsay Bernakevitch told her he was playing golf Saturday with country music star Eric Church. Bernakevitch couldn't quite believe it, either. "It still seems surreal because Eric Church to me is like my country music Bono," Bernakevitch said. "When I first told my wife, she said, you're joking and I said, no. This is happening. She said he'll probably cancel."
Nope. Church, his manager and another crew member showed up for their Saturday tee time at Victoria GC and Bernakevitch joined them. Church, who was on the Island to play the Sunfest Country Music Festival on Sunday night in the Cowichan Valley, fell in love with the course.
"He had his camera out all day taking pictures of the course," Bernakevitch said. "He and his manager couldn't stop talking about how beautiful the West Coast was. They had never been to the Island before. He was texting pictures of our course to his family and buddies all day. That was neat."
Bernakevitch said Church has a solid golf game. "You know what, he is a total golfer. He is a member of a couple of clubs in the Nashville area. He and his band put on a big charity tournament every year. He surprised me. He was better than I thought he'd be, for sure."
---
DOWN TO THE WIRE
It's all going to come down to next week's Wyndham Championship for Abbotsford's Nick Taylor. The Wyndham is the final regular-season event on this year's PGA TOURschedule and Taylor will enter it outside the top 125 on the FedEx Cup points list.
Taylor made the cut at this past week's Barracuda Championship in Reno, Nev., but finished tied for 69th place and fell one spot to 129th in the Fed Ex Cup standings. He must move back inside the top 125 after the Wyndham Championship in Greensboro, N.C., to retain his exempt status for next season and avoid a trip to the Web.com Tour Finals.
---
RESTED AND READY
Abbotsford's Adam Hadwin is expected to play in this week's PGA Championship at Bellerive Golf Course in St. Louis. Hadwin pulled out of last week's Bridgestone Invitational at Firestone Country Club in Akron, Oh.,to rest a hip ailment that has been bothering him for some time. He is the only Canadian in this year's PGA field.
---
JUNIOR PGA
Victoria teenager Jeevan Sihota tied for 43rd place at the Junior PGA Championshipat Vallhalla Golf Club in Louisville, Ky. Sihota finished at seven-over par, 18 shots behind winner Akshay Bhatia of Wake Forest, N.C.
---
SUPER SATURDAY
Merritt's Roger Sloan ran out of birdies Sunday at the Web.com Tour's KC Golf Classic in Overland Park, Kan. After firing a seven-under 64 on Saturday that moved him into a tie for fifth place, Sloan shot a two-over 73 Sunday and finished in a tie for 14th place at 12-under par. That result moved Sloan up five spots to 47th place on the Web.com Tour money list.
Seann Harlingten of West Vancouver finished tied for 36th at eight-under par.
---
TENNESSEE TIME
Surrey's Hannah Lee, who finished sixth at last week's Canadian Junior Girls Championship at Beach Grove Golf Club in Tsawwassen, has a spot in this week's U.S. Women's Amateur Championship in Kingston Springs, Tenn. Lee is heading into her sophomore year at the University of Oklahoma.
---
TOP-20 FINISH
Kelowna's Cole Wilson was the top British Columbian at last week's Canadian Junior Boys Championship in Medicine Hat, Alta. Wilson finished five-over par and tied for 19th place. Christopher Vandette of Beaconsfield, Que., won with a score of two-under par after closing with a six-under 65 in the final round.
---
PARRY PREVAILS
Point Grey's Bryn Parry shot an even-par 72 and edged three other players by one shot to win a G&G PGA of BC Tour event at Squamish Valley. Conner Kozak of Okanagan Golf Club shot a six-under 66 and won an Interior PGA Tour event at Gallagher's Canyon by four shots.