Tyler McCumber Shoots 63 To Win On McCumber-Designed Course
Details

Category: Inside Golf
Published: 2018-08-06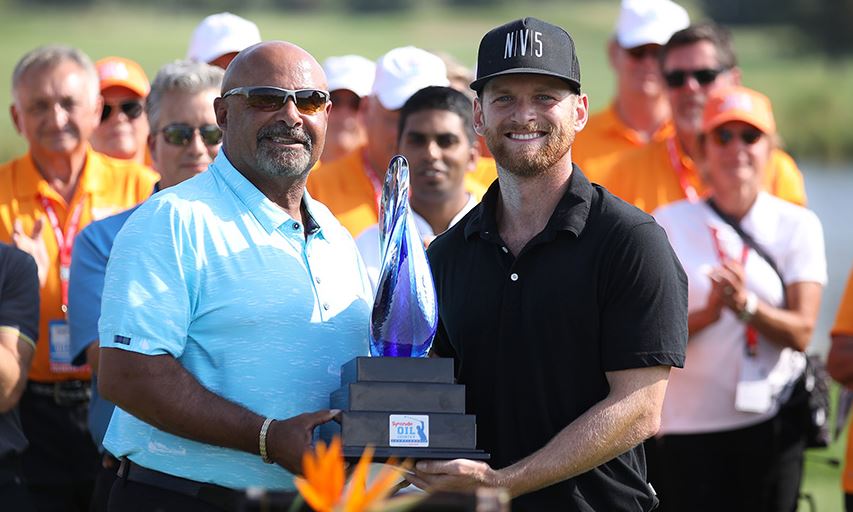 By MACKENZIE TOUR
EDMONTON, Alberta — Before the Syncrude Oil Country Championship began, there was a fair bit of interest in Tyler McCumber for a couple of reasons. He was coming off a win in the last Mackenzie Tour event, outside Toronto, and his father, Mark, designed the Edmonton Petroleum Golf and Country Club, the course hosting this third-year event. Storylines abounded. Naturally, pre-tournament questions arose about what winning on a Dad-designed course would mean to him.
McCumber now can speak to that topic, after shooting a final-round 63 and taking a two-shot win over Ian Holt, who also shot a 63. The victory vaults McCumber to No. 1 on the Order of Merit ($86,100), a $19,040 advantage over Zach Wright with four tournaments left in the season. He also becomes the first player in Mackenzie Tour history to win back-to-back tournaments, taking this title two weeks after winning the Osprey Valley Open for his first win in Canada.
"It's an honor. It was such a fun week. Just being here was fun playing on a course and seeing all the things he talks about in course design being in play," McCumber said of his dad and the course he designed 25 years ago. "The more I kept playing this course, the more it grew on me.
"And my mom said to win this for her, so I have to say I won this for her and not my dad. Thanks, Mom," Tyler McCumber joked.
McCumber's mom did get the win she requested, but it didn't come easily as several players made runs at her son during the final round. The chief antagonist was Holt, who matched McCumber shot for shot while playing in the group ahead of him. "I did everything I could," Holt said following the runner-up performance, his career-best finish.
"I didn't really give anything away out there. To shoot 8-under, you can't be mad about it," reasoned Holt, who birdied four of his final five holes to keep the pressure on. "I was really happy with how my game help up. You can't do anything else."
"The level and quality of play from the players this year is remarkable," McCumber said. "Everyone has played really, really well. I'm not surprised at all. The guys take it deep every week."
Thirty-six-hole leader George Cunningham rebounded from a 1-over 72 the previous day to post a 65 to finish third.