Bentley Golf North America Introduces Gift Collections
Details

Category: Inside Golf
Published: 2018-08-07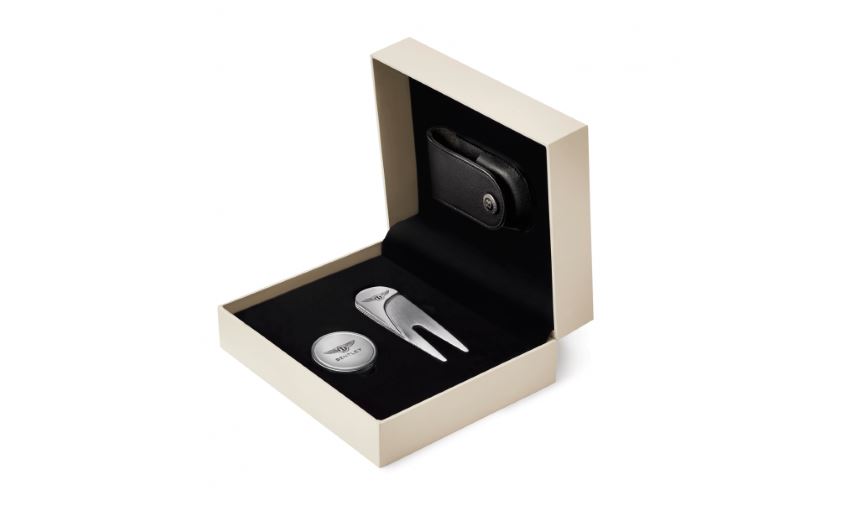 Bentley Golf North America, LLC, the exclusive distributor of the entire line of Bentley Golf Equipment throughout the North American market, announced the introduction of Bentley gift collections. All gift collections are presented in custom Bentley gift boxes.
"Our gift collections contain exquisite gifts curated from the Bentley Golf Accessory Range," said Chip Unfried, partner at Bentley Golf North America, LLC. "Every item embodies the essence of the Bentley brand, and features unparalleled craftsmanship of the very best quality luxury materials and incredible attention to detail."
The Bentley gift collections are available in three set configurations. Gift Set A is the perfect starter pack, gift or upgrade for an aspiring golfer. It includes an ultra-premium Pitch Fork and Cap Clip, a luxury Leather Scorecard Holder and a bag of Bentley Golf Tees.
Gift Set B is ideal for the novice golfer or as an upgrade for the elite golfer. It includes an ultra-premium Pitch Fork and Cap Clip along with 3 Bentley Golf Balls.
Gift Set C has been designed with ultimate luxury in mind. It includes an ultra-premium and luxurious Solid Sterling Silver Pitch Fork and Solid Sterling Silver Ball Marker coupled with a premium Leather holder.
All of the Bentley Golf Accessories in the gift sets have been meticulously designed to be a seamless extension of the equipment range. Details include:
Bentley Golf Pitch Fork and Golf Cap Clip – all are precision cut from a single piece of stainless steel combined with state-of-the-art CNC milling technology. They all feature softened edges and a two-tone high gloss piano black and satin steel finish.
Bentley Golf B1 6-piece Golf Ball – features a bespoke low compression, high energy core to provide lower spin and faster ball speeds to increase distance for golfers at every level. Coupled with a tour proven urethane cover, durability and a premium soft feel will be experienced with every shot.
Bentley Golf Leather Scorecard Holder – is a premium leather wallet designed to protect your scorecard from the elements on the course. The Scorecard Holder is comprised of ultra-soft black leather on the outside coupled with premium Highland Hare suede on the inside. It has been designed to fit the most popular size scorecards worldwide.
Bentley Golf Tee Bag – includes 30 premium 60mm wooden tees in a soft touch draw string bag.
Bentley Golf Sterling Silver Pitch Fork and Sterling Silver Ball Marker – both are made from Solid Sterling Silver in England and are special additions to the accessory range. The precision milled softened edges featuring Bentley Motor's trademark knurling detail provides a truly luxurious look and feel.
Bentley accessories are also available separately. For more information or to place an order, please visit www.bentleygolf.com.
---
About Bentley Golf
Developed in partnership with Professional Golf Europe, market leaders in the global golf industry, Bentley Golf offers the finest in cutting-edge manufacturing processes and expert hand-forging. The collection features irons hand-forged in Ichikawa, Japan, a town with a historical heritage of forging which goes back to the period of Samurai sword production. This forging technique produces the most stunning feel, consistency and performance, and lends itself perfectly to golf club production of the highest quality. Japanese forging, fused with modern day CNC Milling techniques, delivers the ultimate performance for aficionados. Detailing from Bentley models is featured across the collection of clubs, luggage, accessories and gifts. For more information, visit www.bentleygolf.com.