Gord's Alberta Golf Notes: Hef In The Hunt; Cool As A McCumber; Kananaskis Comeback Complete; Time To Test Lefty's Track
Details

Category: Inside Golf
Published: 2018-08-14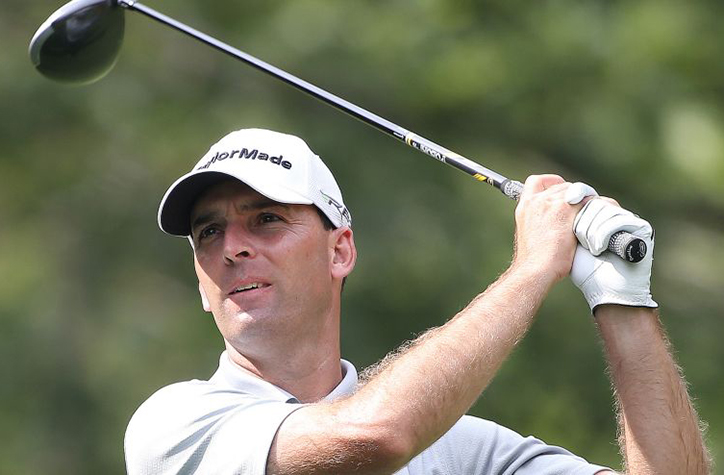 Calgary's Wes Heffernan Has Had A Pretty Good Run Of Late Without Getting Into The Winner's Circle - Image Credit Golf Canada
Heff Not Always First But Always Close
Nice guys don't always finish first, but they get their just rewards. That was the case for Calgary's Wes Heffernan, who over the past week had a second place finish in the PGA of Alberta's Assistants' Championship, played at The Ranch Golf & CC in Edmonton.
He then followed that up with a strong showing in his hometown where he didn't finish in that top-10 but still claimed the @F55F Canadian Player of the Week award with scores of 68-67-70-66. That left him in a tie for 15th overall at the ATB Financial Classic, played at the always pristine Country Hills GC.
McCumber Finds His Stride on Mackenzie Tour
It wasn't quite three times lucky for McKenzie Tour player Tyler McCumber, but man, he sure came close. The Canadian PGA TOUR player won two events in a row on the developmental circuit, claiming the top prize of $36,000 both in Caledon, ON., at the Osprey Valley's Toot Course and then duplicating that feat in Edmonton at the Syncrude Oil Country Championship.
The win streak didn't follow McCumber, the son of former PGA TOUR regular Mark McCumber who actually developed the Edmonton Petroleum Golf & Country Club where the second win took place, down south to Calgary though. There, the young gun finished third at minus-22, behind winner Corey Pereira (-26) and runner-up Lee Hodges (-25). Even so, McCumber leads the Order of Merit with winnings of $99,700, over $25,000 clear of Zach Wright who sits second in the 'The Five' standings.
Mt. Kidd Swings Back Into Action
It took five years, and a few dollars, but finally the reconstruction work at Kananaskis Country Golf Course is complete. Mt. Kidd fully opened to the public on Aug. 1, marking the completion of the restoration project to restore both Kidd and Mt. Loretta to their former glory after they were almost obliterated in June of 2013 by floodwaters. Mt. Kidd actually opened nine holes for public play on June 1 of this year but it took a couple more months for the back nine to be put into play. Mt. Loretta was open on all 18 holes from the beginning of this season.
So far the public has been flocking back to the two mountain beauties, taking advantage of some nice Alberta summertime weather and resident rates for Albertans. Even so, management says there are later tee times available for the remainder of this season. For more information on that, go to their booking website at kananaskisgolf.com or call the reservations office at 1-877-591-2525.
Mickelson National Operators Serving Up Some Tasty Treats
If you live in the greater-Calgary area and can't wait to set your eyes, or feet, upon the up-and-coming Mickelson National GC, now's your chance. For a limited time you can take a jaunt out to the facility on the western outskirts of Cowtown and have a look-see at what's shaping up to be a phenomenal track. The thing is, this isn't just a walk-about — you can tee it up and play a 4-hole loop that Barry Ehlers, the head honcho at the Windmill Golf Group, has decided to put into play.
And there's more: They are giving away a boatload, or is that a golf cart load, of prizes including a trip to the 2019 Masters; a five-year membership at this private club for an ace on one of the holes to played; trips to the great Wilderness Club in Montana and lots of other prizes. For more on this, go to tourandplaymickelsonnational.com