Lewis Estates – A (Sometimes) Quiet Piece Of Paradise In A Busy City
Details

Category: Inside Golf
Published: 2018-08-14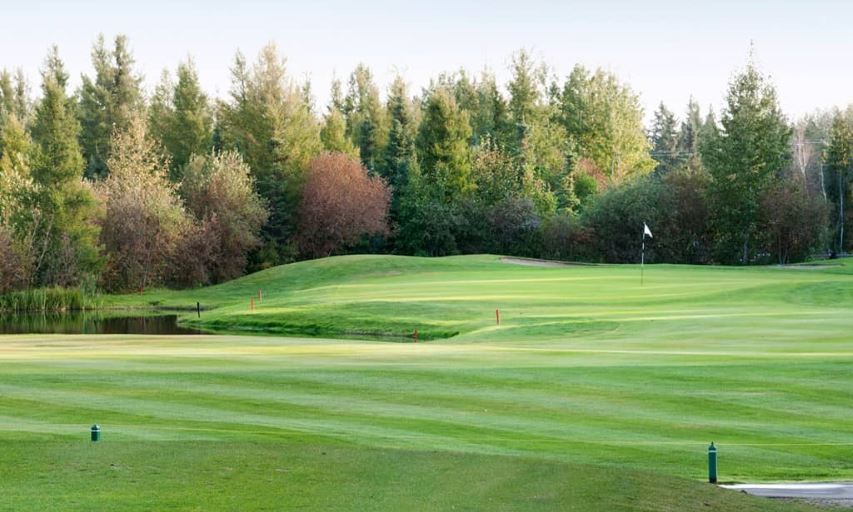 By GORD MONTGOMERY, Inside Golf
EDMONTON, Alberta — For a while it seems as though you and your playing partners are the only ones moving about on the ever-busy Lewis Estates Golf Course in Edmonton. At least until you become aware of the constant hum of traffic nearby ... and of course, the houses that eventually pop up alongside many of the fairways.
Other than those issues, and they are minor ones to be sure, Lewis Estates continues to provide a great golfing experience for an area of the province that is, essentially, golf-mad.
Addressing the somewhat overblown concerns that some players have with the proximity of residences and the odd roadway on this 6,700-yard layout, executive pro/general manager Jerry Linquist noted that the playing surfaces aren't really all that space restricted out here. While the front side is more secluded, you do come into busier areas on your trip down the final nine.
"The front nine is developed, for sure. There are a couple of holes there though, where it's quiet, peaceful, almost like you're not in Edmonton. We get a lot of comments from people that are two nines are really totally different. We do get a lot of requests from people that like to play the back nine; I guess they like some of the holes out there. But the front is so peaceful, quiet," and is still a good test of anyone's game.
As to the houses that are for the most part set well back from the fairways, Linquist noted, "Some people have concerns about that, without a doubt. But what we're trying to do is educate our customers that Golf Canada's new membership, the Gold Membership, covers some window breakage or damage (among other things). That's made them perhaps a little more comfortable out here. There are a couple of holes, we like to call them "hot spots," where there's potential for a golf ball hitting a house."
The housing thing aside, Lewis Estates isn't going to over-tax anyone with demanding carries off the tee or narrow fairways. What it does have protecting it though is some thick rough and some tricky greens.
"We call it a fair course. We always tell our customers to make sure they play from the right set of tees because it is sneaky long in some areas (the Blue/White combo plays to just over 6,200 yards with all the par-5 holes at, or over, 500 yards)."
Asked how many rounds Lewis Estates plays host to each year and how they stack up against other tracks within the city's confines, Linquist noted, "We're up there," as they generally push over 35,000 18-hole rounds through each year, plus a large number of loops that are half that size that boost that figure beyond 42,000 players.
Given its busy nature, players can book tee times up to seven days in advance at Lewis Estates GC, either by phone at 780-489-GOLF or online, which is the suggested manner in which to secure a tee time, at lewisestatesgolf.com.
---
About the Writer
Gord Montgomery is a retired sports editor of two weekly newspapers in the Edmonton area and is a member of the Golf Journalists Association of Canada. He is now in his 10th year of writing for Inside Golf.
He can be reached at This email address is being protected from spambots. You need JavaScript enabled to view it.. He's also on Twitter at @gordinsidegolf and on Instagram at gordinsidegolf2.