Fleming On Top Of Assistants' Championship Leaderboard At The End
Details

Category: Inside Golf
Published: 2018-08-14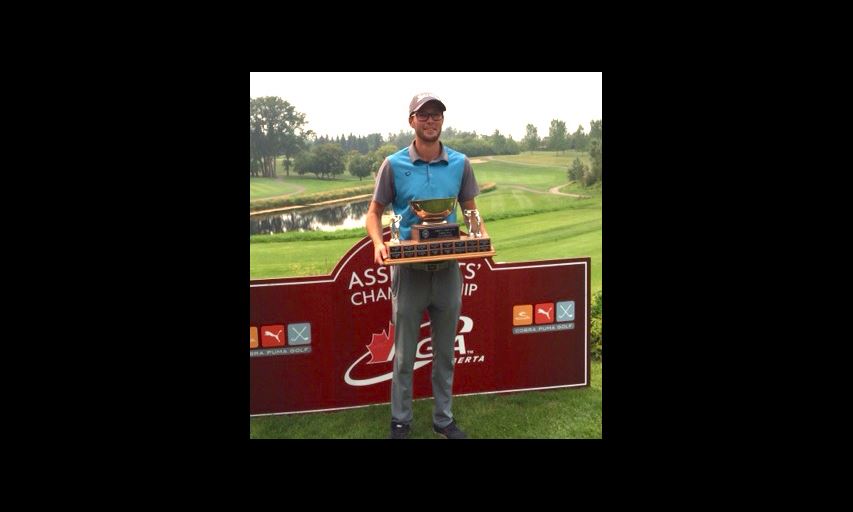 By GORD MONTGOMERY, Inside Golf
EDMONTON, Alberta — And so the dream season continues.
Riley Fleming recovered from a near-disastrous four-shot swing on the seventh hole of Round 2 at the PGA of Alberta Assistants' Championship, presented by Cobra Puma Golf, to capture the high-end event in his first try.
Fleming, from the NGA Dome in Calgary, carried a one shot lead into Day 2 over another Calgarian, Wes Heffernan, who was never out of the race for top spot right, taking the battle down to the 36th, and final, hole. While the two battled head-to-head right down to the wire, Edmonton's Mike Belbin and Calgary's Dustin Risdon also made charges at the lead, but came up just short in the end in the 60-man tourney played at The Ranch Golf & Country Club just outside of Edmonton.
The win marked the fourth of the season for the first-year CPGA pro, something he takes pride in considering the fields he finds himself up against and also considering that teaching golf professionals don't get to spend a whole lot of time playing the game.
"Wes and I were actually kind of laughing about that," Fleming said immediately after signing off on his winning score of 9-under 133 for 36 holes. "We have similar backgrounds where we played nothing but golf and then you transfer into teaching and you don't play."
The winner noted that things didn't go smoothly for him all the time as he had a few shots he'd like to have back.
"I had a couple of shots, like 80-yard wedge shots, that I left 20 yards short. Little things like that. But it's been a really fun year and everyone in the industry has been so amazing and being a part of the industry is just great."
Fleming said he really didn't have any sort of game plan coming into the competition.
"I honestly just thought about getting around. If you get hot, you can shoot something really low here but it doesn't take much to make a quick double, or a huge number actually, especially on the finishing holes. Anytime I'm in an event like this, I just want to get into the final group so I can see what's happening. That's my goal."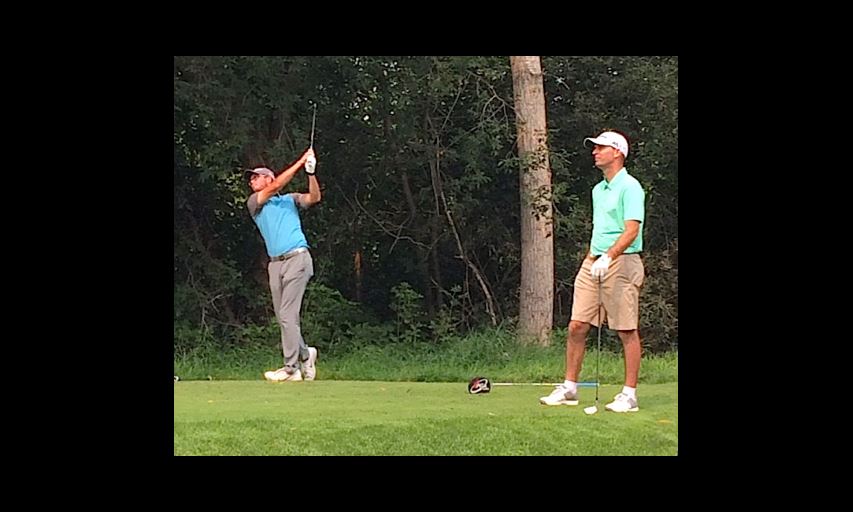 With His Closest Competitor, Wes Heffernan Looking On, Calgary's Riley Fleming Tees Off On The 17th Hole At The Ranch Golf & CC, On His Way To The Win In The 2018 Alberta PGA Assistants' Championship. (Photo/Gord Montgomery)
And speaking of those ugly numbers on scorecards, Fleming said his one wobble on the seventh hole where he took a 7 on the par-5, compared to Heffernan's eagle 3 was due to some mis-hits.
"Yeah, that was a 4-shot swing there. I haven't been a part of many 4-shot swings, at least not on that side of things!" he joked. "The hole's tough. I hit a bad drive (into the trees) but I completely messed up the lay-up yardage. I missed it by 30 yards. I calculated I could hit it 160 and I only hit it 130 ... you get racing, you start struggling."
That was the end of his struggles for this day however, as Fleming ended the round with a solid 4-under par 67 thanks to 10 pars, four birdies and an eagle.
Coming into the final three holes, which are demanding, hazard-filled tests, Fleming held a one shot lead which was stretched to two when Heffernan missed a short par putt on 16.
"Seventeen wasn't quite as tough a tee shot after that, but then I lipped out my birdie putt and Wes poured his in, which if you've played any golf with Wes, isn't a shock. It was nice he gave me that little gift (on 16) because 18, playing the way it was, wasn't easy. Wes hit a good tee shot there and put me under the gun to do something."
With that one shot the difference, both bombed their drives over the lake that separates the tee from the green. Despite the chance for Heffernan to tie with a birdie, or Fleming to cement the win with a '3', neither made the putt meaning Fleming again walked away with the title, something he seems to already be getting used to.
In closing, the winner agreed that this for him was a big win.
"There are a lot of good players here. I think that people just don't understand how good the fields are. Obviously winning any golf tournament is awesome. People don't understand how hard it is to win a golf tournament. You're one guy out of 60, or 80, or 100. It's only one person that wins. And whether it's a one-day event, or a four-day, anything, I'm always honoured to win."
With the win, Fleming pocketed a cheque for $3,000 while Heffernan took home a cool $2,000. Belbin picked up $1,450 for finishing alone in third at 138, five off the lead.
---
About the Writer
Gord Montgomery is a retired sports editor of two weekly newspapers in the Edmonton area and is a member of the Golf Journalists Association of Canada. He is now in his 10th year of writing for Inside Golf.
He can be reached at This email address is being protected from spambots. You need JavaScript enabled to view it.. He's also on Twitter at @gordinsidegolf and on Instagram at gordinsidegolf2.