Pro's Choice Golf Shafts Announces Two New Wood Shaft Additions
Details

Category: Inside Golf
Published: 2018-08-15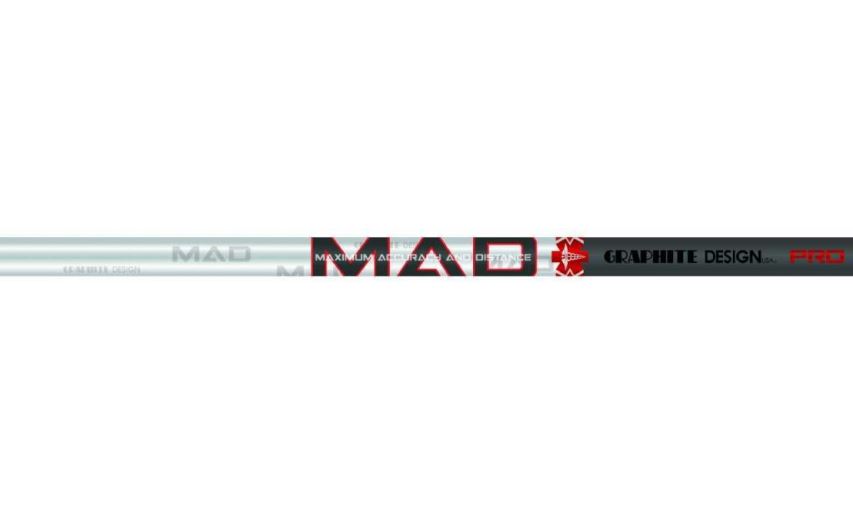 Pro's Choice Golf Shafts, Inc. announces two new wood shaft additions to the Graphite Design MAD (Maximum Accuracy and Distance) line of premium golf shafts. The additions include MAD Pro 6-Tour X-Stiff (TX) Flex and MAD Pro 7-Tour X-Stiff (TX) Flex. All of the Graphite Design MADshafts are available through Pro's Choice Golf Shafts Inc. and their Authorized Dealer network in the US, Canada, Mexico, Europe, UAE, South Africa, South America and Australia.
The team in the R&D lab at Graphite Design Japan went all out when designing the new Graphite Design MAD wood shafts. A challenge was issued to them to design a shaft that would alleviate the ill-fated golf ball flight issues that results in a lack of Maximum Accuracy and Distance. Accepting the challenge, they went to work in an effort to develop a cure.
The new Graphite Design MAD shaft is their response. Available in two strengths, the Graphite Design MAD Standard strength wood shafts are available in a 45g A and R Flex, 55g R and S Flex, 65g R and S Flex and a 70g S Flex and is designed for the intermediate to advanced players. The Graphite Design MAD PRO strength wood shafts are available in 65g S, X and TX Flex and 75g X and TX Flex which are all designed for the advanced to professional players with higher swing speeds and faster tempos.
Make an appointment with your local professional golf club fitter and request that he write you a prescription for a new Graphite Design MAD – Maximum Accuracy and Distance shaft to cure your ball flight issues that may be holding you back from achieving Maximum Accuracy and Distance. Graphite Design MAD with Torayca T110G – it's just what the Doctor ordered!
---
About Graphite Design
With 29 years of designing and manufacturing premium graphite golf shafts, Graphite Design shafts can be seen in play by the best professional and amateur players worldwide. Revolutionary technology, design and sourcing the most advanced materials are trademarks in all Graphite Design shafts, making them the highest quality performance golf shafts on the market. Validating the company's "Tour AD" logo, all of Graphite Design's Tour-proven shafts specifically promote "Accuracy and Distance". On Tour, Graphite Design golf shafts recorded 51 Global tournament victories in 2017 and have helped numerous golf professionals earn well over 200 victories and millions of dollars in professional prize money since inception. Graphite Design golf shafts continue to be the #1 golf shaft brand on the Japanese JGTO Professional Tour and has been for the past fifteen years.
About Pro's Choice
Pro's Choice Golf Shafts is the exclusive distributor of Graphite Design golf shafts in the United States, Canada, Europe, S. Africa, S. America and Australia. Pro's Choice Golf Shafts distributes all of the current Graphite Design shafts including the new 2018 MAD and Tour AD IZ wood shafts as well as the YS Nano Reloaded, Tour AD TP, Tour AD GP, Tour AD MJ, Tour AD MT, Tour AD BB, and Tour AD DI models of shafts. The company is located in Carlsbad, California with a distribution warehouse located in San Diego.
For more information about Pro's Choice Golf Shafts or Graphite Design shafts, please contact Bill McPherson at 619-454-6283 or This email address is being protected from spambots. You need JavaScript enabled to view it., or visit www.proschoicegolfshafts.com. For tour promotions inquiries, please contact Erik Boysen at 760-519-2362 or This email address is being protected from spambots. You need JavaScript enabled to view it..