B.C. Golf Notes: Hadwin Clinches Spot In Open Championship; Sihota Third At Future Links Ontario Championship
Details

Category: Inside Golf
Published: 2017-05-29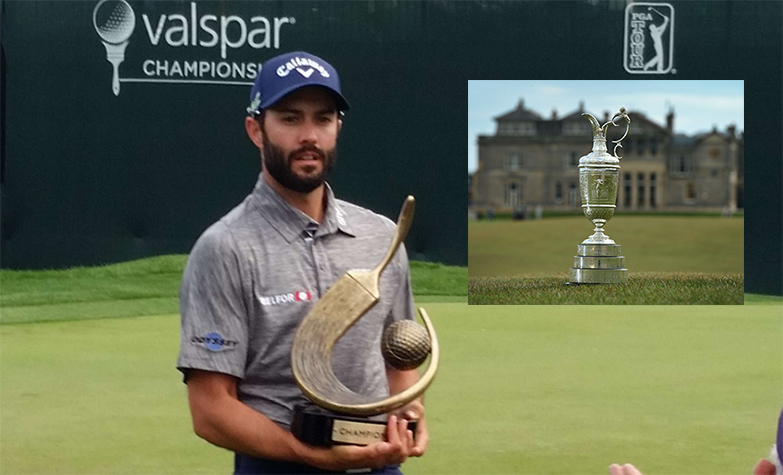 Having Won His First PGA TOUR Event At The Valspar Championship This Year, Adam Hadwin Now Has His Eyes On Another Very Special Trophy - The Claret Jug - Image Credit Kelly Murray
By Brad Ziemer, British Columbia Golf
It wasn't the finish he was looking for, but Abbotsford's Adam Hadwin still had reason to celebrate after Sunday's final round of the Dean & DeLuca Invitational in Fort Worth, Tex.
Hadwin tied for 53rd spot at Colonial Country Club, but more importantly he remained inside the top 50 in the latest Official World Golf Ranking and clinched a spot in the Open Championship at Royal Birkdale.
That means Hadwin will play in all four major championships this year. He had already earned a spot in both the U.S. Open and PGA Championship. Hadwin tied for 36th place at last month's Masters tournament.
Hadwin closed with an even-par 70 in Sunday's final round of the Dean & DeLuca to finish at four-over par. When the new Official World Golf Rankings were released later on Sunday, Hadwin had remained in 49th spot. The top 50 players as of the May 28 ranking earned spots at Royal Birkdale.
Hadwin's trip to the Open Championship, which goes July 20-23, will be his first. Abbotsford's Nick Taylor tied for 61st at the Dean & DeLuca after closing with a one-over 71 to finish at six-over par.
Both Hadwin and Taylor are in the field at this week's Memorial tourney in Dublin, Ohio. Taylor will attempt to qualify for the U.S. Open next Monday in Memphis.
SIHOTA THIRD: Victoria's Jeevan Sihota led through two rounds, but a four-over 75 in Sunday's final round dropped the 13-year-old into third place at the Future Links Ontario Championship.
Sihota, who won the Future Links Pacific title two weeks ago at Chilliwack Golf Club, finished the Ontario tourney at three-over par. That was six shots behind winner Christopher Vandette of Beaconsfield, Que. Vandette closed with a three-under 68.
TITLE DEFENCE: Team British Columbia defended its title in convincing fashion at the 31st North Pacific Junior Ladies Team Matches at Illahe Country Club in Salem, Ore. The B.C. team of Shirin Anjarwalla, Sumie Francois, Euna Han, Akari Hayashi, Tiffany Kong and Cecile Kwon accumulated 14 points.
Washington placed second with 9.5 points, Oregon had 6.5 points and Idaho finished with six points.
T-BIRDS SIXTH: The University of British Columbia's women's golf team placed sixth at the NAIA Championships in Palm Beach, Fla. The tournament at PGA National's Squire Course was cut to 54 holes due to weather. UBC finished the event at 85-over par.
That was 24 shots behind the winning team from Oklahoma City University. The University of Victoria missed the 36-hole cut.
UBC's Winnie Hyun of Langley tied for sixth spot at 13-over par. Senior Kat Kennedy of Okotoks, Alta., tied for 24th spot at 21-over par. Kennedy, who won five events this year, was named player of the year by NAIA coaches.
DEFENDING CHAMPS: The UBC men's and women's teams will defend their titles in this week's Canadian University/College Championships at Tangle Creek Golf & Country Club in Barrie, Ont.
The 72-hole competition runs Monday through Thursday. The University of Victoria also has its men's and women's teams entered in the event.
Last year, when the event was held at Morningstar Golf Course in Parksville, UBC swept the team and individual titles. This is the 15th year of the tournament. UBC has won 11 women's titles and five men's titles.
Nineteen men's teams and 11 women's teams are competing this week. The top three individual men and top three individual women earn the right to represent Canada at the 2017 Summer Universiade Games in Taiwan from Aug. 19-30.
ON TO MATCH PLAY: Delta's Amanda Minni and partner Ellie Slama of Salem, Ore., have advanced to the match play portion of the United States Women's Amateur Four-Ball Championship in Myrtle Beach, S.C.
Minni and Slama, who will be freshmen teammates this fall at Oregon State University, shot rounds of 66 and 69 to finish seventh in the stroke-play portion of the event at nine-under par. The low 32 teams qualified for match play.
TOUGH FINISH: The collegiate career of Kimberley's Jared du Toit ended on a sour note Sunday. Du Toit shot a five-over 77 in Sunday's third round of the NCAA Championships in Sugar Grove, Ill., and his Arizona State Sun Devils missed the 54-hole cut by one shot.
The top 15 teams advanced to Monday's final round of stroke play. The Sun Devils finished 54 holes with a team score of eight-over par. The top eight teams after Monday's round will advance to match play.
Du Toit, who had a solid senior year at ASU and is now expected to turn pro, was tied for 88th spot at six-over par through 54 holes.