TaylorMade & adidas Golf PGA of BC Championship
Details

Category: Inside Golf
Published: 2018-08-20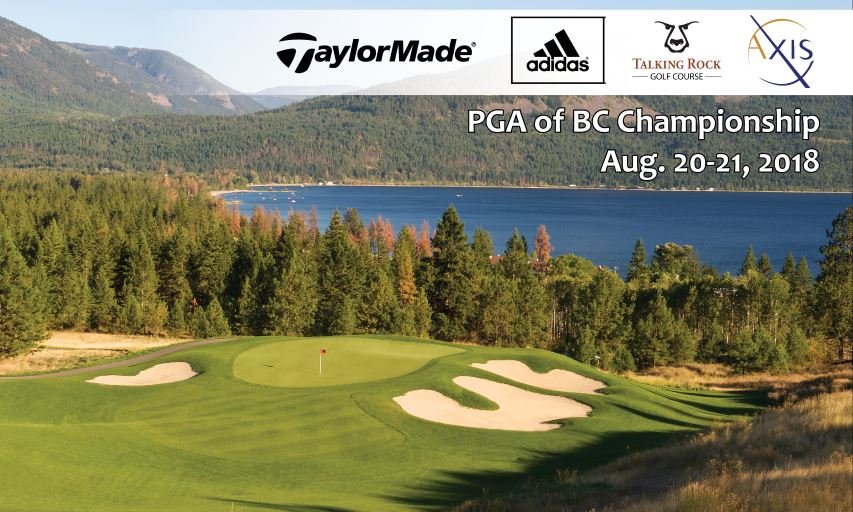 By PGA OF BC
RICHMOND, British Columbia — John Shin (Northview Golf Academy) was anxiously watching his phone while earning the title of PGA of BC Champion one year ago. He can probably leave his cell in the bag next week as he shoots for a repeat victory in next week's TaylorMade & adidas Golf PGA of BC Championship presented by Axis Insurance Group.
The 36-hole championship will make its debut appearance at Talking Rock Golf Course on Aug. 20-21 with dozens of the Association's top Professionals vying to etch their name on the William Thompson Trophy.
Shin's wife, Jariya, was due to deliver the couple's first child on the day after last year's final round at Capilano Golf & Country Club. The pending birth had John checking constantly for a message that Jariya had gone into labour while he was out on course.
But baby Joshua's arrival was perfectly timed, as Shin was on hand to witness his son's delivery just hours after claiming the title in a playoff over Brady Stead.
"It was a pretty cool story with how it turned out with the birth and the championship," Shin said when looking back on last year. "It's hard to forget one or the other when they were within hours. Last year was so special with the timing, the venue and going into the tournament without any expectations because there was obviously something more important on my mind.
"I was just constantly checking the phone and I was ready (to leave) if I needed to go. I think that calmed me down and made me not so focused on the result, but it turned out really well."
The 2017 win earned Shin a spot in this year's TaylorMade & adidas Golf PGA Championship of Canada, where his strong play was enough for a top-10 finish by qualifying for the tournament's match-play bracket. Those results have seen him rocket up the PGA of Canada's National Player Rankings to a career high of 21st in the latest update.
"To secure a spot there and be one of the provincial winners was pretty special," he said. "Ever since I joined the PGA, I've wanted to crack the top 10 in the national rankings and I've been slowly moving up the ladder … that's something that motivates me in these big events."
Not only will Shin go in as defending champ, he'll return to a course where he's been successful before. In 2016, he teamed with Matthew Palsenbarg to win the PGA of BC Pro-Assistant Championship at Talking Rock.
"It'll be a great test and I'm really looking forward to it," the 39-year-old said of returning to the Chase course. "I've got good memories there going into it and I remember it being a good challenge, with some elevation and some good finishing holes."
Talking Rock Head Professional Adam Blair agreed that the closing stretch at his facility could provide for some great theatre if the leaderboard is tight during the final round. The final third of the course starts with difficult, uphill par-4s at No. 13 and 14.
"Our signature 15th hole is a solid par-3 offering some nice opportunity for birdie," said Blair. "Then you hit No. 16 which is a reachable par-5; No. 17 is a driveable par-4, so good opportunities for birdies and it'll be neat to see what the guys contending on the final day do there.
"The 18th has a tiny fairway and a lake all down the right side – it's an extremely penal hole and if the tournament comes down to the 18th hole, it'll be a test of wills."
Blair, recipient of the PGA of BC's Dick Munn Golf Professional of the Year Award in 2017, said his team is thrilled to be welcoming its first major stroke-play tournament since the 2015 BC Mid-Amateur Championship. He credited the work of the greens crew led by superintendent Daryl Adama for keeping the course in excellent shape all season long.
"The course is in amazing condition, probably the best conditions we've ever had," said Blair. "It's been hot and it's been dry, and the players are going to see that. The rough and fairways are playing a bit firm and quick, but ultimately we're going to let the greens have their teeth.
"A player on with their short game will do well, I think."
The tournament will feature a deep field, with several past winners of PGA of BC events and many more talented players competing.
One can't overlook three-time PGA of BC Champion Bryn Parry (Point Grey Golf & Country Club), who has also been runner-up in this event at least a half-dozen times. It wouldn't be a shock to see reigning PGA of BC Assistants' Champion Oliver Tubb (University Golf Club) and the man he beat in a playoff for that title in June, Brad Clapp (Chilliwack Golf Club), in contention, either. Clapp, who won this event in 2012, will be making his first PGA of BC Championship start in five years. 
Reigning PGA of BC Player of the Year Philip Jonas (Philip Jonas Golf Academy) is coming off a decent showing in last week's PGA Seniors' Championship of Canada and could be a factor at Talking Rock, while the aforementioned Palsenbarg has been solid in PGA of BC events this year with a Tournament of Champions win and a second-place finish with Shin in the Pro-Assistant Championship.
Kevin Stinson (Cheam Mountain Golf Course) and Point Grey Golf & Country Club's Dave Zibrik and Clark MacPherson each held at least a share of the final-round lead at Capilano last year and may find themselves in the mix again this year.
And then there's Shin, who knows a repeat victory will be no easy feat. But he's got some momentum behind him after going back-to-back in another premier event, as he fired a final-round 65 to win last month's Golden Ears Invitational for the second year in a row.
"BC has a lot of good players – Oliver, Bryn and a host of other players," said Shin. "Over two days, anyone could shoot really well. It's going to be tough, for sure, but I'm going in as defending champion and riding this wave of playing decent recently, so I give myself a good chance."
Blair said that he and the two other Talking Rock representatives in the field, Dave Munn andNathan Grieve, have all been playing well lately and will hope to continue that on their home course next week. Either way, they're eager to showcase a facility that has garnered significant acclaim since it opened just over a decade ago.
"We're really looking forward to having PGA members come out and visit, stay and enjoy the Shuswap beach culture and play a little competitive golf as well," said Blair.
The final result of this event could have a major impact on the PGA of BC Order of Merit presented by E-Z-GO, with 50 points allotted to the winner. As of the most recent update, Tubb leads the standings with 68.50 points thanks in large part to his victory at the Assistants' Championship in June.
As well, the event will determine BC's provincial team for the PGA Head Professional Championship of Canada. The top four Club Professionals (Head, Executive and Head Teaching Professionals) at Talking Rock who are also playing in the December tournament in Arizona will make up the squad.
Click here to view the tournament page for full event info, including the list of confirmed competitors. 
PGA of BC CHAMPIONSHIP FAST FACTS
Past winners in the field this year include Shin, Parry (2000, 2008 & 2015), Clapp (2012), Mike Haraguchi (2005), Fraser Mulholland (2004) and Jonas (2003).
Previously a 54-hole event, the PGA of BC Championship switched to a two-round tournament starting in 2013. Since then, three of the five championships have been decided in a playoff.
Parry holds the 36-hole scoring and total stroke records with his 8-under-par 136 at Fairview Mountain Golf Club in 2015.
Winning three consecutive titles between 1992 and 1994 and another in 1997, Scott Minni's four victories in the PGA of BC Championship remain the most won by a single player in the Association's modern era. Parry can match that total with a win next week. Other players with multiple titles to their name in the modern era include three-time winners Dean Claggett (1989, 1991 & 2002), Cec Ferguson (1976, 1977 & 1985) and Jim Rutledge (1980, 1981 & 1983), and two-time champions Gordy Scutt (2014 & 2016), Doug Morgan (2009 & 2010), Sandy Harper (1986 & 1988) and Bob Cox (1978 & 1979).
---
About TaylorMade
Headquartered in Carlsbad, California, TaylorMade Golf is a leading manufacturer of high performance golf equipment with industry-leading innovative products like M3 / M4 metalwoods, M3 / M4 irons and TP5/TP5X golf balls. TaylorMade is the #1 Driver in Golf and also a major force on the PGA TOUR with one of the strongest athlete portfolios in golf, that includes world No.1 Dustin Johnson and five of the current Top 15 in the world. Learn more at www.taylormadegolf.ca.
About adidas Golf
For over 80 years, adidas has been part of the world of sports on every level, delivering state of-the-art sports footwear, apparel and accessories. Today, adidas is a global leader in the sporting goods industry and offers a broad portfolio of products. Our strategy is simple: continuously strengthen our brands and products to improve our competitive position and financial performance. adidas golf partners with the top tour athletes who continue to win, including World No. 1 player Dustin Johnson, 2017 Masters Champion Sergio Garcia, two-time PGA Tour winner Jon Rahm, and Rookie Of The Year Xander Schauffele. The company's products resonate with consumers thanks to industry-leading performance from TOUR360 footwear, the Ultimate bottoms franchise, and our Women's range wear category. adidas Golf has a completely dedicated team that continues to service the Canadian marketplace with industry-leading products and service. Visit www.adidasgolf.ca for more info. 
About Axis Insurance Group
The Axis Insurance Group was formed in 2017 through a brand amalgamation of several BC-based insurance brokerages with roots tracing to 1928. The experience of its combined 150 team members is uniquely positioned to serve Canada with risk-management and insurance services. Contact Axis to find out what coverage is available to be customized for your facility, whether its protecting your commercial property, insuring a tournament's hole-in-one contest and everything in between. By partnering with the largest insurance companies in Canada, Axis Insurance Group has access to the best coverage solutions on the market. Consider them for your personal needs as well, including for auto, travel, homeowner or tenant insurance and more. Visit axisgroup.insure to learn more.