8-Year-Old Shoots 66 At MJT Mini Tour's Greenacres Stop
Details

Category: Inside Golf
Published: 2018-08-22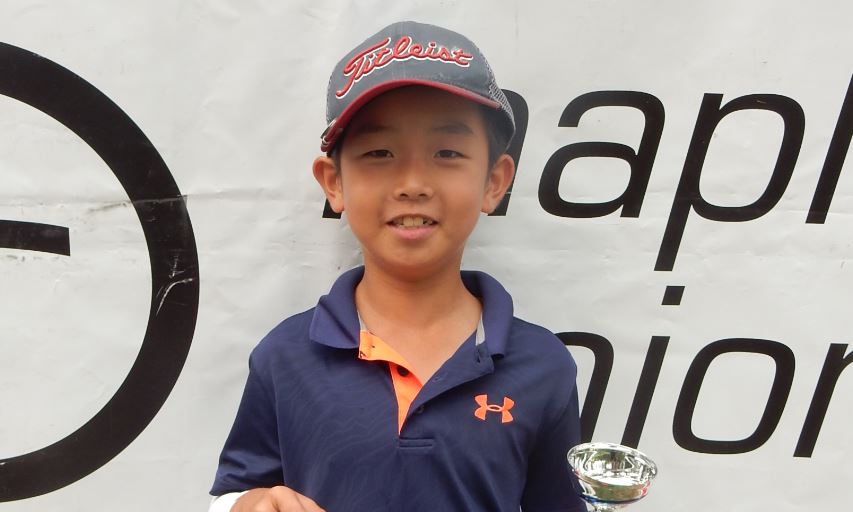 RICHMOND, British Columbia — The Boston Pizza-presented MJT Mini Tour for seven to 12 year olds visited Richmond, BC, for the MJT Mini Tour at Greenacres Golf Course. The tournament was last chance to compete on the 2018 BC circuit prior to the finale, the MJT Mini Tour National Championship presented by Ford at Tsawwassen Springs in Tsawwassen.
MJT Boys 8U
Low round of the event came from the MJT Boys 8U division, where Jonathon Xia, 8, of Surrey, BC, fired a five under par 66 from modified yardage of 3000 yards. Xia's round was highlighted by eight birdies and one eagle, contributing to the lowest competitive round of his young career. "I am very happy about today, I chipped in for eagle on the last hole and shot my best round ever!" said Xia. Xia's round was eight shots better than Matthew Cui, 7, of Burnaby, BC, who finished with a 74.
MJT 9-10 Boys
Another under par score highlighted the MJT Boys 9-10 division. Michael Li, 10, of Vancouver, BC fired a one-under par 70 from 5210 yards to win by six shots over Jasper Wang, 9, also of Vancouver. "My best hole was the 12th where I got a birdie on a long par four," said Li, who added, "MJT is awesome."
MJT Boys 11-12
Top finisher in the MJT Boys 11-12 division was Jay Xu, 11, of Burnaby. Xu, who is fresh off a Junior Tour victory in Whistler, BC, fired a very solid 75 from 5787 yards to beat George Jiayu Zhou, 11, of Vancouver, by two shots. "I made my longest putt, 15 feet, on the first hole, so that was my best," analysed Xu, who added his thoughts on the final hole: "The 18th is a good finisher, a par five that's a big dogleg. It requires you to think about it."
MJT Girls 8U
Playing in her very first MJT Mini Tour event, Lilian Zhao, 8, of Port Moody, beat her twin sister, Vivian, by three shots to win the MJT Girls 8U title. Lilian fired a very impressive 79, which included three birdies, the best of which came on the fifth hole. "I am happy I won today, I did not know that I had won," said Lilian. "I wanted to try my first time (MJT) and my dad also wanted me to."
MJT Girls 9-10
Eighteen holes were not enough to determine a winner in the MJT Girls 9-10 division after both Ha Young Chang, 10, of Surrey, and Tierra Elchuk, 9, of Kelowna, BC, ended up tied at 82, so extra holes were needed. With a birdie on the first playoff hole, Chang was crowned champion. "I feel amazing (to win)," said Chang. "I knew I had to putt really well to win. I am very happy to play in this tournament which gave me a great experience."
MJT Girls 11-12
Another playoff was needed to decide the winner in the MJT Girls 11-12 division as well. June Hsiao, 11, of Coquitlam, BC and Kaitlyn Anderson, 11, of South Surrey, BC, were tied at 77 after 18 holes. Hsiao recorded a par on the first extra hole to edge out Anderson for first place.  "I feel great because it's my second time winning an MJT event in a playoff," said Hsiao, who last won in a playoff at the Musqueam Golf and Learning Center. "On the 18th hole my thought was to try not to hit it in the trees but I did, and my heart was beating so hard, but the ball came out with a lucky bounce so I was so relieved that I had a chance to make par."
Full details from the MJT Mini Tour at Greenacres Golf Course are posted online here, which also show winners of the PLYR Closest-to-the-Pin Competitions, Order of Merit point rankings as well as those who won draw prizes.
This marks the end of the Mini Tour schedule for 2018 in BC. The nationwide schedule wraps up with the MJT Mini Tour National Championship presented by Ford at Tsawwassen Springs in Tsawwassen, BC, August 23 and 24. For more information on an expanded MJT Mini Tour next season, please visit  www.maplejt.com or call 1-877-859-4653.
---
About the MJT
The non-profit Maple Leaf Junior Golf Tour presented by Boston Pizza is Canada's number one-played Junior Golf Tour as well as the only national junior tour run exclusively by PGA of Canada Professionals and the 'Road to College Golf' in Canada. The organization is presented nationally by Boston Pizza and supported by valued Premier, Tournament and Product Partners. The MJT hosts more than 70 events across Canada, including free Ford Go Golf Junior Clinics, the MJT Mini Tour for 7-12 year olds, the Collegiate Tour for 19-23 year olds, and multi-day events for competitive players aged 11 to 18, which are also qualifiers for international competitions. The program offers annual awards, scholarships, and frequent player incentives to help reward player's performance and participation throughout each season. MJT alumni include many Professional Tour players and PGA of Canada Professionals, as well as Canadian Amateur, National and Provincial Junior Champions. The MJT aims to develop champions, in golf and in life, promoting the game from grassroots through to provincial, national, university and professional level. For more information on the Maple Leaf Junior Golf Tour, please visit www.maplejt.com.