@flemergolf At It Again As He Captures PGA of Alberta Championship
Details

Category: Inside Golf
Published: 2018-08-23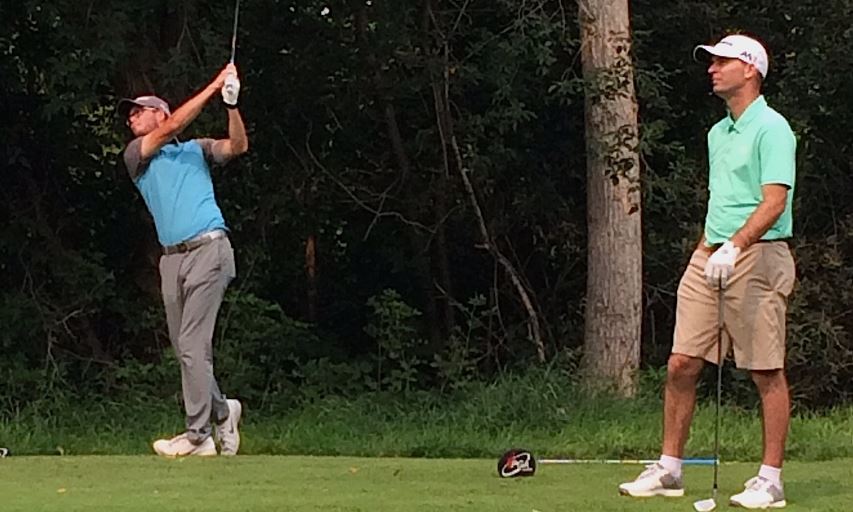 By GORD MONTGOMERY, Inside Golf
RED DEER, Alberta — Needless to say, this year couldn't get much better for Riley Fleming.
After all, he's won just about every PGA of Alberta tournament he's entered this year, and if he hasn't won, he's been close to the top of the leaderboard. Fleming continued his season-long hot streak when he walked away with the top prize at the season's biggest event, the PGA of Alberta Championship, played at the River Bend Golf & RA, a course that demanded more than anything a deft putting touch.
Fleming, from the National Golf Academy Dome in Calgary, worked his way around the track in the two-day, 36-hole event in fine fashion, carding rounds of 66-68 (134) for a final number of minus-10. As seems to be becoming a habit this year, he edged out fellow Calgarian, Wes Heffernan, by a single shot to pocket $6,150 in prize money.
Speaking the day after his latest triumph, Fleming noted he thought he knew River Bend's unique characteristics well, especially the tricky putting surfaces at the municipal track.
"Funny thing, I played a junior event there when I was 13 and remembered some of the tee shots," he began about his recall of the layout. "I was actually laughing to myself all week because apparently 13-year-old Riley had no idea about course management and leaving balls below the holes. I had no idea the greens were that (tough)."
A big key to his latest win, Fleming explained, came about from his one practice loop at River Bend, noting,  "If I can see a golf course once I'm not going to let the course beat me," or the other players in the field, for that matter. "In that one practice round I try to become aware of anything that can seriously mess you up. It just takes a lot of discipline."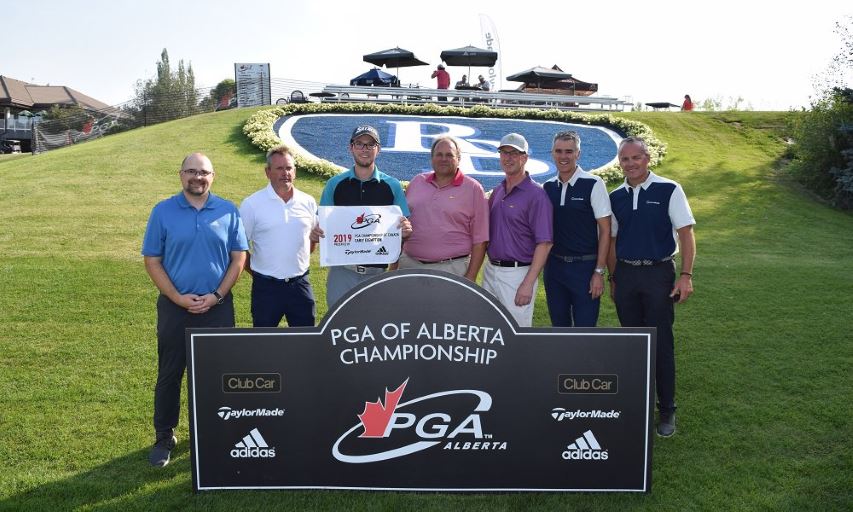 The Sponsors Of The 2018 PGA of Alberta Championship Including Adidas, TaylorMade, and Club Car Were On Hand To Present Winner Riley Fleming With His Winnings. (Photo/PGA of Alberta)
The largest lesson had to be making sure he left the ball below the hole on the treacherous greens. Fleming said he heard a few fellow pros speak to the importance of that fact even if it meant not getting the ball overly close to its final resting place.
"I heard from a couple of other pros there were a lot of 40-footers out there. That's what you're left with. Yeah, you want to get going, shoot 6-, 7-under and win the tournament or whatever, but at the end of the day as tough as the pins were, you just had to take 40-feet up the hill. Better off 40-feet up the hill than 10-feet above it … you just can't be on the wrong side of the hole, above it. It doesn't matter if you're  four feet. Some of the guys were four feet above the hole and 3- and 4-putting. All week, I was on the right side of the hole and that was the game plan."
As for yet another battle with Heffernan who he edged by a single shot at the PGA of Alberta Assistants' Championship two weeks earlier, this event again went right down to the wire. Fleming noted he enjoyed both his counterpart's on-course compatibility and his skill with the sticks.
"I laughed and said to Wes, who has played as much competitive golf as anyone, that it was weird playing well (the first day) and knowing the next day you're going to be up against Wes again."
Both are vets of the PGA TOUR Canada's Mackenzie Tour and while their paths crossed occasionally there, they rarely played together. On the PGA of Alberta's agenda, they've seen a lot of each other.
"On the Canadian tour you rarely ever saw the same guy twice. You're doing battle with so many people you never really feel like it's one against the other, where with Wes and I this year, it's truly been Wes and I against each other. It is fun. We laugh a lot."
Interestingly enough, Heffernan, in a previous interview with Inside Golf, had noted he was having fun and enjoying golfing at the provincial professional level even more than he did on the Tour. For Fleming, it's much the same belief and that's helped him with a slight attitude adjustment.
"I think I've calmed down a lot. I don't get mad anymore. I think that's one of the better things I've learned this year and I enjoy it a lot more out there. It's nice playing with Wes. He's so good but as fun as it is, you almost hope it's not Wes because he just doesn't give you anything. But the talent is so fun; there's so much more to being a good player."
Like any adversary though, Fleming has played up to the level needed and when given a break, took advantage of it. That also meant not giving his opposition any breaks they can gain from.
"I just haven't given the field anything. I didn't give away any free shots, basically.  Wes had a couple of 3-putts and that's basically all it takes. I rolled in one 40-footer yesterday on 16 that really turned the tide. I don't give a lot away and I think that's what's been the key to me playing well this year."
Fleming said he has settled nicely into his role as a teacher at the National Golf Academy Dome in Calgary and a more settled way of life away from the tour. As such, he has no plans on returning to full-time tour golf.
"As of right now, definitely not. I still like to play big events but there's a lot of stuff you forget about. The five-and-a-half hour rounds, the long weeks. It's not a lot of money. You spend a lot of money. The results I've had (this year) are very, very good and I'm fortunate, but at the end of the day, it's nice being home … and to think about what it takes to go back to tour golf, I don't know if I'm ready to do that again."
In closing, Fleming noted he'll play in at least two more events this year, the Alberta PGA's closing tournament and then the Canadian Assistants' Championship, which will be held at The Winston Club in Calgary. And for now, he suggests, that's as much tournament golf as he wants to see, even given the wonderful season he's had.
---
About the Writer
Gord Montgomery is a retired sports editor of two weekly newspapers in the Edmonton area and is a member of the Golf Journalists Association of Canada. He is now in his 10th year of writing for Inside Golf. He can be reached at This email address is being protected from spambots. You need JavaScript enabled to view it.. He's also on Twitter at @gordinsidegolf and on Instagram at gordinsidegolf2.