Vancouver Resident Stephen Ames Enjoying Pro Golf's Ultimate Mulligan On PGA Champions Circuit
Details

Category: Inside Golf
Published: 2017-06-04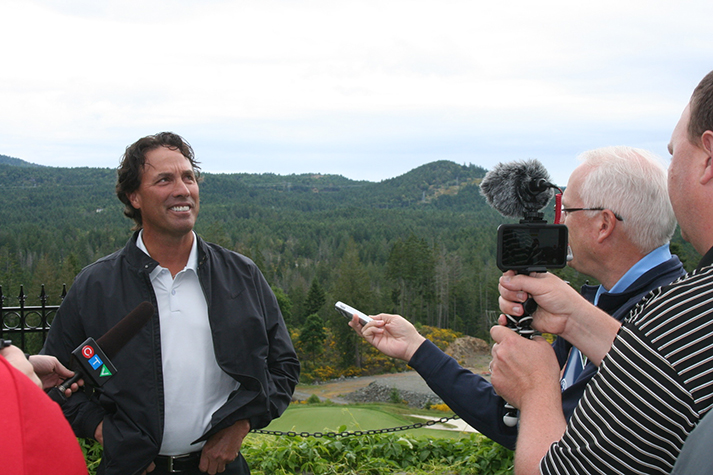 Stephen Ames Added His Name To The List Of Those Questioning Bernhard Langer's Putting Stroke When Asked About It At The Pacific Links Bear Mountain Championship Media Day - Image Credit Bryan Outram/British Columbia Golf
By Brad Ziemer, British Columbia Golf
VICTORIA -- Stephen Ames says Bernhard Langer is the talk of the PGA Champions circuit and not just because of his recent back-to-back victories at senior majors.
No, Ames and many of his colleagues on the 50-and-over tour are spending considerable time chatting about Langer's putting stroke. More specifically, they are questioning whether the soon-to-be 60-year-old German is breaking the rules by continuing to anchor his long putter.
"There is a lot of talk about his putting stroke, yeah, there is," Ames told reporters during a visit this week to Bear Mountain in Victoria.
"We're all speculating and having conversations with the Tour about the anchoring part of it. It is very evident that some of the things he does are not within the rules, but he is saying he is not doing it and the officials are saying he is not doing it. So we have to take their word for it."
Ames is just the latest to suggest that Langer is not complying with the ban on anchoring your putter that went into effect at the beginning of 2016. Prominent instructor Hank Haney recently suggested on Twitter that Langer was still anchoring his putter to his body.
Ames was in Victoria to promote the Pacific Links Bear Mountain Championship, a $2.5-million US PGA Champions event scheduled for Sept. 15-17. He left little doubt about where he stands on the Langer debate. "I haven't played with him so I can't really say, but when you look at it on television it is like, wow," Ames said.
Haney and some others have suggested Langer's left wrist touches his shirt, and perhaps his chest, when he putts. Langer, of course, has had a remarkable run on the PGA Champions circuit and Ames certainly respects his accomplishments.
"Bernhard works out five days a week," Ames said. "He doesn't stop. I walked into the physio trailer Sunday before he went out and played and he was on the bike going at it. He was there for 45 minutes."
The 53-year-old Ames is now in his third full season on the PGA Champions circuit. To say he is loving his new lease on his golfing life would be an understatement. "Let's put it this way, the 19th hole is the favourite hole," he said of the Champions tour.
"It's a lot more relaxed off the golf course. The camaraderie amongst the players and their wives and girlfriends, we have a lot more fun in that respect, but again the funny thing that really surprised me is the quality of the golf the guys are still playing.
"You expect that. Guys don't want to give up. Some of them have got some really big egos and they want to continue playing and they are feeding that part of it. Bernhard is a classic example of that, especially the way he has played the last couple of weeks. For me, I am absolutely loving this. It's funny how everyone works their whole life to retire and play golf. I get to play golf for the rest of my life. I'm in a happy situation."
Ames earned his first PGA Champions victory in mid-April when he beat Langer by four shots to win the Mitsubishi Electric Classic in Duluth, Ga. "That was fun," he said. "It meant a lot because of the work I was doing over the winter preparing for this year to get going. It is starting to pay off now. That was a classic example where all the work I put in paid off and is still paying off. I am still playing very well and am looking forward to the rest of the year."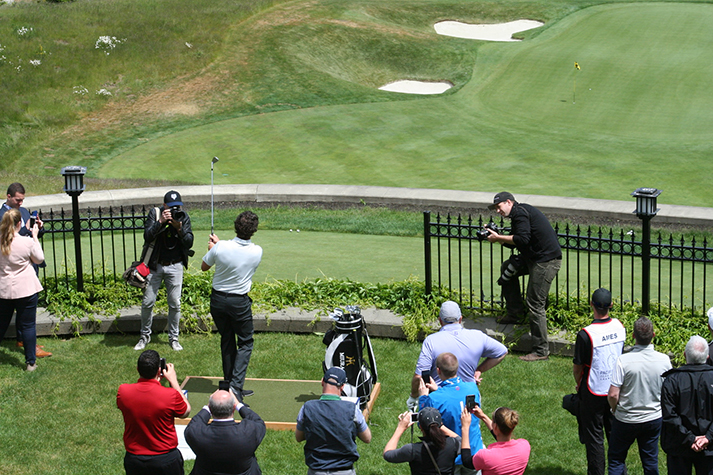 image credit Bryan Outram/British Columbia Golf
Four-Time PGA TOUR Winner Stephen Ames Performed The Ceremonial Opening Par 3 Elevated Tee Shot At Bear Mountain And Came Within Inches Of Holing It
Ames has made $488,372 in eight events this year and currently sits seventh on the Charles Schwab Cup money list. Ames' finished 42nd on the money list last year after being 28th in 2015.
Ames has called Vancouver home for the past three years and does much of his practising at Shaughnessy Golf & Country Club. "The director of golf and the members have given me an opportunity to play and practice there," Ames said. "I feel like one of the members. I even played men's night one night. Shaughnessy has been a lot of fun for me."
Ames had four wins on the PGA TOUR, including the 2006 Players Championship. He tied for 54th at last year's event at Bear Mountain, firing rounds of 74, 69 and 69, and feels like he has a score to settle with the resort's Mountain course.
Ames added that every part of his game is better than what it was last September at Bear Mountain. "I am driving the golf ball a lot better than I ever have," he said. "That is the part that I have changed the most."
Along with Ames, tournament sponsor Pacific Links announced that Langer, defending champion Colin Montgomerie and Scott McCarron will be in the field for this year's event. Montgomerie won last year's tourney in a playoff over McCarron. Both players finished the event at 15-under par.
Ames suggested some of the players could be running on fumes by the time they get to Bear Mountain. "The unfortunate thing with this is that this is going to be the fifth of six events in a row and we are coming back from Japan," Ames said. "So a lot of guys are going to be very tired."
CHIPS SHOTS: Pacific Links is under contract to sponsor the tournament through 2018 and president Rudy Anderson said he hopes the event will return to Bear Mountain for a third year. "Our intent is to be here at Bear Mountain," Anderson said of 2018. "We are looking for success like we had last year and hopefully to grow on that."