Golf Is All In The Family For New Juvenile Boys Champion Jace Minni Of Delta
Details

Category: Inside Golf
Published: 2018-08-27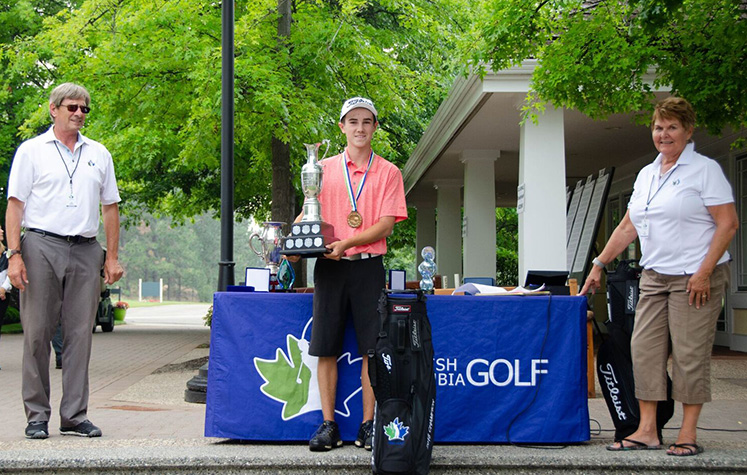 By BRAD ZIEMER, British Columbia Golf
He wasn't quite swinging golf clubs before he learned how to walk, but it was close. Golf runs in the family for Jace Minni, the new B.C. Juvenile Boys Champion. His dad Scott is a four-time PGA of BC Champion and noted instructor. His mom Mellodee is the current Women's Club Champion at Beach Grove´Golf Club in Tsawwassen and his older sister Amanda plays collegiate golf for Oregon State University.
So it's safe to say Jace caught the golf bug early. "Yeah, I was right into the game from when I was born holding clubs," the 16-year-old said after beating Vernon's Ryan Vest in a playoff at Gallagher's Canyon Golf Club in Kelowna.
"I ended up starting to love it a few years ago and I have been practising almost every day since. It runs in the family, I guess." Minni won the tournament -- for players aged 16 and younger -- when he drained a 25-foot putt for birdie on the first hole of a sudden-death playoff with Vest. "It feels amazing," Minni said. "I have been dreaming about winning a BCGA event for the longest time. To come from missing the cut four years ago at this event to now winning is great."
Minni and Vest finished the 54-hole event at even-par. Minni shot a two-over 74 in the final round, while Vest fired a 75. Vest had actually put his approach shot on the playoff hole inside Minni's. "He had 20 feet, maybe 15 feet, so he was inside me," Minni said. "I putted first and made it and then he putted and just missed the left lip."
Vest made a big impression this week at Gallagher's Canyon. He only just turned 12 years old. "It's crazy," Minni said. "He is a really good player for his age. He is maybe 4-11 or 5-foot (tall) and he hits it maybe 220. He was very impressive."
Minni came to Gallagher's feeling good about his game. He had finished seventh at last month's Canadian Juvenile Boys Championship in Medicine Hat, Alta. "I was feeling amazing about my game," Minni said. "I could hit both shots, draws and fades, I could hit it low, hit it high. My putting was the part that I knew might cost me. And it ended up costing me a couple strokes, but on the last hole in the playoff it ended up winning it for me. It's funny how that works."
Minni said he feels fortunate to have his dad as his instructor. "He's the best swing coach out there," Jace said of his dad. "He knows everything. He knows the nerves, he knows the swing, he knows the mental side of the game."
Minni said it was his short-iron game that was the difference for him at Gallagher's. "My short irons were unbelievable in the second round," he said. "My proximity to the hole was maybe 10 feet on average on the front nine that day... I was hitting them good, I just wasn't making the putts. It ended up being okay, but the irons are what really stuck out."
Minni, who is heading into Grade 11 at South Delta Secondary School, was also proud of the way he managed his game at Gallagher's. That meant keeping his driver in the bag for most tee shots. "I hit driver twice," he said. "If you play it correctly like that, it is not that tough of a course, I find."
Dylan Bercan of Vancouver and Leo Harper of Burnaby tied for third at one-over par. B.C. Junior Boys Champion Ilirian Zalli of Burnaby tied for fifth with Kyle Chang of Surrey at two-over par.
Click here for complete scoring. 
CHIP SHOTS
A two-person best ball event was run concurrently with the Juvenile Championship. Harper and his partner, Billy Zhang of Coquitlam, won with a 54-hole total of 16-under par. That was one shot better than the team of Matt Hopley of Kelowna and Adam Niles of Kamloops.