Matt Cella To Coach British Columbia's Golf Teams At Canada Summer Games In Winnipeg
Details

Category: Inside Golf
Published: 2017-06-05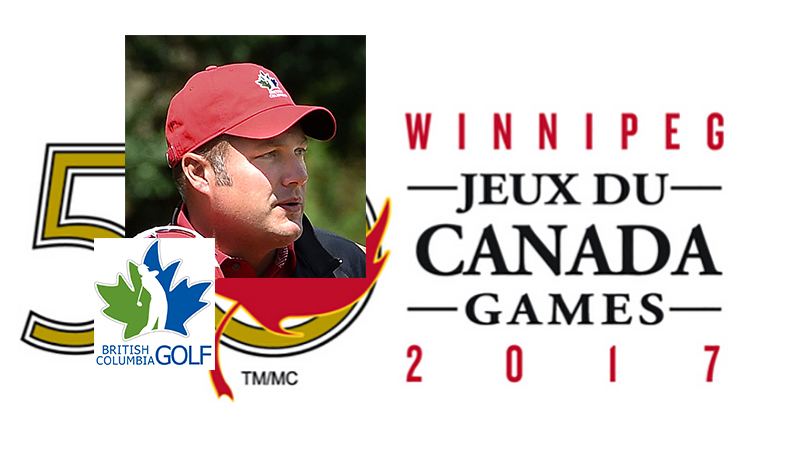 By Brad Ziemer, British Columbia Golf
Matt Cella, who has been appointed Team B.C.'s head golf coach for the 2017 Canada Summer Games in Winnipeg, knows the bar has been set awfully high for him.
After all, British Columbia has swept the individual and team competitions in the two Canada Summer Games where golf has been contested. Golf was first played at the Canada Summer Games in 2009 in Prince Edward Island, where North Vancouver's Eugene Wong and Sue Kim of Langley won individual gold medals and B.C. swept the team titles.
Four years later in Sherbrooke, Que., Kevin Kwon of Pitt Meadows and Taylor Kim of Surrey won gold and B.C. again took home gold in the boys' and girls' team competition.
So yes, Cella, the director of instruction at Olympic View Golf Club in Victoria, knows that expectations will be high this summer in Winnipeg. 
"Robert Ratcliffe (the former Team B.C. coach) didn't do me any favours when he was coach there last time," Cella said with a laugh during a recent interview.
Cella quickly added that he's confident that British Columbia will again field two strong teams that he expects to be in the hunt for gold at this year's Summer Games, which run from July 28-Aug. 13. 
"We're in the selection process right now and we are going to select the best players and basically let them go strut their stuff, so to speak, and give them all the support that we can in order for them to be able to play their best at the Summer Games," Cella said.
"I am really excited. I think it's going to be a great tournament and more important than that just a great experience to be with all the other competitors and all the other sports and be part of Team B.C. It will be a real exciting and fun time."
The 40-year-old Cella is a native of England who came to B.C. a year after finishing high school. He took up golf relatively late, at age 15, after a knee injury sidelined a promising tennis career. Before joining Olympic View last year, he worked with John Randle at his academy at Morningstar Golf Course in Parksville and before that with Ratcliffe, Canada's national team coach, at Crown Isle in Courtenay.
Cella credits Ratcliffe with helping him find his true passion -- coaching elite junior players.  "I have said it to Robert before, I have to thank you for hiring me because if you hadn't hired me I never would have found my niche and what I love to do," Cella said. "I am very grateful to him for kind of taking me under his wing. To have a national coach as your mentor and trainer, so to speak, is invaluable."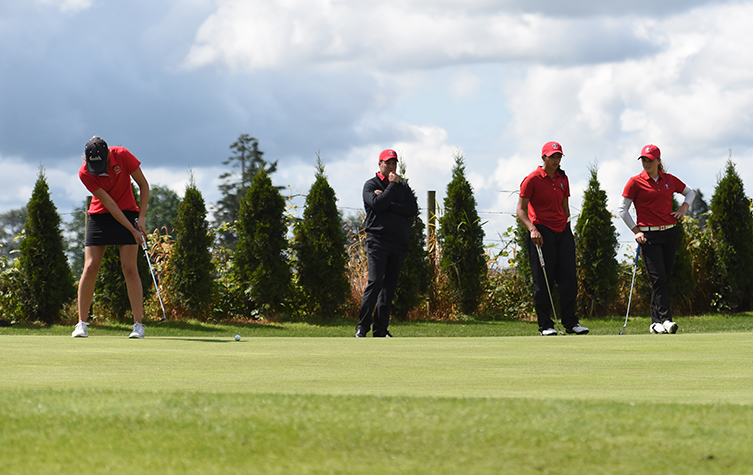 image credit jurgen kaminski (JKam photos)
Team BC Coach Matt Cella Oversees His Charges In The 2016 North Pacific Junior Ladies Team Matches, Won By His Squad, At Pitt Meadows GC
Cella is a relative newcomer to the British Columbia Golf coaching team. "Matt is entering his third season with us as a coach," said Debbie Pyne, managing director of player development with British Columbia Golf.
"We look for coaches and start them at a lower level on the competitive pathway. He helped coach at the B.C. Summer Games and from there we slowly brought him onto the team and last year he moved to full status as a provincial coach. He took the junior boys team to Newfoundland for the Canadian Junior Boys Championship. And he also coached the North Pacific girls team and did a great job."
Richmond's Christine Wong, a two-time B.C. Women's Amateur champion, will assist Cella as the volunteer manager for B.C.'s golf teams at the Summer Games.
B.C. will send three-person boys and girls teams to the Summer Games. The teams are expected to be announced in mid-May, shortly after the Future Links Pacific Championship is played at Chilliwack Golf Club.
Three selection camps have been held and Cella and Pyne are both confident B.C. will field two strong teams. "We are not taking anything for granted," Pyne said. "We really feel like we have to bring in every resource possible in order to pull off some golds this time."
"We are very lucky with the depth that we have," added Cella. "The girls team, from one to 10 you could pick any three of them and you are going to have a pretty decent team. And the boy's (team) is pretty similar, there are probably half a dozen boys who stand out. So I am pretty confident with the three boys and three girls that we select we will have a competitive team, a very strong team."