Team BC Successfully Defends Title In NPJLTM Event
Details

Category: Inside Golf
Published: 2017-06-05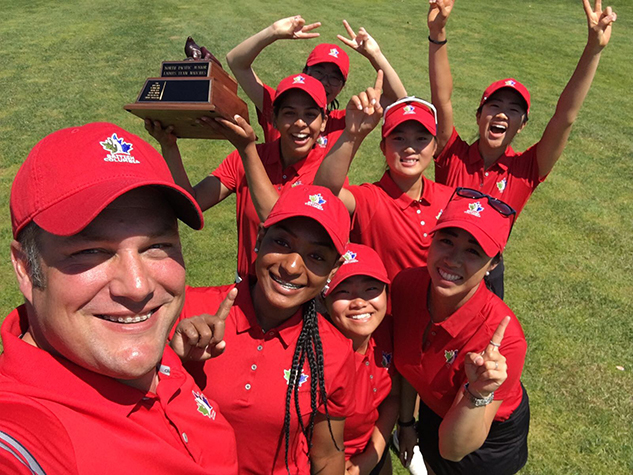 Team BC Coach Matt Cella Poses With His Winning Squad From The North Pacific Junior Ladies Team Matches After Defending Their Title In Oregon - Image Credit: It's A Selfie!
The team of Akari Hayashi, Sumie Francois, Shirin Anjarwalla, Cecile Kwon, Euna Han And Tiffany Kong representing British Columbia Golf successfully defended the title they won last year at Pitt Meadows Golf Course by taking the 4 team international event held this year at at the Illahe Hills Country Club in Oregon May 27-28.
Team BC collected 14 out of the available 36 points, with 2nd place Washington 4.5 points back at 9.5 while host Oregon was 3rd with 6.5 and Idaho 4th with 6 points.
The North Pacific Jr. Ladies Team Matches employs the following scoring system:
The four teams are composed of 6 players from each state/province. In all competitions, which are match play, the front nine is worth one point, the back nine is worth one point, and the 18 is worth one point.
On Day One, there are six four-ball matches, for a total of eighteen possible points. On Day Two, there are six foursome matches (alternate shot), for a total of eighteen possible points, and a two-day total of a possible 36 points.
To see final match scoring and team standing please CLICK HERE.