Coal Creek GR Growing Into Popular Playpen
Details

Category: Inside Golf
Published: 2018-09-09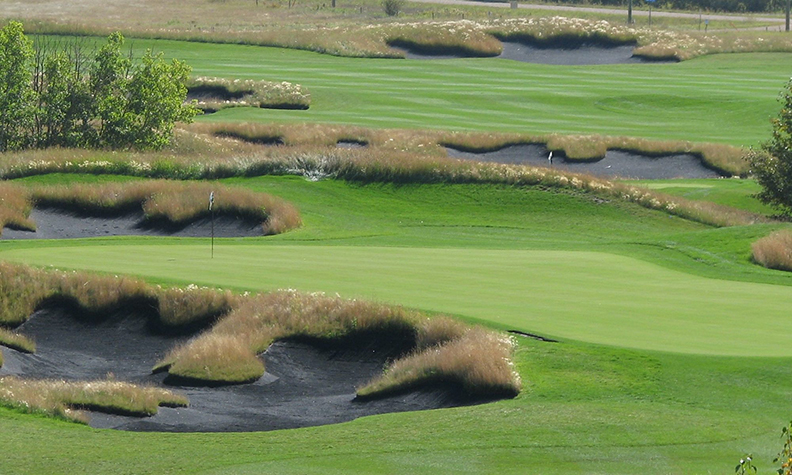 The Unique Black Sand Bunkers Are A Focal Point Of The Coal Creek Golf Resort In North-Central Alberta - Image Courtesy Facility
By Gord Montgomery - Inside Golf
RYLEY, AB. — Once considered a "hidden gem," the Coal Creek Golf Resort is now a well known commodity. And yes, despite its remote location, literally "in-the-middle-of-nowhere," it is proving to be well worth the drive time to get there.
Six years ago, Inside Golf became the first publication to feature this unique, and challenge-packed layout, with a spread in their fall magazine. Since that time, when this 18-hole Puddicombe Golf design was a basic unknown on a crowded golfing landscape in north-central Alberta, things have changed in a big way, both condition-wise and the number of rounds played.
Speaking to both of those factors, Head Professional Jerry Lukasewich noted that some pricing adjustments that were made this year have drawn the uninitiated into the Coal Creek fold, and word has spread about how good, and fun, this track is.
Built on the site of reclaimed coal mine land, Coal Creek GR offers up a variety of holes ranging from links style to parkland to making use of some of the pits left behind by the former land use. And of course, everything here is highlighted by the gorgeous black sand bunkers that dot fairways and green-side areas.
"Over the years the grass is finally maturing," the pro began about how this playground has come into its own. "The greens have been great this year, from day one. A lot of the courses (in the Edmonton area) struggled with that this year, so our golf course has been leaps and bounds busier this year than in the past."
Speaking to the pricing break that Coal Creek has chipped in with, Lukasewich explained golfers have enjoyed playing at a reduced rate for part of the week. "I think probably our pricing structure on Monday, Tuesday, Wednesday (when times are $49/player)," have been a big factor in the rise of green fees sold.
"We've had to entice people to come out here, somehow, and through pricing we've done that. I'm still amazed there are people that haven't played the golf course. They come in after and say 'Wow!' First-timers are just amazed by what the golf course is — the spectacular views, the black sand and just the overall condition of the golf course."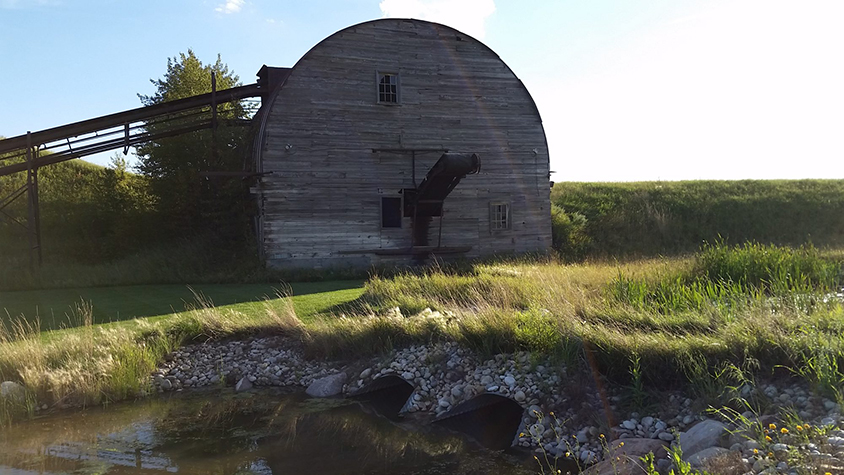 image courtesy coalcreekgolfresort.com
The History Of The Property At Coal Creek Golf Resort Is Still Very Evident In It's Design Features
Lukasewich noted that people are headed to his facility from far afield, some driving well over an hour to tee it up at this facility on dirt that was almost turned into farm land after the coal mine was put to bed.
As for the course's characteristics, Lukasewich noted, "The first five holes are where the old quarry used to be with a lot of elevation changes. It's very scenic. And once you get onto the back nine, it's more of a linksy style of golf course. More wide open but the fescue definitely comes more into play back there. The tendency is because it's a little more wide open you swing a little harder trying to hit it a little farther," which can result in some big numbers because those aggressive errors can often put one in a difficult recovery position.
The hallmark of Coal Creek GR is of course that marvellous black sand. For the uninitiated, it is sand, and it plays like sand, so don't be scared of it simply because of its unique colouration. "I think the biggest thing is it's comparable to white silica sand although this is a little more consistent than the silica sand," the pro pointed out. "If we do get any moisture it drains out really well and even if it's wet, it is very consistent. That's a nice thing. When you're in one bunker you know the rest are all going to play the same … and there are lots out there!"
So if you're one of the few remaining holdouts who haven't teed it up at the Coal Creek Golf Resort, to take on their mounding, their slick greens, their views and yes, the black sand, don't hesitate to book a slot to give it a go. Trust us, like we said six years ago, this is one hell of a golf course that most certainly brings back the past with the relics of the coal mine that are still on-site.
And, it's also possibly a harbinger of things to come in the future in the golf world, with both its design and its black sand bunkers.
For tee times, give the course a call at 780-663-2473 or go to their website at coalcreekgolfresort.com. 
About the writer: Gord Montgomery is a retired sports editor of two weekly newspapers in the Edmonton area and is a member of the Golf Journalists Association of Canada. He is now in his 10th year of writing for Inside Golf. He can be reached at This email address is being protected from spambots. You need JavaScript enabled to view it.. He's also on Twitter at @Gordinsidegolf and on Instagram at gordinsidegolf2.