Celebrating A Gleneagle Golf Dynasty
Details

Category: Inside Golf
Published: 2017-06-05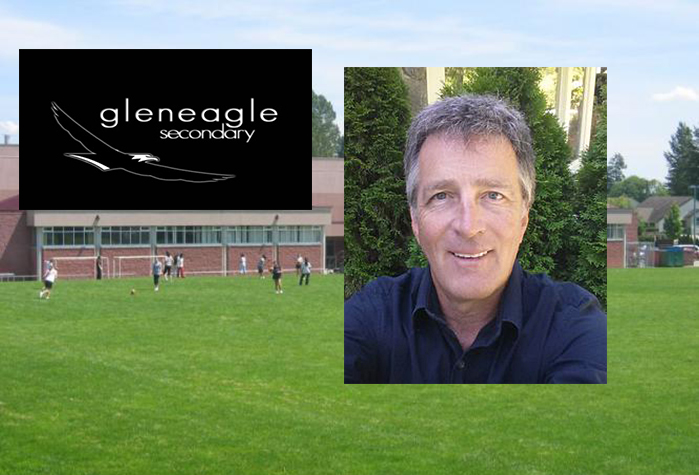 After An Impressive 10-Year Run, Coach Brian Unger And His Gleneagle High School Golf Team From Coquitlam Will Be Unable To Field A Squad For The Provincial Championships This Year - Images Courtesy Smithsonian & Wikipedia
By Brad Ziemer, British Columbia Golf
Brian Unger wants to make one thing perfectly clear: It was never about the coaching.
Unger is the longtime coach of the golf team at Coquitlam's Gleneagle Secondary, which has put together a rather remarkable record over the past decade.
He jokes that he has done little but get his kids to the course on time and point them to the first tee. Unger is undoubtedly short-changing his contribution, but he has had a nice pipeline of players drop into his lap at Gleneagle.
"It has just been an embarrassment of riches of good kids," says Unger, a social studies teacher at Gleneagle. "I don't want to completely dismiss my role, but I am under no illusions. I don't really do any coaching. These kids have all got their own personal coaches and training regimens, so I am more of a coordinator. But I do think I have created a bit of a fun environment."
It seems to be working. Gleneagle won the last two B.C. High School AAA titles and three of the last five. "No one has ever won three in a row," Unger says.
"Yale (of Abbotsford) won two in a row back when they had Nick Taylor and now we have won two in a row. We've had the best record over the past 10 years of any school in high school golf. We have finished second twice and third two or three times and have won three times. We have been in the top three almost every year."
Sadly, the Talons will not be making it three straight wins at the provincials, which go June 6-7 at Ledgeview Golf & Country Club in Abbotsford.
Gleneagle did earn a spot in the provincials, thanks to a third-place showing at the recent Fraser Valley Championships. But with A.J. Ewart unable to play at the provincials, the Talons are left with only three players.
Teams generally consist of five players, with the top four scores counting each round. Gleneagle played this year with just four players and now with only three players available for the provincials cannot field a team for the provincials.
Over the years, Gleneagle's golf roster has boasted some of the area's top junior golfers. Jessica Potter, who went on to win a Canadian Women's Amateur title, Soo Bin Kim, who played recently on the LPGA Tour, and current B.C. Women's Amateur champion Jisoo Keel, all played for the Talons.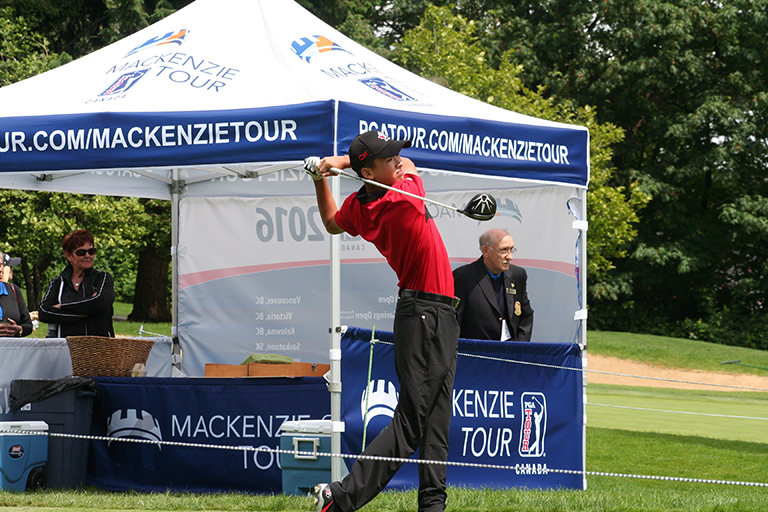 image credit Bryan Outram/British Columbia Golf
Gleneagle Stalwart A.J. Ewart Tees Off In The Freedom 55 Financial Open On The PGA Tour Canada Circuit At Point Grey GC Last Year
The list of boys includes Henry Lee, who just completed his freshman year with the University of Washington Huskies, Kevin Ko, who played collegiately at San Diego State, and Jooho Lee, who played at the University of Nevada.
The stalwarts of this year's Gleneagle team included Ewart, who finished second at last summer's B.C. Amateur Championship, and 14-year-old Euna Han, who finished second earlier this month at the Future Links Pacific Championship at Chilliwack Golf Club. Isaac Lee and Zac Curtis rounded out the squad.
Unger has been coaching the Gleneagle team for the past dozen years and says he has enjoyed every minute of it.
"It has been great," he says. "It's exciting and humbling to watch these kids play who are so youthful and play with such poise and confidence. You really see how they haven't yet become afraid to play well. They don't think like you and I.
"I am an eight or nine handicap, which is pretty good in the grand scheme of things, but when I see how good these kids are I know how ordinary I am. It is both exciting and humbling to watch them play. And they are really nice kids as well, so it is a real privilege to work with them." 
Ewart, a member of Golf Canada's national development team, pulled out of the provincials to play in an amateur tournament in New York.
"Had we been able to field a full complement of players we would have had a shot of doing the unprecedented by winning three in a row," Unger says.
"We are obviously disappointed. We have had an unprecedented run in high school golf. Most school programs have highs and lows. We have been able to maintain a consistently high level for a decade and we are very thankful and pleased that we have been able to do that.
"Things happen in cycles and this run has come to its inevitable conclusion for the time being. We still have some good players in the pipeline and we hope that high school golf has not heard the last from Gleneagle."
With Gleneagle out, Langley's Walnut Grove has to be considered one of the favourites. Walnut Grove won the Fraser Valley tournament and last year finished second to Gleneagle at the B.C. championships, which were also held at Ledgeview.
The A and AA high school championship tournaments also go June 6-7 at Castlegar Golf Club.