A World-Class Golf Destination Emerges In Missouri's Ozark Mountains
Details

Category: Inside Golf
Published: 2017-06-06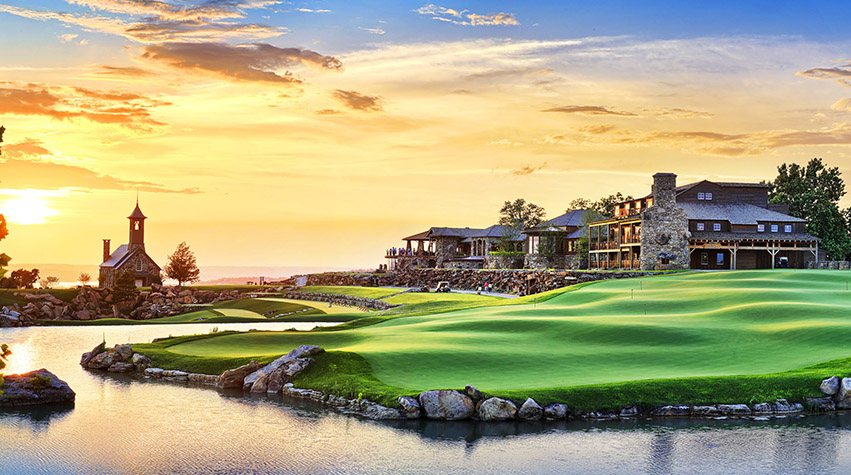 Sunset Over The Top Of The Rock Par 3 Jack Nicklaus Designed Course At Big Cedar Lodge In Missouri. (Photo/Big Cedar Lodge)
By Brad Ziemer, British Columbia Golf
RIDGEDALE, Mo. -- His business is all about hunting and fishing, so it seems a tad surprising that Johnny Morris is intent on turning this community in the Ozark Mountains of southwest Missouri into a world-class golf destination.
Morris, the founder of the Bass Pro Shops outdoors chain, is much more comfortable with a fly rod in his hand than a five-iron. But instead of fish, Morris has landed some of golf's biggest names to design five courses near his renowned Big Cedar Lodge wilderness resort.
How is this for a list? Jack Nicklaus, Tom Fazio, Gary Player, Bill Coore-Ben Crenshaw and -- drum roll, please -- Tiger Woods, whose Payne's Valley layout is scheduled to open in 2019.
The course is named in honour of the late Payne Stewart, the former U.S. Open champion who grew up in nearby Springfield, Mo. Stewart's widow, Tracey, joined Woods and Morris at a news conference last week to announce the new course.
When completed, Payne's Valley will be resort's fifth course. It will join Top of the Rock, Nicklaus's stunning nine-hole par 3 course, Buffalo Ridge, Fazio's championship layout, a 13-hole short course called Mountaintop designed by Player that will open this summer, and The Ozarks, a Coore-Crenshaw design that is scheduled to open next year.
When Morris decides to do something, he goes big, and is accustomed to getting what he wants. His Bass Pro Shops chain recently reached an agreement to purchase its competitor, Cabela's, for a reported $5.5 billion.
Woods won't get quite that much for what will be his first design of a public golf course, but rest assured he is being well compensated for adding his name to this Murderers' Row of golf course designers. When it's all done, it is certainly not a stretch to suggest that Big Cedar Lodge's golf collection could get mentioned in the same breath as the likes of Bandon Dunes and Whistling Straits.
Morris, whose Big Cedar Lodge just played host to the PGA Champions' Legends of Golf tourney for the fourth straight year, pulled out all the stops for the news conference to announce Woods' course.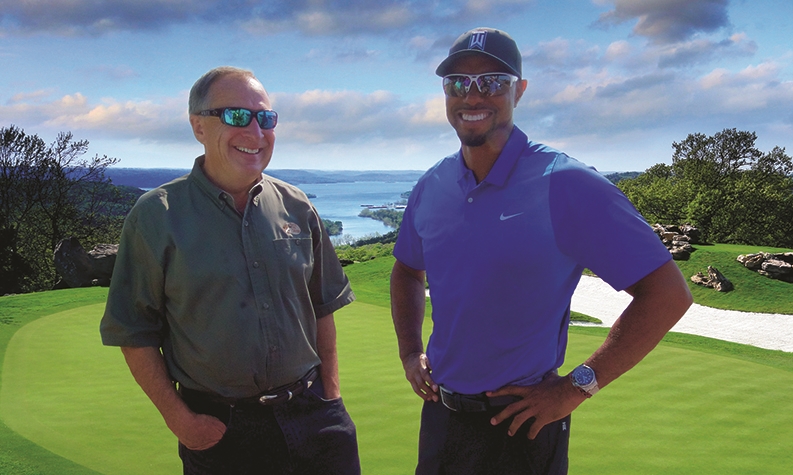 Johnny Morris Has Brought On Board Another Giant Name In The Golf World And That Would Be Tiger Woods
A makeshift par 3 hole backed by a massive limestone wall was constructed for the announcement and invited guests were transported safari-style by trams being pulled by camouflaged vehicles with the words Johnny & Tiger's Adventure Tours emblazoned on them. That hole will be turned into the "19th hole" at Payne's Valley.
Morris, a native of the Ozarks and a noted conservationist, talked about wanting to share the area with the rest of the world. "This is the heart of the Ozarks and we are so blessed to live where we live and being around nature. Tiger and I were driving around today and he was talking about kids on their phones and how great it is whether you are playing golf, fishing or hunting, just to get out in nature and especially with people you care about -- your parents or grandparents, your own kids, your best friends.
"It is solitude to be out here. This is going to get people from all over connected to this land and what is special about the Ozarks."
When singer Luke Bryan penned his country hit Huntin', Fishin' and Lovin' Every Day, he might have been thinking about Big Cedar Lodge, which has become something of a mecca to hunters and fishermen.
The 4,600-acre lakeside resort is located less than 20 kilometres south of Branson, a hugely popular resort town known for its wide collection of entertainment theatres. Big Cedar hosts more than 1.5 million visitors annually and was named the No. 1 resort in the U.S. Midwest by the readers of Travel & Leisure magazine.
Just up the road from Big Cedar, Morris has created Dogwood Canyon Nature Park, a 10,000-acre non-profit wildlife preserve that straddles the Missouri-Arkansas boundary. Morris's decision to expand beyond hunting and fishing at Big Cedar and go all-in on golf has happened just recently. The Buffalo Ridge course opened back in 2000.
It took another 14 years before the second course -- the Top of the Rock course designed by Nicklaus -- opened in 2014. Now three others are scheduled to debut in quick succession. The Top of the Rock nine-hole par 3 course is visually stunning, offering picture postcard views of Table Rock Lake. It features dramatic bunkering and one hole has an island green that requires a boat trip after your tee shot.
Many who have played Top of the Rock say it ranks among the best par 3 courses anywhere. "I can't believe how good this place is," said former PGA champion David Toms, who played it for the first time during the recent Legends of Golf tourney. "I've never seen anything quite like it."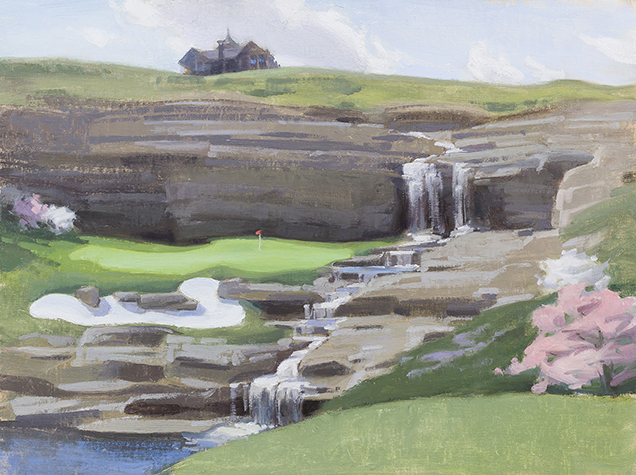 A Rendering Of Tiger Woods' Payne Valley GC Design - Image courtesy TGR
Payne's Valley will be the first public course for Woods' design firm, TGR Design. Woods said that has significant meaning for him. "I grew up on public golf courses," Wood said. "We didn't have a whole lot of money and that is where I learned how to play. For me to be able to design a public golf course is near and dear to my heart. . .And to have a piece of property like this, my job is not to screw it up. I am going to do my best, give it my all, everyone knows I am pretty dedicated to what I care about and this is one of them."
Morris said Woods will have free rein to create a course that he hopes one day might warrant consideration as a site for a major championship. "I had to promise him I'd stay out of the way a little bit," Morris said with a chuckle. "I love the land, I loved walking over it with Tiger and his guys. I think he is going to treat it really right."
Woods will also design a par 3 course for Big Cedar. "I grew up on a par 3 course," Woods said. "It was lit at night, just like most of the people were."
(Big Cedar Lodge is most easily accessed from Vancouver via either Denver or Dallas and connecting to Springfield-Branson National Airport, which is about an hour's drive away. For more information, visit bigcedar.com).