Golf Profession Perfect Career Path For Rogers
Details

Category: Inside Golf
Published: 2018-10-01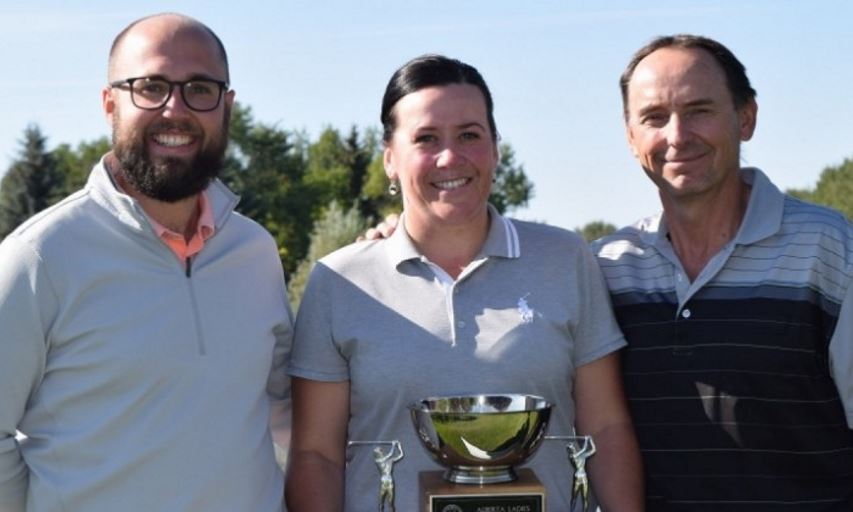 By GORD MONTGOMERY, Inside Golf
EDMONTON, Alberta — It's funny how life sometimes drives you off on a different career path than originally planned. That was the case for Marsha Rogers, who while busy earning two university degrees never bothered to pick up a golf club. But when she did at age 19, there was no stopping her.
That journey into the golf industry for Rogers though wasn't a short one by any stretch. The Derrick Golf & Winter Club associate professional didn't start dabble in the game until she was 19, after excelling in fastball for many years, but a sport that didn't lead her into any sort of career. The same couldn't be said for golf, where she had played a bit, off and on, with her dad.
"I was raised where I always had to be doing something, a sport, so I finished my first year of university and I took out a student membership and joined my dad on the golf course," she recalled of her late beginning. "I kept that up as a recreational thing," until she finished her schooling. The first golf related job she landed was seasonal, working in the shop at a Fort McMurray course and she hasn't left the industry since.
From that humble seasonal-worker beginning, where Rogers found she fit perfectly into the golf industry, eventually gaining her professional status. Mind you, it took six tries to pass the PAT (Playing Ability Test) requirements but she never gave up.
"I was the typical person that could hit the ball far, but I hit it everywhere! I was just a mess," she laughed.
As to what sort of hurdles she faced as a female entering the male dominated field, Rogers, now 42 and who entered the industry as a pro in 2005, noted, "There were definitely some benefits and drawbacks. Probably the biggest hurdle was people, like I guess, maybe don't know there are female golf professionals out there."
To illustrate that, she noted her dad proudly proclaimed to an acquaintance his daughter was a CPGA pro, The reply to that was, 'What kind of golf professional?'
"It's maybe just not so much with a female golf professional but with any male-dominated industry," said Rogers, implying that to some women aren't capable of holding such a position.
That of course is the furthest thing from the truth, and while there are female pros scattered around the province there certainly isn't an over-abundance of them. Rogers spoke to the detractors and the difficulties others like her tended to face during the start in the industry. However, she pointed out, in reality there's not much difference between the sexes in obtaining professional status.
"It's actually the same hurdles for both males and females to get into the industry. The same guidelines are there. You have to pass the PAT. You have to be able to play the game."
As to why there are perhaps so few female pros, this was her feeling: "I just think that you see a lot of junior girl involvement up until that age of 13, 14, and then there's a lot of other things going on in life that take girls away from the sport," and away from being able to pass the physical requirements in becoming a golf professional.
At the same time, being a female in the golf world can be a good thing. When Rogers decided to leave her hometown of Fort McMurray and her job there, she didn't have to look too hard to find employment elsewhere.  "I had courses approach me, saying they'd like to have a female (professional) on staff. I didn't have to go out looking for work — work came looking for me."
And what it found was a woman who is totally dedicated to the profession, her present position, and life in the golf industry. As such, Rogers realizes that her place as a role model is key to attracting young ladies into the game and she works hard at doing that.
"I think I might have more of an influence on younger girls, nine, 10, 11-year-olds. Because I never approached the game competitively, I feel I have a bit more of an influence on the younger girls," who she feels should come into the game, "To have fun."
When asked for advice to females who are thinking of coming into the industry, Rogers emphasized being able to play the game is key because of the PAT demands and keeping one's spirits up even if success doesn't happen immediately.
"Having gone through the PAT six times, and every time I got a bit closer, it's crushing at times. It's different because normally your score is compared to other scores. If you shoot 90 and everyone else shoots 91 or more, you win, whereas in a PAT if everyone shoots a 90, everyone loses. For those thinking about becoming a golf professional, you just have to make sure you're as confident going into the PAT's as you can be, because I believe there are lots of opportunities for females in the industry," even if your career path takes an unexpected turn along the way.
---
About the Writer
Gord Montgomery is a retired sports editor of two weekly newspapers in the Edmonton area and is a member of the Golf Journalists Association of Canada. He is now in his 10th year of writing for Inside Golf.
He can be reached at This email address is being protected from spambots. You need JavaScript enabled to view it.. He's also on Twitter at @gordinsidegolf and on Instagram at gordinsidegolf2.