PGA of BC Buying Show: Important Info For Attendees
Details

Category: Inside Golf
Published: 2018-10-08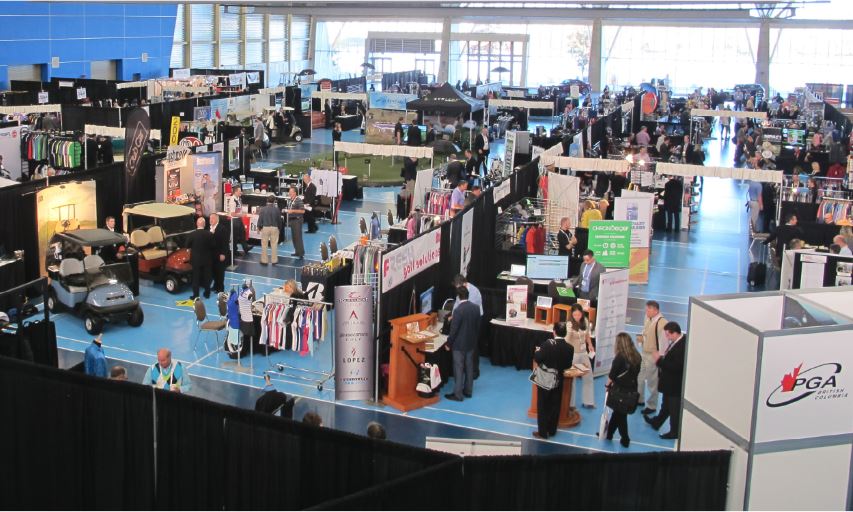 By PGA OF BC
RICHMOND, British Columbia — The PGA of BC Buying Show will open at the Richmond Olympic Oval, with approximately 70 exhibitors and representatives from 150 golf facilities registered to attend the two-day event. 
Association members are encouraged to take the time to visit with as many exhibitors as possible over the course of the show. A full exhibitor listing and the Buying Show floor plan can be found below. 
Before the gathering gets underway, please take a moment to familiarize yourself with the following important details and other Buying Show information:
SCHEDULE OF EVENTS
Wednesday, October 10th
Show Hours: 9:00 am to 5:00 pm
PGA of BC Awards Reception: 6:00 pm to 8:00 pm (River Rock Casino Resort)
Thursday, October 11th
Show Hours: 9:00 am to 4:00 pm
SEMINARS ON THE EDUCATION STAGE PRESENTED BY FORESIGHT SPORTS CANADA
8:30 am: PGA OF BC RETAIL PANEL: RETAIL SUCCESS STORIES
An Open discussion with a talented panel of retail experts that will share successful initiatives, as well as provide tips to increase buying-efficiency.
Panelists: Norm Jackson (Head Professional, Cowichan Golf Club), Jonathan Kadin (2017 PGA of BC Sales Representative of the Year), Brice MacDermott (Executive Professional, Kamloops G&CC), & Derek Orr (Class 'A' Professional, Victoria Golf Club)
12:30 pm: FITTING FOR GRIP SIZE
What are we actually fitting and does it matter? A performance-based look at how grip size affects golf performance.
Presented by Jason Giesbrecht; Head Professional, Royal Colwood Golf Club
THURSDAY OCTOBER 11
12:30 pm: PGA OF BC ADVISORY PANEL: OFF-SEASON EFFICIENCY
A panel of experienced Club operators discuss best practices in better preparing yourself and maximizing efficiency in preparations for 2019.
Panelists: Brian McDonald (Head Professional, Fairview Mountain Golf Club), Brian Schaal (Executive Professional, Copper Point Golf Club), & Mark Strong (Executive Professional, Richmond Country Club).
DRESS CODE
The PGA of BC strongly encourages and recommends a dress code of business formal for its members at the Show, while the minimum attire will be Golf Casual. Please note that the following attire will not be permitted to be worn by any attendees:
Denim
Shorts
Graphic T-shirts
Headwear
NON-MEMBER REGISTRATION
If your facility will have non-PGA member buyers in attendance, pre-registration for their badge would expedite the registration process. Please contact me by email (This email address is being protected from spambots. You need JavaScript enabled to view it.) to confirm their registration
2018 PGA of BC AWARDS CELEBRATION
Please be sure to join us for the Annual PGA of BC Awards Celebration, honouring the incredible efforts and accomplishments of our members and partners throughout the 2018 season. The event will take place Wednesday, October 10th from 6:00 pm to 8:00 pm in the Whistler Ballroom at the River Rock Casino Resort. Limited tickets are available and are offered on a first-come, first-served basis. Refreshments and hors d'oeuvres are included with your admission. Please click here to purchase your tickets.
PROFESSIONAL DEVELOPMENT PROGRAM POINTS
Professional Development Program (PDP) points will be awarded for both the Buying Show (4 points per day) as well as the Awards Reception (2 points). Please note that it is the Member's responsibility to sign-in for all events' registration. Points will not be retroactively awarded if a signature is not present -- no exceptions.
INCENTIVE PRIZES
As introduced at the 2013 Show, the PGA of BC will conduct booking incentive draws at the top of every hour. For each Exhibitor with which a PGA of BC facility places an order during Buying Show hours, members will be eligible to win great prizes. The more orders you place, the more chances to win!
As an additional incentive, members will receive a ballot for each day's attendance at the Show. These ballots will be eligible for prizes and will be drawn at 12:30 pm on Thursday. 
PARKING 
Parking is available at the Richmond Olympic Oval's General Parking lot throughout the event at a cost of $1.00 per hour. Members are encouraged to arrive early as parking for the Show will be limited and available on a first-come, first-served basis. Please click here for information on over-height and overflow parking.
EXHIBITOR LISTING & FLOOR PLAN
Please find the 2018 PGA of BC Buying Show Exhibitor listing and Floor plan by clicking here.
ACCOMMODATIONS
If you have not yet booked your accommodation for the Buying Show, limited rooms may still be available at the Accent Inn Vancouver Airport, conveniently located an eight-minute drive from the Richmond Olympic Oval. Junior suites are being offered at a reduced rate of $174 when booking using the promo code PGABC.  
EXPRESS LUNCH
In order to expedite the lunch process given the facility's limitations, a complimentary express lunch will be provided on the North-end of the Show floor for the first 150 exhibitors and attendees, starting at 12:00 pm on each day of the Show. Please note that the O Cafe located on Level 1 of the Richmond Olympic Oval will also be fully operational throughout the Oval's regular hours.
CAREER POSTINGS
Thinking of hiring for 2019? Statistics have proven that autumn is the most desirable time to post open positions at your facility. Knowing this, the PGA of BC will once again feature a Careers Board at the Show. Many great success stories have started with positions advertised and interviews being conducted at the Show. Should you wish to ensure your opening is featured, please send your posting to Eric MacKenzie (This email address is being protected from spambots. You need JavaScript enabled to view it.) by Friday, October 5 at 12 p.m. PT
---
Please direct any additional inquiries to This email address is being protected from spambots. You need JavaScript enabled to view it..