Lee McCoy Cruises To Victory At Freedom 55 Financial Open
Details

Category: Inside Golf
Published: 2017-06-07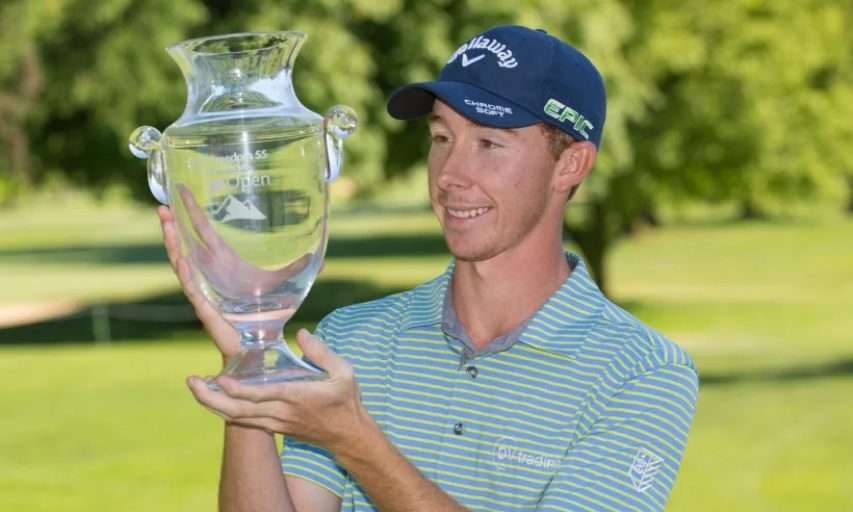 Lee McCoy Turned A Three-Shot Lead Into An Eight-Stroke Win. (PGA TOUR/Chuck Russell)
Tampa, Florida's Lee McCoy claimed victory in his first Mackenzie Tour – PGA TOUR Canada start, cruising to an eight-shot victory at the Freedom 55 Financial Open, the first event of the 2017 Mackenzie Tour – PGA TOUR Canada season.
McCoy, a former amateur and college star at the University of Georgia, shot a final round 6-under 66 to turn a three-shot overnight lead into an eight-shot win over Mequon, Wisconsin's Jordan Niebrugge and Lexington, Kentucky's Hunter Stewart.
"This is certainly one of the most memorable weeks in my life," said McCoy. "To play in front of a crowd and with this many good players is certainly special. I knew nobody was going to lay down out there, and to get away by as many as I did was something I could have never predicted."
Beginning the day with a three-shot advantage over fellow competitor Scott Vincent, McCoywasted no time in setting the tone for the day, making birdie at the first and turning in 3-under on the front nine to lead by four.
With none of his chasers able to mount a charge, the 23-year old McCoy continued to pull away and birdied his final two holes to reach 20-under par for the week and win by eight, representing the largest margin of victory ever on the Mackenzie Tour.
"People don't understand how good the players are on this Tour. There's so many good players in this field, and I knew I had a tall task today with Scott in my group, and Niebrugge and Jake (Knapp) right behind me. Those guys have so much firepower and they're all very accomplished players," said McCoy of his pursuers.
For McCoy, the win represents a sharp turnaround in his fortunes from the end of 2016, when he broke his wrist in two places in a car accident before the Second Stage of Web.com Tour Q-School. Now, he's one step closer to earning Web.com Tour status for 2018.
"It sure beats sitting on my couch, I can tell you that," said McCoy with a laugh. "My goal is to try to simply win as much as I can. I'm 1-for-1 I guess, but you certainly can't win every week with this many good players, but I'm going to try to win as many times as I can."
Notes on Lee McCoy
Age: 23
Hometown: Dunedin, Florida
Residence: Jupiter, Florida
College: Georgia
Accomplishments: Three-time NCAA All-American at Georgia, including 1st team selections in 2015 and 2016; Member of 2015 United States Walker Cup team; Finished fourth as an amateur at the 2016 Valspar Championship on the PGA TOUR.
McCoy was making his first career start on the Mackenzie Tour after earning status at the USA East #1 Q-School in April. McCoy becomes the first player to win in his first Mackenzie Tour start since Drew Weaver won the 2015 Freedom 55 Financial Open.
In late 2016, McCoy fractured his wrist in two places after getting into a car accident prior to the second stage of Web.com Tour Q-School and was forced to miss the rest of the season.
McCoy becomes the fourth straight player to make the Freedom 55 Financial Open his first win on the Mackenzie Tour, joining Joel Dahmen (2014), Drew Weaver (2015) and Dan McCarthy (2016).
McCoy's 20-under total of 268 represents the lowest score in the history of the Freedom 55Financial Open.
As part of his win, McCoy earns seven free coupons for a daily rental car from AVIS.
HILL TAKES FREEDOM 55 FINANCIAL TOP CANADIAN HONOUR
With a 7-under total and a T20 finish, Sarnia, Ontario's Matt Hill earned Freedom 55 FinancialCanadian Player of the Week honours and a $2,500 prize.
The top Canadian on the leaderboard each week takes home the award, with the top Canadian on the Order of Merit at season's end earning the Dan Halldorson Trophy, Freedom55 Financial Canadian Player of the Year and a $25,000 prize.
Hill is a member of Freedom 55 Financial's Team Freedom along with fellow players Ryan Williams, Mackenzie Hughes, Taylor Pendrith, Adam Svensson and Albin Choi.
MORE PLAYER NOTES
Jordan Niebrugge
23-year old Jordan Niebrugge was making his first start on the Mackenzie Tour this week. The former NCAA All-American at Oklahoma State owns an impressive amateur resume, including wins at the Western Amateur and U.S. Amateur Public Links.
In 2015, Niebrugge finished T6 and earned the Silver Medal at the Open Championship as the low amateur.
Hunter Stewart
24-year old Hunter Stewart was making his first start on the Mackenzie Tour this week. The former NCAA All-American at Vanderbilt played with Lee McCoy on the 2015 Arnold Palmer Cup team and was a semi-finalist for the 2015 Ben Hogan Award.
MISCELLANEOUS NOTES
Weather: 17 degrees Celsius, partly cloudy, winds 12 km/h.


Vancouver native and Point Grey Golf & Country Club ambassador Ryan Williams finished T28 at 6-under.


Richmond, B.C.'s Chris Crisologo shot a 2-under 70 and finished T20 at 5-under. The Simon Fraser University student was recently named an NCAA Div. II All-American.


Click here for scores.
HIGHLIGHTS
To download highlights from today, visit the link below. Highlights are in HD and use is free. A shot sheet for today's highlights is included.