Indoor Golf Swings Into Action In Winter-Ready Alberta
Details

Category: Inside Golf
Published: 2018-10-12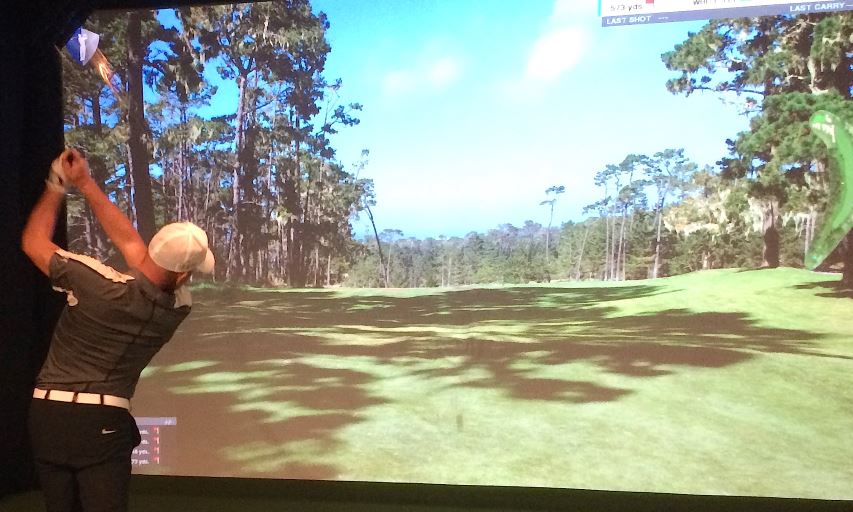 By GORD MONTGOMERY, Inside Golf
SPRUCE GROVE, Alberta — Everyone that lives in Alberta knows that winter is coming, like it or not. And sometimes it comes much sooner than wanted, putting a halt to many outside activities — mainly golf.
But those in desperate need of a golf fix now have a place to go in Spruce Grove, even when the snow is flying and the temperatures are heading toward below zero. Thanks to Dwayne and Shelley Bizeau, those in love with the sport can now swing to their heart's content at On Par Golf, an indoor simulator facility that features four state-of-the-art technology screens.
"The reason we did this was because the tri-municipal area needed some extra entertainment. We have some stuff that goes on out here but most people go into the city (Edmonton) to play their golf," Dwayne said of launching this business, the first of its kind, in the city of 36,000 people. "And, we do have the multi-sport system here," which besides golf includes baseball, target shooting, golf darts, plus kids' games like mini-putt, so the whole family can take advantage of this facility.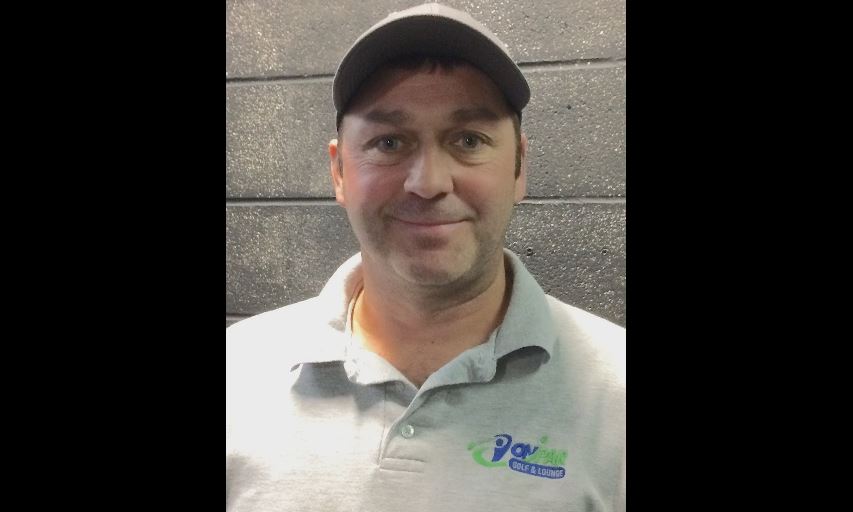 On Par Golf Owner Dwayne Bizeau.
Over the years the virtual reality brand of golf has taken some knocks as to its accuracy, both in distances and in realism. Bizeau explained that the system he has put into play, featuring HD screens, produced by a Canadian company, is as good as the indoor variety of the game can get.
"The feedback has been incredible. We had a lot of American companies asking if we'd be interested in their equipment … it came down to the quality of the pricing, the picture. As soon as we saw HD Golf, it was a no-brainer."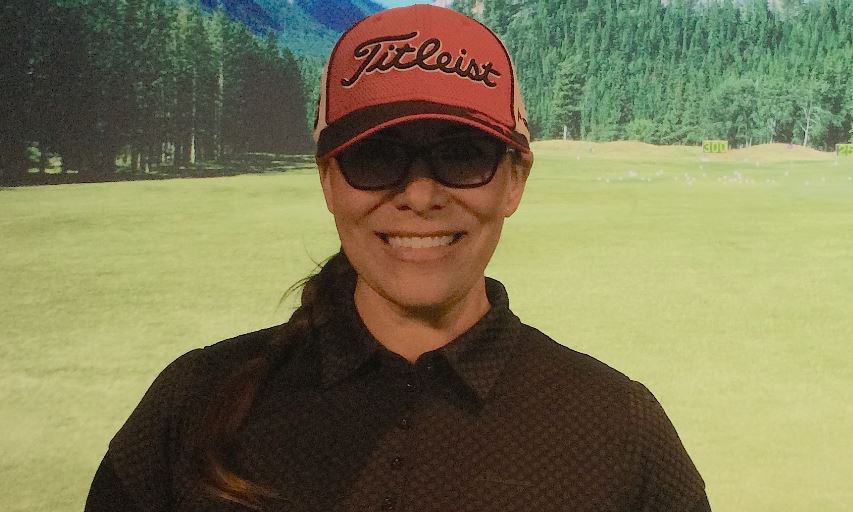 Katrina Kelly, The USPGA Teaching Pro At On Par Golf.
Katrina Kelly, an American PGA teaching pro who is on staff at On Par Golf, said that really there isn't a big difference between swinging a club inside and out, and playing indoors is better than not playing at all.
"In Alberta, you don't have much of a choice when winter comes. I find that technology has come so far that what we have nowadays is better than what we had even two years ago. When I first walked in here, and saw the graphics, I was floored! This is as good as you get," she proclaimed.
As to accuracy of the systems today, she came up with an interesting point: "Consistency with the swing is probably the number one reason why people don't believe the (numbers on the) screen. They are within a percentage, even half a percentage, of how accurate they are (at measuring distances). And they're far more accurate now than they were even three years ago."
Another complaint of many is transporting the indoor game to outside, something that is virtually not true said the instructor.
"It's actually extremely easy," noted Kelly. "The reason golfers struggle is they don't have a consistent swing and that's the plain and honest truth. If you have a consistent swing you can easily transfer from indoors to outdoors. The swing is interchangeable."
That statement did come with a caveat from Kelly though: "The only difference is the putting and putting is so good on these screens … but you have to treat it on these indoor screens like a video game. If you understand the touch and feel of putting outdoors you can simply transfer that to putting indoors."
The big thing about playing year-round, even if a good part of that year is indoors, is you're ready to go once the weather warms and the grass turns green again.
"The good thing with this is you don't have to brush the rust off," over the first few weeks of playing outdoors, Kelly said in conclusion. "Albertans are crazy about golf and I don't know what they'd do without virtual golf. If you can keep your sharp throughout the winter it's a massive advantage."
Everyone knows golf is hard so staying in the swing of things is key to playing well when one finally returns to the great outdoors after a long Alberta winter, said Bizeau.
"Golf is a game of muscle memory, so why not come in and keep your golf swing in shape," he ended. 
---
About the Writer
Gord Montgomery is a retired sports editor of two weekly newspapers in the Edmonton area and is a member of the Golf Journalists Association of Canada. He is now in his 10th year of writing for Inside Golf.
He can be reached at This email address is being protected from spambots. You need JavaScript enabled to view it.. He's also on Twitter at @gordinsidegolf and on Instagram at gordinsidegolf2.