The "Experience Of A Lifetime" For Alberta's Hacior At Ryder Cup
Details

Category: Inside Golf
Published: 2018-10-12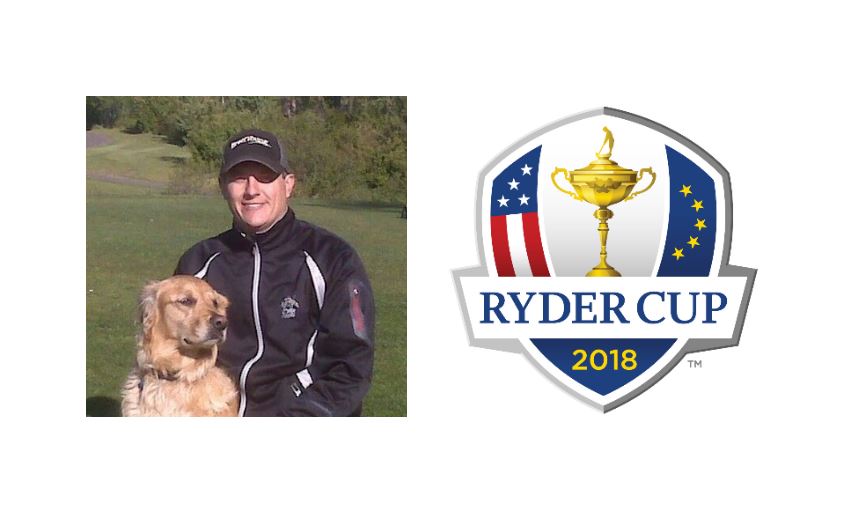 By GORD MONTGOMERY, Inside Golf
FORT McMURRAY, Alberta — To put it mildly, Phil Mickelson's review of the rough at the recent Ryder Cup in France was that it was below the usual PGA TOUR standards. To put it into perspective, a member of the grounds crew simply called that off-fairway grass a "home course advantage."
Mickelson, upset after the American team was trounced by the Europeans 17.5 to 10.5, said in a published article, "I'm not going to play tournaments with rough like that anymore, it's a waste of my time."
That aside, Jeff Hacior, the superintendent of the Fort McMurray Golf Club and the only Canadian on the grounds crew for this year's edition of the highly-anticipated American vs Europe showdown, said this was simply a matter of the home team setting up the course how they wanted and which they felt would favour them over the three day competition.
Course set-up aside, it was the experience of a lifetime for the superintendent from Alberta, even with the language obstacles that he encountered.
"There were a lot of different challenges," he began. "The crew I was on had a lot of French speaking guys but there were enough that spoke French and English, so they were able to pass along messages."
The team Hacior was on had between 23 and 28 hand-picked grass gurus that were responsible for a specific area of the Le Golf National - Albatros Course in Saint-Quentine-en-Yvelines, France.  "We had four holes that we looked after. Everything from looking after bunkers, everything around the green, moisture levels, greens mowing," as well as a lengthy list of other housekeeping items which at times saw guys on their knees hand-cutting blades of grass with scissors.
Hacior went on explain that while he was in another country, on the other side of the ocean, there wasn't a whole lot of difference between looking after grass there and the grass he tends to at home.
"We all kind of manage a golf course the same way," he noted. "The grass was all basically the same as we have in Alberta, poa and bents."
Asked his thoughts on the Mickelson rant in regard to the lengthy rough, Hacior had this to say: "Phil didn't play very good. We watched him on the driving range all week long, and he couldn't hit the right side or the left side if he wanted to.  He wasn't at his best. And, at the U.S. Open, you get some pretty extreme conditions," in regard to penal rough lining the fairways, so in retrospect this may have just been a loser making up excuses for not playing well.
"Yes," continued Hacior, "the Europeans did have home-field advantage so they did get to dictate what they wanted on the course. I don't know. It was the same golf course for everybody. There were quite a few Americans that put points on the board."
And of course there was no rough in play when Mickelson splashed his tee shot down into a water hazard on No. 16 on the final day's singles' matches, leading him to concede that paricular match to Francesco Molinari, and as a result the Ryder Cup itself to the Europeans. Overall, Mickelson who was a captain's pick for the tournament, went 0-2 and didn't see the light of day in competition on Saturday.
That criticism about the course conditions aside, for the Canadian superintendent this was a chance to watch the best players in the world and he took advantage of that scenario.
"We were able to watch all week long, as much as we wanted, once the work was done," although on Saturday the sight lines weren't that good with 70,000 people milling about on the grounds. "The last day was a little easier because everybody was spread out over 12 holes."
"It was a once in a lifetime chance for myself," Hacior proclaimed. "I was honoured to be selected. It honestly was just a great experience with the other 170, 180 golf course superintendents and assistants from all over the world. It was a once in a lifetime opportunity and I'm glad I got to take part in it."
---
About the Writer
Gord Montgomery is a retired sports editor of two weekly newspapers in the Edmonton area and is a member of the Golf Journalists Association of Canada. He is now in his 10th year of writing for Inside Golf.
He can be reached at This email address is being protected from spambots. You need JavaScript enabled to view it.. He's also on Twitter at @gordinsidegolf and on Instagram at gordinsidegolf2.