Over 120 Young Golfers Come Out To MJT Ford Fall Series
Details

Category: Inside Golf
Published: 2018-10-17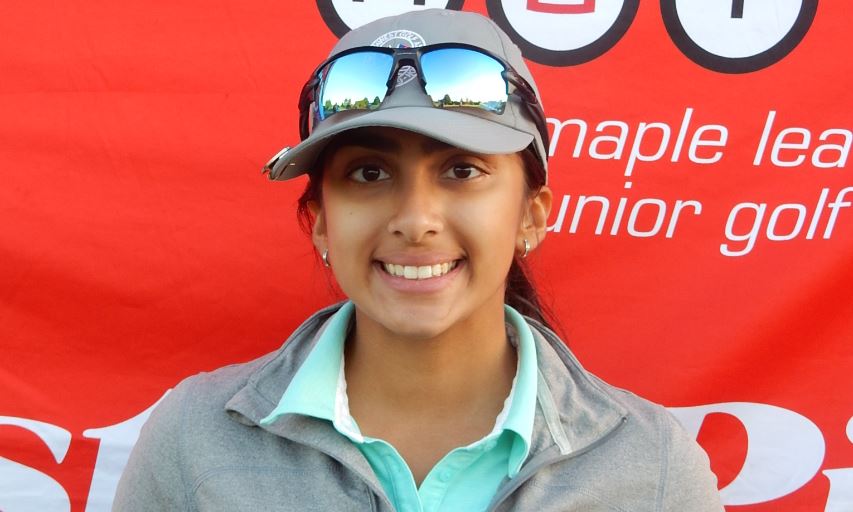 By THE MJT
RICHMOND, British Columbia — Over 120 young athletes descended on Mayfair Lakes Golf and Country Club in Richmond, BC, this past weekend, to take part in either the Maple Leaf Junior Golf Tour's MJT Ford Fall Series or the MJT Ford Go Golf! Junior Clinic sponsored by Cam Clark Ford Richmond.
The Cam Clark Ford Free Junior Clinic offered a free introduction to golf for boys and girls aged between 6 and 12; on the competitive side, the MJT Ford Fall Series event saw players compete for titles in seven age divisions as well as for the chance to win a new Ford Focus with a hole-in-one.
The MJT Juvenile Boys Hoselton trophy was won by Leo Harper, 16, of Burnaby, BC, after he fired rounds of 72-74 (146) to win by six strokes over both Andy Luo, 15, of Burnaby (76, 76=152) and Alex LePoidevin, 15, of West Vancouver, BC (74, 78=152). The weather was picturesque both days, however previous rain made for some muddy conditions. When asked about his win, Harper commented, "I feel like I earned it. I played well both days, despite some muddy lies I had." Harper capped off his 2018 season with a birdie, four, on the 18th hole, crediting the hole as his best of the tournament.
Another Burnaby resident, Bradley Gagnon, 18, captured the MJT Junior Boys title with a two-day total of 152 (71, 81) to win by five strokes over Kurtis Trowell, 17, of Langley, BC, who shot 157 (80, 77). A strong opening round provided some welcomed space between Gagnon and the rest of the field. But knowing there were some other talented golfers in the division, he said he had one thought coming up the 18th hole, 'finish strong.'
Low medalist for the event came in the MJT Collegiate division where local member, Fritz Lo, 19, of Richmond, posted impressive rounds of 72, 69 (141). Home course advantage was evident as Lo missed few shots and capitalized on many birdie opportunities on his way to the victory. This was Fritz's first trip back to the winner's circle in three years. "It feels awesome! I went a long time without winning an MJT event. The last event I won was at Morgan Creek in 2015."
Danny Im, 14, of Langley, claimed the MJT Bantam Boys division title after firing 74-76 (150) to win by six strokes over Jayden Piao, 14, of Coquitlam, BC (77, 79=156). "I feel proud of the hard work I've put in over the summer. It feels great to win against a tough division," said Im. His final round was highlighted by making three birdies on the difficult, wet 6,225 yard layout. Two of those birdies came on par three's, unfortunately, one stroke shy of a hole-in-one.
In the MJT Peewee Boys division, Aaron Huang, 12, of Vancouver, BC, stormed back after being down by three heading into the final round, to capture the Hosleton trophy for his age group. Huang, who shot 77, 73 (150), would overcome the defending champion of the Peewee Boys age group, Ryan Liang, 11, also of Vancouver, who shot 76, 78 (154). "The best hole of my tournament was the third, because I hit my approach shot to a foot and tapped it in for a birdie," said Huang. "I was feeling confident and good about my game, which helped ease the pressure on the 18th hole."
Angela Arora, 14, of Surrey, BC, found the winner's circle again at Mayfair Lakes, however this time playing up in the MJT 15-18 Girls division. With fantastic rounds of 75, 76 (151), Arora was able to hold off 11-year-old phenom, Michelle Liu, of Vancouver (79, 75) and 17 year-old Sophia Bian, also of Vancouver (78, 76) who were both three shots back at 154. "This was my first win playing up a division with the older girls," said Arora, "I feel really proud to be able to finish it off. The highlight came on the final hole and final shot of the tournament, where I was able to sink a long putt for birdie, it felt really great!"
There was a three-way playoff to determine the champion of the MJT U15 Girls division. As the sun set and scores were finalized, it was determined a sudden-victory playoff hole was required for Jessica Ng, 14, of Vancouver, Elise Liu, 12, of Richmond and Emily Zhang, 14, of Vancouver. All three players finished the tournament totalling 155. It took a par on the first extra hole for Zhang to be crowned as champion. "The highlight of my round was during the second round, when I chipped in for eagle on the 14th hole," said Zhang. "I feel really proud of myself and I'm also thankful for my awesome playing competitors, the MJT and my family, especially my Dad."
Full results and overall event highlights are posted on the MJT website, which include winners of the MJT Comeback Award, PLYR Long Drive, and PLYR Closest-to-the-Pin.
This was the final 2018 regular season event on the MJT schedule; early bird 2019 MJT memberships will be available starting December 1. Qualified players from the 2018 season will next make an appearance in the MJT Boston Pizza National Championship presented by TaylorMade and adidas Golf at the Legacy Resort in Phoenix, Arizona, November 9 to 11. For more information please visit www.maplejt.com.
---
About Ford
Ford of Canada employs over 23,000 talented individuals in the fields of finance, sales and marketing, information technology, manufacturing and engineering, and human resources. This diverse workforce is responsible for the manufacturing and assembly operations that bring 320,000 vehicles and 425,000 engines to market. At Ford we are proud to be Canada's longest-established automaker and remain committed to building a strong future in Canada. www.ford.ca.
About the MJT
The non-profit Maple Leaf Junior Golf Tour presented by Boston Pizza is Canada's number one-played Junior Golf Tour as well as the only national junior tour run exclusively by PGA of Canada Professionals and the 'Road to College Golf' in Canada. The organization is presented nationally by Boston Pizza and supported by valued Premier, Tournament and Product Partners. The MJT hosts more than 70 events across Canada, including free Ford Go Golf Junior Clinics, the MJT Mini Tour for 7-12 year olds, the Collegiate Tour for 19-23 year olds, and multi-day events for competitive players aged 11 to 18 which are also qualifiers for international competitions. The program offers annual awards, scholarships, and frequent player incentives to help reward player's performance and participation throughout each season. MJT alumni include many Professional Tour players and PGA of Canada Professionals, as well as Canadian Amateur, National and Provincial Junior Champions. The MJT aims to develop champions, in golf and in life, promoting the game from grassroots through to provincial, national, university and professional level. For more information on the Maple Leaf Junior Golf Tour, please visit www.maplejt.com.