Planes, Trains, And Golfmobiles — Getting Around To Tee It Up In Colorado
Details

Category: Inside Golf
Published: 2018-10-22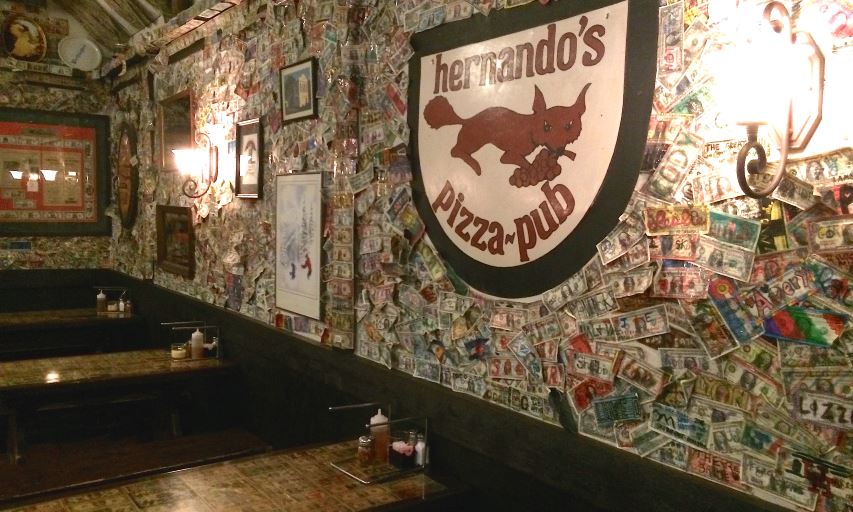 By GORD MONTGOMERY, Inside Golf
WINTER PARK, Colorado — Colorado isn't just for skiing anymore. And that's truly evident in Winter Park, where despite having a huge downhill ski area, golf is beginning to take on a shine of its own high in the Rocky Mountains.
With tourism rates now split almost equally between winter and summer visitors, Colorado's golf industry is working hard to showcase its interesting tracks, where elevation really does play a key role in what takes place on the grassy playgrounds. And it's important to note that the playing season in several areas extends well beyond what many Western Canadians get on their home layouts.
Speaking to drawing Canadians to the state, which is also big for hiking, climbing, biking enthusiasts, sport fishing and kayaking among other recreational activities, Gaylene Ore from Ore Communications said, "What we've seen with the Canadian dollar is that you guys value vacations. Here in Grand County we do have four golf courses and golf is a big part of our business. Each of the four golf courses in Grand County is really different. Golf is, I think, a big reason for the tourism being split 50/50."
Winter Park itself is a small community that thrives on tourism. It is, truly, somewhat small-townish where there aren't any big box stores and sometimes it can be hard to find a place to dine later in the evening. But, at the same time, it's a friendly, easy-going spot with some fun, interesting eating spots such as Hernando's Pizza-Pub, where over 18,000 one dollar bills are tacked on the walls and tables, making for interesting wallpaper.
"Right, there's no Walmart!" proclaimed Ore. "What I like about Winter Park is that it's unassuming. It's really an outdoor destination."
So while there's lots of recreation-oriented things to do in this area, there was one reason for this trip: golf, and lots of it. The trip teed off first at Granby Ranch, where if you're not in good physical condition don't even think about walking the course. Sitting at 8,100 feet above sea level, oxygen can be in short supply after a even a brief walk from cart to ball.
One hole in particular here, the par-5 7th, almost demands that you use a golf cart to chase down shots. It plays out to 577 yards off the White tees, and over 600 from the back box. The thing is, given the elevation the ball does go farther so reaching this monster in regulation (which I proudly did and recorded a par!) isn't out of the realm of possibility. A neat scene on this hole was the Amtrak train rolling by on its way from Chicago to Oakland, as we were putting out on the hole. More on that train later, by the way.
The opening nine at Granby Ranch is fairly level but the back changes that in a hurry. From a distance the homeward nine has more of a links style look to it and it truly does play harder than the front. But when combined, the two nines make a fun, challenging play that you don't want to overlook. For more, go to granbyranch.com.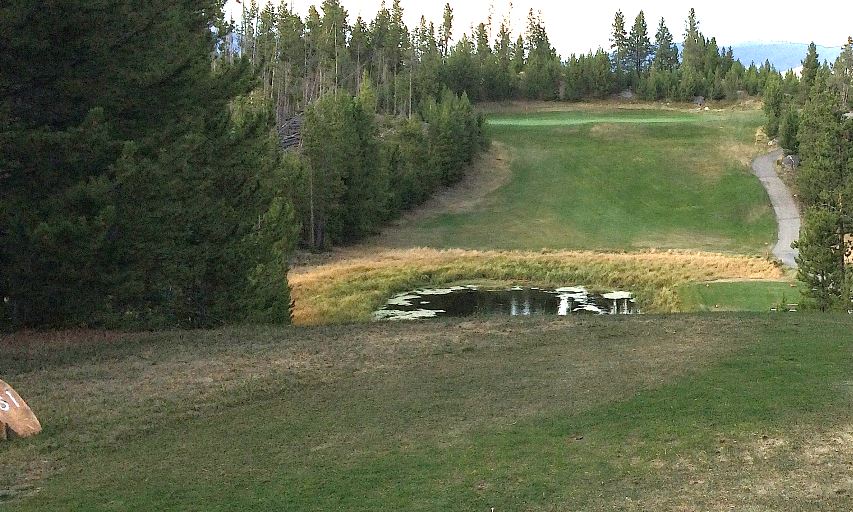 One Of The Testy Par 3 Holes At The Grand Lake GC Offers Up This Tee Shot Featuring Both An Elevated Tee And A Green With A Similarly High Perch. (Photo/Gord Montgomery)
That afternoon we trundled off to our second 18 of the day at the Grand Lake Golf Course, which believe it or not, sits even higher up than Granby Ranch. At 8,500 feet, this was at one time the golf course with the highest elevation in the U.S. and while it doesn't hold that title anymore, it is nonetheless a place to really air it out.
This track has four sets of tees, playing to 6,500 yards from the back tees, 6,300 from the second set as well as 5,900 and 5,300 yards. While not overly long by any stretch, it is a tight layout where fairways are bordered by trees and/or tall, tangly fescue grasses. It is also marked by a large number of elevated tees and greens. The back nine houses three par-4 holes over 400 yards so there is some length here.
Again, this is a big-hitters paradise as the ball seems to travel forever but even shorter hitters can enjoy anywhere from five to 15 extra yards on almost every shot. For more, go to grandlakegolf.com.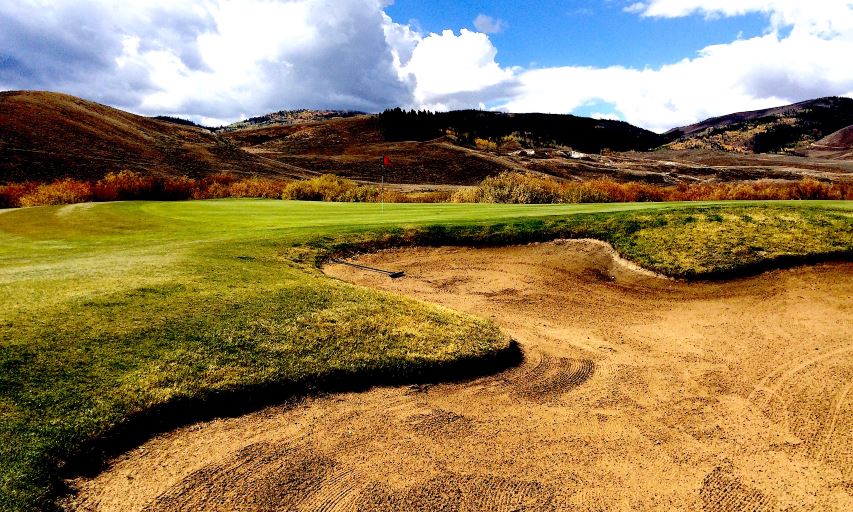 The Grand Elk Course, The Only Craig Stadler Design In Colorado, Is A Pleasure To Play, Not Only For The Great Challenges It Presents But Also For The Outstanding Visuals All Around The Layout. (Photo/Gord Montgomery)
Having played 36 in one day, that idea seemed appealing so it was decided that 36 the next day was also manageable. So it was off to the only Craig Stadler-design in Colorado, the Grand Elk GC, which interestingly enough was purchased by the homeowner's association that surrounds the layout. With only 12,000 or so rounds played here each year, this relatively untouched beauty is well worth the time on your golf trip.
Playing to anywhere from 7,100 yards down to 5,000, Grand Elk is a design that is set up for everyone and where everyone can have success. The greens are large and relatively receptive to incoming volleys. Because of its design that features tightly mown fringe areas around the putting surfaces, your short stick can be used from well off the green, meaning those awful chip shots we're all prone too aren't a real concern here.
What is important though is that you keep your ball on the short grass. Or as head pro Mike Ritter pointed out, "Hit it straight and you'll have lots of chances to make birdies."
While this par 71 course does have some lengthy par 4 holes, it makes up for those with a short 421-yard par 5 (from the Whites) and one par 4 that is under 280 yards. Even though this is a course with a housing development around it, that in no way detracts from the wonderful mountain vistas in the area. For more, go to grandelk.com.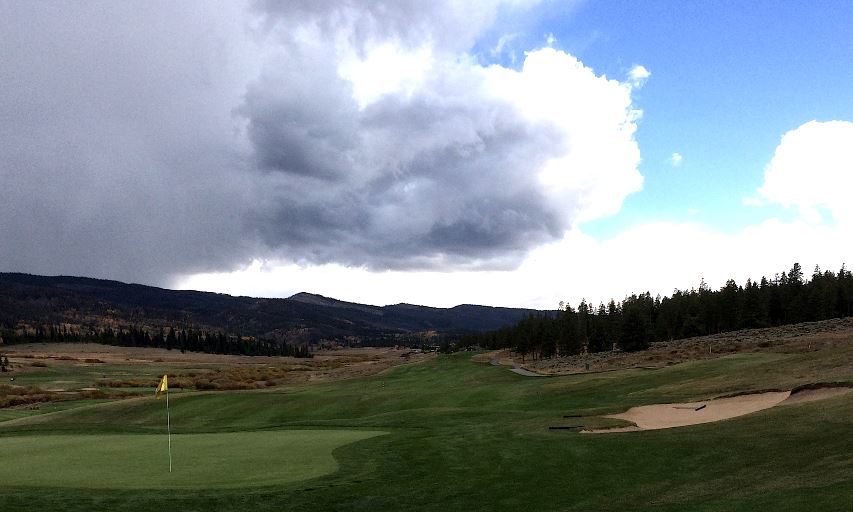 Even With Storm Clouds Looming, The Continental Divide Off To The South Is An Outstanding Visual At The Pole Creek GC. (Photo/Gord Montgomery)
From there it was off to the beautiful, and challenging Pole Creek Golf Club, a 27-hole gem that is a must-play for anyone in this area. This layout is made up of three distinct nines, the Meadow, the Ranch and the Ridge and is highlighted by the Continental Divide which is visible to the south. Here they practice dynamic pricing, meaning if you can play in the off-primetime hours the saving can be significant on green fees. Since its opening Pole Creek has received a huge number of state and national awards from golf publications and when you tee it up here, it's not hard to see why.
The hallmark of these tests are the wide fairways and the large greens. As with many mountain courses you find yourself with some demanding uphill tee shots, especially on two of the first three holes on the Ridge course. The first is a 411-yard uphill tester where a false front can spell doom for any approach that's short of the intended target. No. 2 is a level par 3 that gives you a bit of a break before taking on the third hole, a 386-yarder with a steep start that heads downhill in a hurry on your approach shot. This makes for a great start to a spectacular nine holes which can be said for all three of the layouts here.
The Ridge 9 plays the longest at just over 3,300 yards from the White tees (there are only two blocks in back and two up front) while the Ranch is 3,100 and the Meadow 3,074. The thing is, no matter which combination of nines you play — or all three if you're able — this is one of those courses where you'll want to return as soon as possible. For more, go to polecreekgolf.com.
Something to note here is that even though  it was snowing at home in Alberta during my time in Colorado's upper elevations, the weather, while cool, was certainly not uncomfortable. On most days the temperature reached into the 60s (F) in late September and while the mornings were cool, a light jacket was more than enough to keep warm until the sun had a chance to do its job.
Moving On Out
Now about that train. After back-to-back days of 36 holes a day off sounded like a great idea and a train ride an even better one. If you haven't had the chance to travel by Amtrak in the States, the ride from Granby to Grand Junction, a 4.5 hour jaunt on the California Zephyr, through some of the most beautiful scenery you'll ever be treated to, is a great way to break your fast.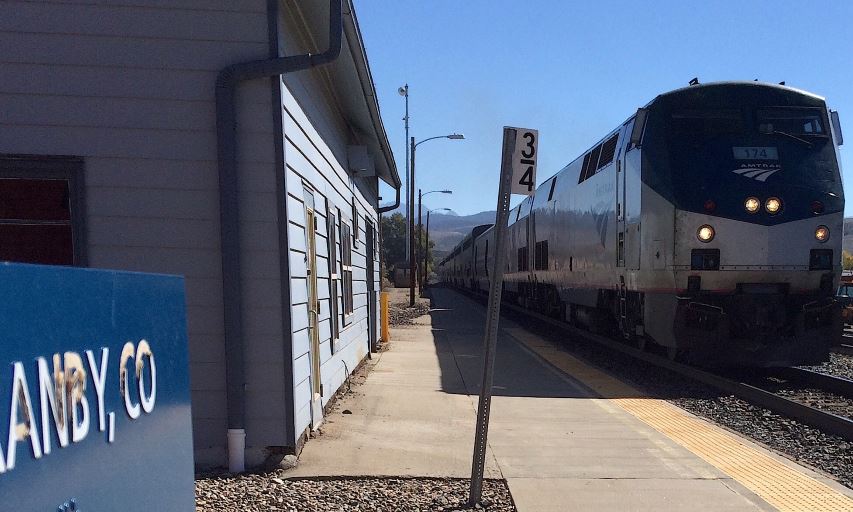 For A Different Experience In Getting From One Spot To Another, Try Taking The Amtrak Train That Offers Up Some Spectacular Scenery On The Ride Between Granby, Colorado and Grand Junction. (Photo/Gord Montgomery)
The fare for this ride was amazingly inexpensive, $35. The train featured two levels, with the observation deck on top offering up some splendid views of the mountains and valleys you pass through. With the Colorado River flowing alongside the tracks for the majority of the trip it wasn't unusual to see fly fishermen and white-water rafters out enjoying the outdoors. While the trip from Denver to Granby was done by car, you can also hop on the Zephyr in Denver and alight in Granby for your stay there. This is an interesting way to travel with the chance to meet people from all over the globe, with interesting stories to share. Or if you prefer, you can sit in quiet comfort and hook into the provided WiFi service onboard. There is a dining car and light food services, as well as alcohol service if you're so inclined. For more, go to amtrak.com.
Back To Golf
The final stop, Grand Junction, proved to be a wonderful spot to settle in, although it was only for two nights. This is a mid-sized city with a wonderful downtown area with lots of nightlife, and given its warmer climate (remember the snow at home? When we played here, it was 85F!) that means you only need a light jacket, if anything at all, to enjoy a late night libation, or meal, on many of the outdoor patios.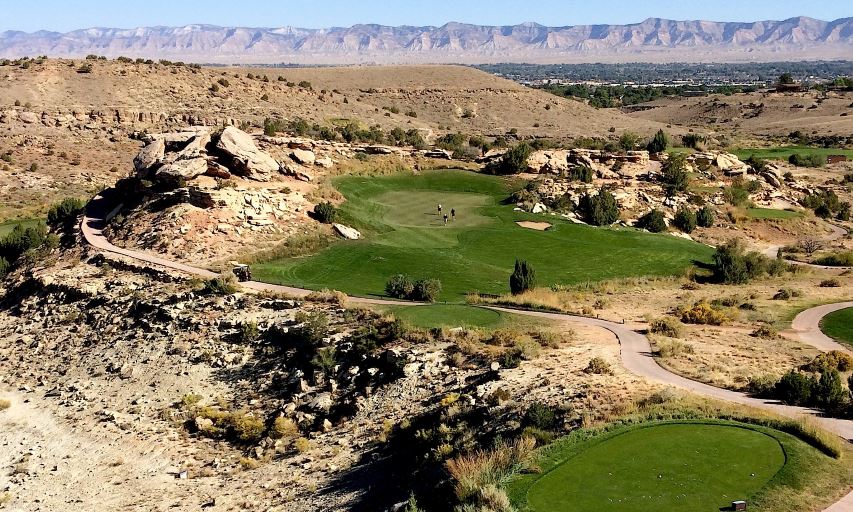 From High Atop The 17th Tee At Redlands Mesa, The Green On This Par 3 Looks Pretty Small. This Is Only One Of Several Spectacular Holes On This Course That Ranks In The Must-Play Category. (Photo/Gord Montgomery)
As for golf, well believe me when I tell you that one of the stops here, The Golf Club at Redlands Mesa, is the real deal. A layout full of towering tee shots off massive, elevated tee boxes, this is a definite gotta-play-there stop on anyone's itinerary. While the front nine is wonderful, it actually pales somewhat in comparison to the back nine that begins with a 514-yard par 5 that is anything but easy. On the other hand, it is certainly memorable as your tee shot caroms downhill, hopefully around several well placed bunkers. Your second shot must be properly placed to leave you a view of your uphill appoarch shot into the green, which has a huge back-to-front slope making for a treacherous putt for par. The 11th also provides a downhill tee shot, over a vast wasteland onto one of the beautifully manicured fairways here.
Perhaps the most dramatic of holes here though is the 17th, a par 3 where your opening volley can be anywhere from 86 yards off the front tees to over 215 off the top, back tee. While that may be too big of a blast for many, one still has to climb to the top of the rock outcropping that provides the deepest tee here — if not to hit a shot to at least take a shot, or two, with your camera!
Simply proclaimed as Award Winning Golf, and the winner of Golfweek's No. 1 Course You Can Play In Colorado, this is a piece of eye-candy that you won't tire of. For more, go to redlandsmesa.com.
To wrap things up with another 18 the same day, we wandered a short way down the road to Tiara Rado Golf Course, which is a pleasant, flat layout with an old-style country club feel. this is an easily walkable course, and given that the elevation in Grand Junction is only at about 4,500 feet, it's not that much of a test for your cardio endurance. This course features a fairly flat layout with wide fairways and shorter holes, playing to just over 6,400 yards from the tips. One of the features here is a water tributary on the front nine that is often hidden from view meanders a shot that's even a little offline can end up costing you more than a tough shot out of the rough.
This is a municipally owned course, so fees can be relatively inexpensive depending on the time of day you choose to play. This is the sort of track where no hole in particular stands out, but at the same time, they all present a challenge in one way or another, so it's worth a play no matter what your skill level. One nice thing here is that while in a residential setting, there are spectacular views of the cliffs and mesas that surround the entire area. For more, go to golfgrandjunction.net.
And Finally, Planes
Getting to Colorado is an easy task from any major airport in Western Canada, as there are a number of direct flights into Denver each day. From that point on, the choice is up to you how to get around the state, but a car ride into Winter Park can take anywhere from 90 minutes to two and a half hours depending on traffic. However, that time is put to good use with the beautiful scenery as well as the spectacularly massive Coors factory on the western outskirts of Denver. You can also hop on the Amtrak train to journey westward if that suits you better.
From Winter Park to Grand Junction is a nice trip whether by car or train, but once there, it's best to hop on a small jet to carry you back to Denver, saving a lot of travel time on the highways. And regardless of how large Denver's air hub is, the airport in Grand Junction is a small one, where check-in and security are quick and easy.
But regardless of how you choose to come and go, Colorado is becoming a place that is wide open for golf business meaning it's more than simply a ski destination these days.
---
About the Writer
Gord Montgomery is a retired sports editor of two weekly newspapers in the Edmonton area and is a member of the Golf Journalists Association of Canada. He is now in his 10th year of writing for Inside Golf.
He can be reached at This email address is being protected from spambots. You need JavaScript enabled to view it.. He's also on Twitter at @gordinsidegolf and on Instagram at gordinsidegolf2.