Roberta Bowman Joins LPGA As Chief Brand and Communications Officer
Details

Category: Inside Golf
Published: 2018-10-31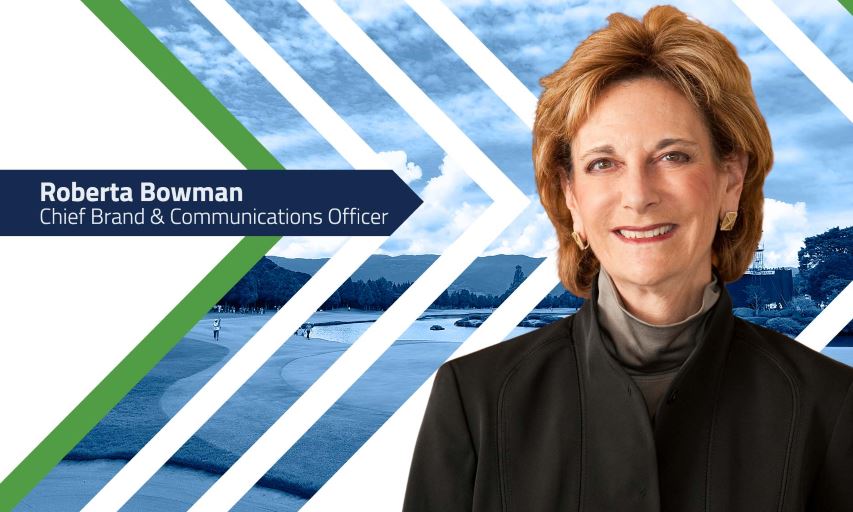 By THE LPGA
DAYTONA BEACH, Florida — Almost a year after completing her six years on the LPGA Board of Directors (the final two as LPGA Board Chair), Roberta Bowman returns to the organization this week in a full-time capacity as Chief Brand and Communications Officer. 
In this newly established position as a member of the LPGA's executive leadership team, Bowman will oversee communications, public relations, television, website/digital, social media, branding, marketing and the LPGA's creative department.
"Roberta is one of the best strategic-thinkers I've ever met, and she's had a long and successful history in leading communications and marketing," said LPGA Commissioner Mike Whan. "I'm so happy that she was willing to accept my unique proposal - asking a former Board member to join the management team as our new Chief Brand and Communications Officer. She's a natural-born leader and a compassionate coach. Most importantly, she's passionate about the LPGA and the opportunities we provide to women and girls around the world. 
"Over the six years she served on our Board, Roberta was an effective advocate for the LPGA members, and we benefited considerably from her unique combination of leadership, listening skills, business experience and passion for women's golf. She's been a true visionary for us, and I am truly excited that we can now call her our teammate! "
Bowman is a longtime communications and sustainability executive who spent most of her business career at Duke Energy in Charlotte, NC. She joined the multinational energy company in 1986 and worked there for over 25 years before retiring in January 2012 as Senior Vice President and Chief Sustainability Officer. In that role, she served on the company's Management Committee and led Duke Energy's integrated response to environmental risks and opportunities. 
Her career at Duke Energy included executive leadership roles in corporate communications, crisis management, public policy, government relations and environmental health & safety functions. For the majority of her Duke Energy career, she served as the company's Chief Communications Officer and President of the Duke Energy Foundation.
"I think we are at an important, transformative time for all organizations committed to providing opportunities for girls and women – whether in sports, business, civic or community leadership," said Bowman. "While joining the LPGA at this stage in life was never on my radar and certainly not part of my career plan, the opportunity to work on a team of talented, committed professionals to advance the LPGA - and all it represents - was one I couldn't pass up." 
A native of West Hartford, Connecticut, Bowman graduated with distinction from Tufts University and began her business career in 1978 at Northeast Utilities in Hartford, Conn. 
Bowman currently serves on several corporate and non-profit Boards.  She was elected to the Board of Trustees of Blue Cross Blue Shield of North Carolina in 2005. In 2016, she was named to the Board of Echo Health Ventures, a joint venture of BCBSNC and Cambia Health Solutions to invest in promising health care innovations and technology. In 2018, she was elected to the Board of Directors of Healthcare Trust of America, a Real Estate Investment Trust.  She also joined the Board of the ANNIKA Foundation in 2018.
Bowman has received numerous local, state and national honors and awards. She is most proud of the annual award established in her name by Duke Energy to recognize leaders demonstrating professionalism, perseverance, passion, respect and championship of opportunities for women.