B.C.'s Vernon A True Golf 'Mecca'
Details

Category: Inside Golf
Published: 2018-11-26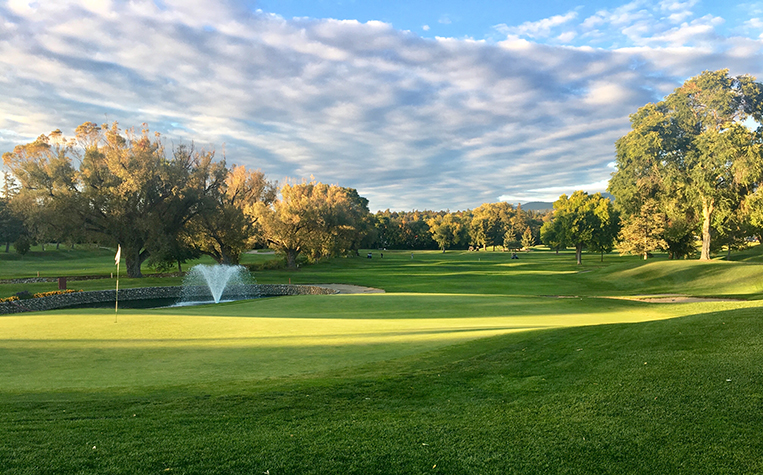 Vernon Golf & Country Club - All Images Credit Michael Cunningham
By Michael Cunningham (www.golfandtravelwriter.com)
What is a "mecca"? It seems more and more destinations incorporate the word in their promotional material. I do know that capital "M" Mecca is Islam's holiest city but small "m" mecca, is a word so often utilized by tourism offices that the true definition escapes me.
I go online and review the meaning as described by the MacMillan Dictionary. Mecca defined as "a place that a lot of people visit because it is famous for something that they want to see or do."
Many golf destinations rightfully claim to be destinations that are famous for something to see and do but many locales incorporate this moniker in their promotional material and though some would disagree, fail to meet that definition, underwhelming the visitor.
This is not the case for my recent visit to Vernon, British Columbia, a town of 45,000 residents. Situated on the northern end of Lake Okanagan it is bounded by three beautiful lakes and has become a full season destination, as hot summers and milder winters and a variety of activities attract visitors from around the world.
Greater Vernon has become a mecca for hiking, biking and skiing. Orchards and wineries have become mainstays.
Rolling hills, beautiful heights and diverse vegetation create perfect settings for the regions unique golf properties.
Golf has been active in this area for over one hundred years. In 1913 the Vernon Golf and Country Club opened its fairways to local golfers. At that time Vernon was the largest town in the region as a gold rush, and sizeable cattle ranches created the area into a transportation hub. An influx of immigrants, from countries where golf had already become a pastime, became the foundation for the club's membership.
Playing to 6609 yards, this historic club, still retains that old course feel. Mature trees, smallish greens from the championship tees it is the little things that create a memorable experience, and this course does everything well. On the 375-yard par four opening hole, the towering Lombardi poplars and grand willow trees provide a lovely start for a memorable round of golf. Attractive flowers, planted by members, are beautiful touches in this parkland setting. The course is easily walkable and very well maintained. Of note, the clubhouse's roast beef and Yorkshire pudding are worth the visit alone.
Twenty-five minutes north and adjacent to the historic O'Keefe Ranch founded in 1867, one will discover another beautiful parkland golf course, the Spallumcheen Golf and Country Club. Referred to as the 'golfing gem" of the North Okanagan.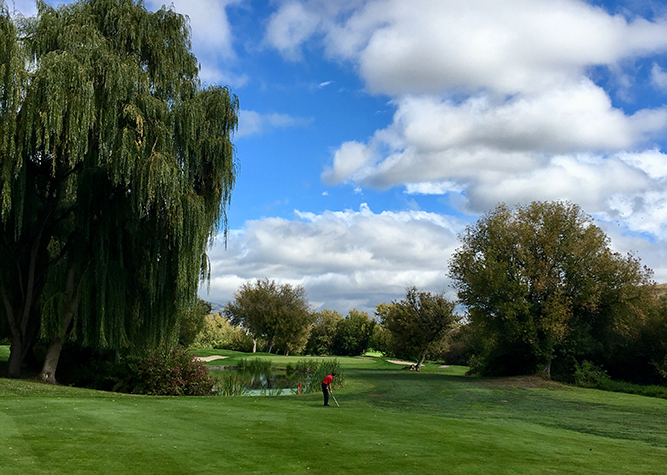 Spallumcheen GC
Built in 1971, Spallumcheen was reshaped in 1986 by the respected course designer, Les Furber, whose vision saw the creation of a par 35 Executive course reworked from the original back nine. He then fashioned a new back nine creating a beautiful championship course featuring over sixty bunkers and water on all but six holes. Spallumcheen is a perfect walking course, and every hole is unique in its appearance. The grand patio, with its abundance of flowers and trees, overlooks the course's finishing holes - a perfect environ to enjoy a tasty meal and cold beverage following your round.
What is impressive at these semi-private courses is the playability, the friendliness of the members and staff and the beautiful natural landscape.
It was in 1991 when Furber was invited by the original owners of the 1200-acre ranch to design a world-class golf course, now known as the Predator Course. Located above the shores of Lake Okanagan, Furber artfully incorporated the topography of rolling hills, coniferous forest and native grass into a tour de force quickly recognized as one of Canada's most beautiful golf courses.
The excitement by golfers for this property became the impetus in the development of a premier resort community and the foundation for the evolution of Vernon as a real golf mecca.
As this successful development continued to grow the second design, Predator Ridge became available to play in 2010. Designed by legendary Doug Carrick, this challenging golf course utilized the stunning landscape into many signature holes. Incorporating forested valleys and numerous rock outcrops the course features many elevated tees highlighting stunning panoramic views of the area. This course became an instant "must play" and was the recipient of numerous industry awards.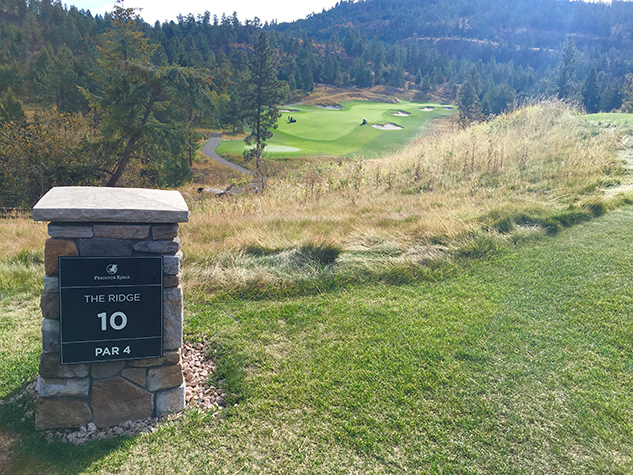 The Ridge Course At Predator Ridge
This past season Predator Ridge Resort completed a 3.5 million dollar refresh of four of its holes enhancing this remarkable golf experience at this premier golf resort.
Predator Ridge Resort has established a standard of excellence in course design, hospitality and attention to detail that has become the benchmark for destination golf.
High above Okanagan Valley overlooking Okanagan Lake and the town of Vernon, is the Fred Couples/Gene Bates designed, The Rise Golf Course. Perched 400 meters above the valley floor The Rise offers five sets of tees allowing golfers of all abilities to experience altitude golf at its finest.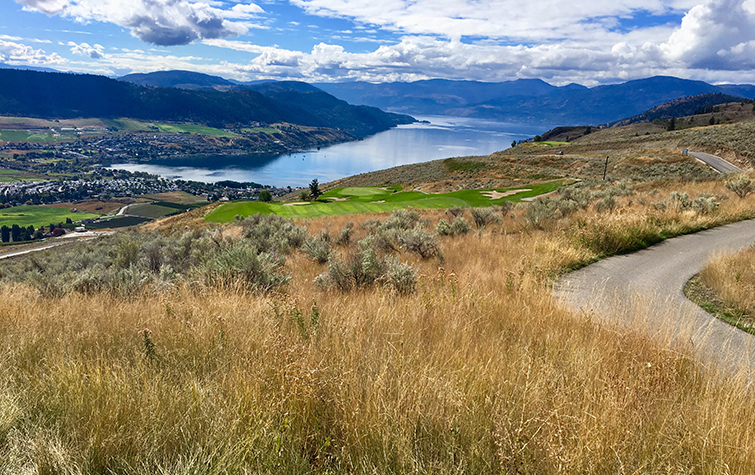 The Rise GC
I had heard pros and cons about the course but on the first tee on a beautiful day I had a vision of Italy's Amalfi coast as the vibrant blue waters of Okanagan Lake created a stunning backdrop to the opening par five. You must target the right side as the ball will run towards the centre of the fairway and laying up is recommended as going for it is not the most prudent action if you wish to depart the heavily protected green with an opportunity at par and, as a matter of fact, the following three holes are not any simpler. Proper positioning allows for chances at birdie. Incorrect execution has you hoping for bogey.
There are three things to enhance your positive experience at The Rise; play from the tee that suits your ability. Make sure you pick up a complimentary "Freddy's Tips," take a camera and enjoy the spectacular scenery as twelve of the eighteen holes feature breathtaking views. The patio at "Freddy's" is a beautiful place to reminisce following your round.
Vernon has now established itself as a true mecca "a place that a lot of people visit because it is famous for something that they want to see or do."
Web addresses:
www.tourismvernon.com
www.vernongolf.com
www.spallumcheengolf.com
www.predatorridge.com
www.therisegolf.ca