Golfers Rejoice In The Reboot Of Kananaskis Country's Famed Courses
Details

Category: Inside Golf
Published: 2018-11-26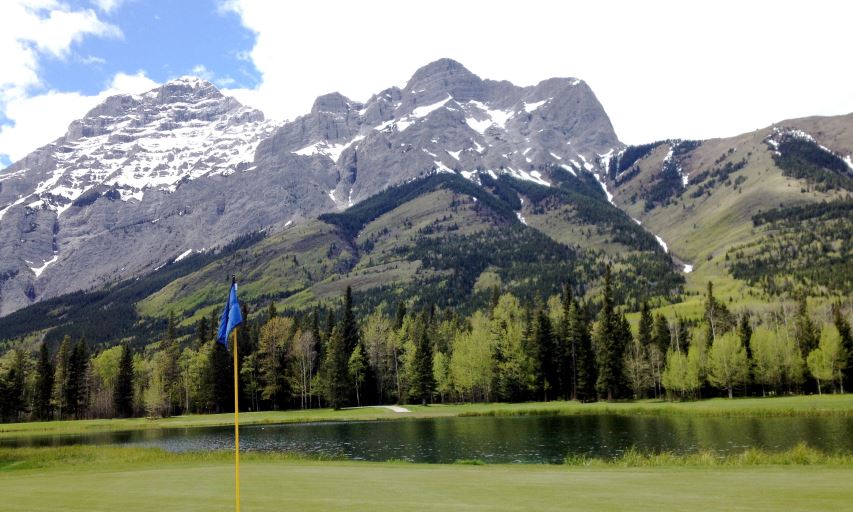 By GORD MONTGOMERY, Inside Golf
KANANASKIS COUNTRY, Alberta — The reboot of Kananaskis Country Golf Course was nothing short of a resounding success. That's the word coming from the general manager of the beautiful 36-hole layout that once again fully opened to the public in the spring/summer of 2018.
Known as Kananaskis 2.0, the rebuild of the courses after they were decimated by floodwaters in the summer of 2013, saw the Mt. Lorette 18 open this past spring followed by the Mt. Kidd portion swinging back into action on August 1. Both, said GM Darren Robinson, came back on-stream without a hitch.
"I would say our expectations were high and it exceeded our expectations," he noted when asked to rate how things had played out over the past golf season. "We had an extraordinary response from golfers, visitors, and it was a pretty extraordinary year."
That was even with the weather going sideways in the Rocky Mountains, and all across Alberta for that matter, in early September. The wet, cold snap shut Kananaskis down for all but the heartiest of players and while many courses around the province did get back for some late-season play, the two K-Country tracks didn't.
"We lost a pretty significant amount of business from September 10th onwards," Robinson continued. While he didn't have specific numbers of rounds played for each course, the overall head count for the year was strong, he noted.
"We didn't do it on each course because it didn't work that way going 18, 27, 36," as Mt. Loretta opened first, then nine more holes on Mt. Kidd were put into play prior to it fully opening in late summer. "We did 46,000 rounds here this past year from May until we basically called it a season on the final day of September."
While it may have been somewhat of a rhetorical query, Robinson was asked what the public's reaction to the reboot of this famed facility was and whether or not there were any negatives arising from some slight changes to the courses during reconstruction.
"Super positive feedback. (There was) a lot of feedback on how great the conditioning was. As we anticipated, people weren't able to pinpoint all the changes. It just looked, played, and felt good. The feeling amongst people leaving was really, really positive. We would only be guessing if I was to say it was better but it likely was and for a few different reasons."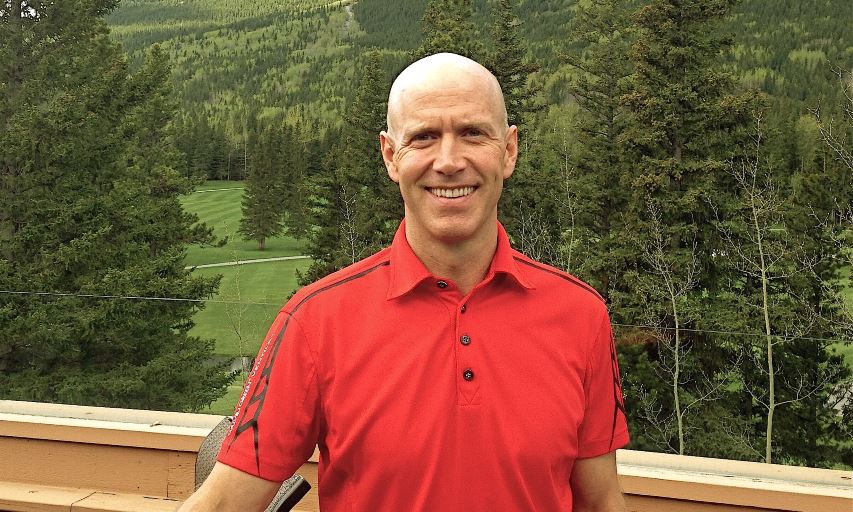 The Famed Hangout's GM, Darren Robinson, Said While Expectations Were High Going Into The 2018 Season, They Were Far Surpassed With What Took Place At Kananaskis After An Almost Five Year Absence From The Golf Scene In Alberta. (Photo/Gord Montgomery)
Surprisingly, another plus for the 36 holes was broached by the GM, who said people weren't lollygagging while playing, sometimes becoming a bit too captivated by the gorgeous scenery and appearances by wildlife. In fact, the pace of play was so good this year that the pro shop had run out of their famed 'I played under the time limit' ball markers by the time Kidd fully opened.
"Pace of play was better. There were very few days over the course of the season — they still existed but there were very few of them — where we would have exceeded that four-and-a-half hour time limit."
As to running out of those particular momentoes, said Robinson, "Yeah, that was a great problem to have!"
In closing the books on their first year back in business since that horrendous flood of 2013, Robinson said he's now looking forward to what the future brings for the two iconic courses set in the heart of the beautiful Rocky Mountains in southwest Alberta.
"I'm just super excited to go into 2019 having 36 holes available from day one. Not running a 27 and 18 hole operation and trying to juggle the uniqueness of that. Plus, trying to staff for 36 holes when you weren't going to require those people until August first. The really unique and challenging juggling act is now behind us and we get to do what we do best which is run a 36-hole operation," meaning when the winter snow melt and the courses reopen, K-Country will again fully embrace golfers from around the world much as the golfers themselves embrace this idyllic spot in Western Canada.
Online tee time bookings are not yet available for the 2019 season, but if you stay tuned to any of the course's Twitter, Instagram or Facebook feeds, those dates will be posted there.
---
About the Writer
Gord Montgomery is a member in good standing of the Golf Journalists Association of Canada. He is now in his 10th year of writing for Inside Golf. He can be reached at This email address is being protected from spambots. You need JavaScript enabled to view it.. He's also on Twitter at @gordinsidegolf and on Instagram at gordinsidegolf2.
Website: kananaskisgolf.com
Twitter: @KananaskisGolf
Instagram: kananaskisgolf
Facebook: Kananaskis Country Golf Course